WASHINGTON -- Urgent efforts to lash together a $700 billion rescue plan for the US economy broke apart Thursday night, hours after the country's key lawmakers had declared they had reached a deal.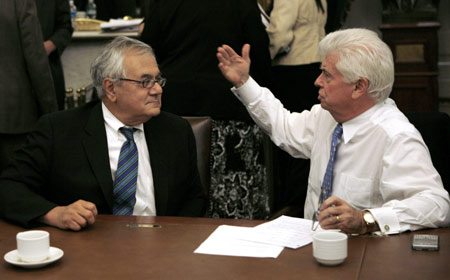 House Financial Services Committee Chairman Barney Frank (L) and Senate Banking Committee Chairman Chris Dodd meet to discuss the economic bailout plan in the Capitol in Washington September 25, 2008. [Agencies]
Related readings:


Wall Street jumps on bailout hopes

Bush sets meeting to discuss bailout


Obama, McCain: Bailout plan 'flawed'


Huge political price of US bailout plan
US Treasury Secretary Henry Paulson and Federal Reserve Chairman Ben Bernanke sped to Capitol Hill to try to revive or rework the proposal that the administration says must be quickly approved by Congress to stave off economic disaster.
Congressional leaders were to meet with the economic chiefs into the night.
After six days of intensive talks on an outline and crucial details of the $700 billion package urgently requested by the Bush administration, with Wall Street tottering and the presidential election nearing, there was more confusion than clarity.
On Tuesday, a tentative accord in principle among influential Democratic and Republican US lawmakers was announced at midday, giving the Bush administration just a fraction of the money it wanted up front, with half the $700 billion total subject to a congressional veto, congressional aides said.
But conservatives were still in revolt, balking at the astonishing price tag of the proposal and the heavy hand of government that it would place on private markets. Sen. Richard Shelby of Alabama, the top Republican on the Senate Banking Committee, emerged from the White House meeting to say the announced agreement "is obviously no agreement."
Both of Congress' Republican leaders, Rep. John Boehner and Sen. Mitch McConnell, also denied there was any deal. And the White House called the earlier announcement progress but also said it was reviewing the outline with more work needed to finalize a bill for Congress to rush into law.
There is wide agreement the US economy is in peril, with financial institutions going under or near the edge and recession looming along with the resulting layoffs and increased home foreclosures.
There had been hopes for broad agreement, too, on a prescription by now, with a confident White House announcement by the US president, John McCain, Barack Obama and congressional leaders.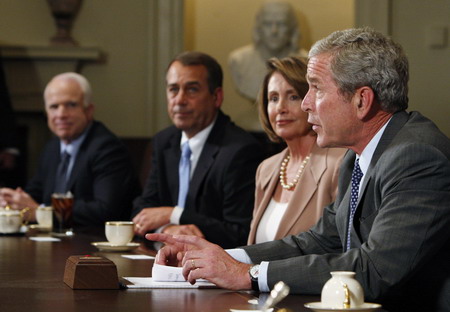 US President George W. Bush (R) meets with Bicameral and Bipartisan Members of Congress to discuss a Wall Street bailout plan in the Cabinet Room at the White House in Washington, September 25, 2008. [Agencies]
But the best McConnell would say afterward was, "It's clear that more progress is needed and we must continue to work together quickly to protect our economy."
All the visitors left the White House without talking to a huge media group.
The Bush administration has made near-daily concessions to demands from the right and the left, among them a limit on pay for executives of bailed-out financial institutions and an equity stake in rescued companies for the government.
Despite the Republican outcry, Banking Chairman Chris Dodd, and Republican Sen. Bob Bennett, among others, said the negotiators from Congress and the administration had arrived at a deal that could win approval. Other key lawmakers said that after days of bare-knuckles negotiations there was little of note left to resolve.