NEW YORK - US financial markets grew more upbeat Thursday as political leaders said they struck an agreement in principle on a massive spending plan to revive the crippled financial system.

The Dow Jones industrial average jumped about 200 points on optimism about the bailout, and demand for safe-haven assets remained high but eased slightly as some investors placed bets that a deal would help unclog credit markets.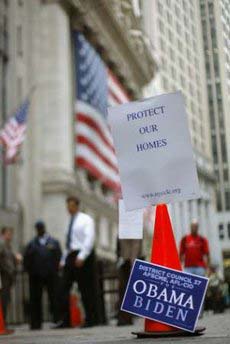 Signs left from a protest are seen outside the New York Stock Exchange September 25, 2008. Several hundred protesters yelled their enthusiastic support as union leaders decried a proposed $700 billion plan aimed at reinvigorating the credit markets by relieving financial institutions of distressed debt. [Agencies] 
Stock market investors got a lift when key US lawmakers said they would present the $700 billion plan to the Bush administration and hoped for a vote by both houses of Congress within days. Still, some resistance remained from House Republicans as the closing bell on Wall Street rang ahead of a meeting of congressional leaders at the White House.

And after the close of trading, it was clear that plan could still face some obstacles. Stock futures weakened, signaling a lower open Friday, after Sen. Richard Shelby, the top Republican on the Banking Committee, left the White House meeting and said the announced deal "is, obviously, no agreement."

Trading that has been difficult for more than a week is likely to remain so in the coming days.

"The market's going to experience volatility as the terms become known," said Doug Roberts, chief investment strategist at Channel Capital Research.

US Treasury Secretary Henry Paulson and Federal Reserve Chairman Ben Bernanke urged lawmakers Tuesday and Wednesday to quickly sign off on the plan, which they said would help prop up the economy by removing billions of dollars in risky mortgage-related assets from financial firms' balance sheets. Fear of heavy losses on these assets has made banks hesitant to extend credit, which in turn threatens the overall economy by making it harder and more expensive for businesses and consumers to borrow money.
US President Bush highlighted what he sees as the urgency in a national address Wednesday night. Major elements are still being worked out, including how to phase in the mammoth cost of the package and whether the US government will get an ownership stake in troubled companies.
Alan Lancz, director at investment research group LanczGlobal, said stock market investors were encouraged that the rescue looked more likely than it had earlier in the week. He said the move could help unclog credit markets by allowing banks and investors to place values on assets tied to mortgages.
"How do you establish a floor? Well, this is the bazooka. This is how you establish a floor," he said of the plan's goal of buying up the toxic debt.
Still, some investors had their doubts. Demand eased but remained high for the 3-month Treasury bill, considered the safest short-term investment. Its yield rose to 0.72 percent from 0.49 percent late Wednesday. That means investors are still willing to earn the slimmest of returns in exchange for a safe place to put their money. The yield on the benchmark 10-year Treasury note, which moves opposite its price, rose to 3.84 percent from 3.81 late Wednesday.