WASHINGTON -- US presidential candidates Barack Obama and John McCain issued a joint statement Wednesday, calling the Bush administration's financial bailout plan "flawed" and calling for bipartisan cooperation.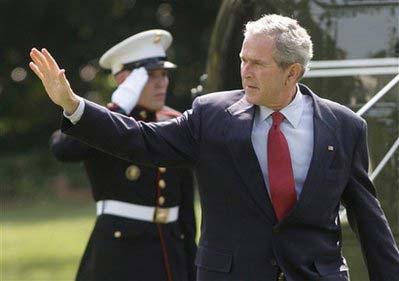 President Bush waves as he returns to the White House in Washington, Wednesday, September 24, 2008, after a trip to New York to attend the UN General Assembly meetings. [Agencies]  
Related readings:


 Bush invites McCain, Obama to discuss bailout


 Obama ahead in four key states as voters fret over the economy


 Obama calls bailout a 'blank check'


 Wall St woes help Obama overtake McCain express
"The plan that has been submitted to Congress by the Bush Administration is flawed, but the effort to protect the American economy must not fail," the statement said.
"Now is a time to come together, Democrats and Republicans, in a spirit of cooperation for the sake of the American people," it added.
The statement was released about 15 minutes before President George W. Bush's televised address on the economy, in which the president invited Obama and McCain to Washington to have a talk on the bailout plan.
In a separate statement, Obama outlined five principles he said were necessary for the proposal.
The principles included creating economic plan that helped "millions of families facing foreclosure" and not just Wall Street, creating "an independent, bipartisan board to ensure accountability and complete transparency" and protecting taxpayers by creating a economic plan that did not include earmarks.
"This plan cannot be a welfare program for CEOs whose greed and irresponsibility has contributed to this crisis," Obama's statement said.
Earlier in the day, McCain said he will suspend his campaign to work on the economic issue and proposed delaying the September 26 debate with Obama, which was rejected by the Obama campaign.