China-Kazakhstan border trade gives him pot of gold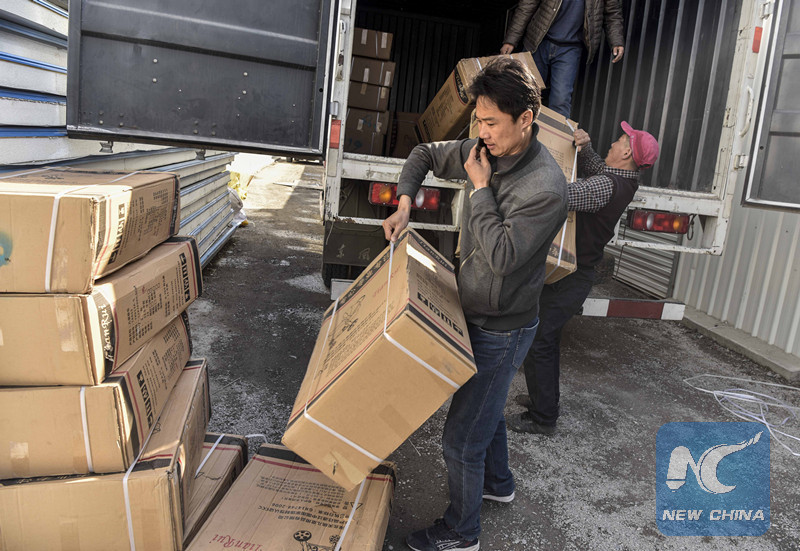 Ni carries products in the warehouse when his shop is shorthanded. He walks fast, because he believes time is money. [Photo/Xinhua]
Ni Jianhua is never worried about slow sales in the free trade zone on the China-Kazakhstan border.
After seeing the fifth client of the day out, the baby care product trader hurried to a warehouse in the Horgos International Border Cooperation Center to inspect a batch of baby carriages, which just arrived at the northwest China's port from south China's Guangdong province.
"They will be sold to Kazakhstan very soon," he said, "Products always sell out here."
Ni, 44, has been doing business in Horgos, the largest land port on the border with Kazakhstan in northwest China's Xinjiang Uygur autonomous region, since 2006. Like his fellow merchants from East China's Zhejiang province who are dubbed as the "Chinese Jews" for their success in doing business, Ni is diligent and works hard all day long.
With a startup fund of 300,000 yuan (about $43,500) 12 years ago, Ni has expanded his business and now cashes in more than 300,000 yuan every day. He is considered as one of the most successful businessmen in the FTZ today.
Although he is one of them, Ni is still surprised by the rapid development of the FTZ. Covering 5.28 square kilometers, the Horgos International Border Cooperation Center opened in April 2012 as a destination for cross-border shopping. It has more than 40 duty-free shops selling luxury brands such as Omega and Versace.
The facility is the world's first cross-border free-trade zone and the biggest duty-free shopping center in west China. It allows entry of citizens from any country with valid passports or with exit and entry permits.
Since its establishment, more and more fortune-seekers have been enticed here. The FTZ has recorded a trade volume of $878 million since opening as of last July.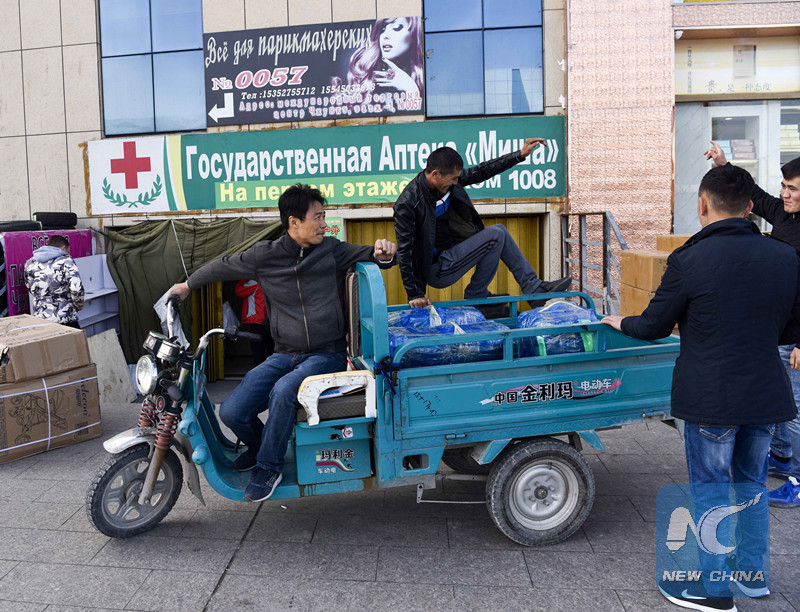 Ni (L) drives a battery vehicle to the warehouse. His Kazakhstani customer is so eager to get the products that he jumps on and goes with Ni. [Photo/Xinhua]
Ni has a Russian name--Vasiliy. It was given by his friend from Kazakhstan's Almaty, 378 kilometers from Horgos. The Chinese Vasiliy can discuss business with clients from Central Asia in Russian accented with a Zhejiang dialect.
"I studied Russian when I came here. I was 32 years old at that time, and found it very difficult to learn the language," Ni said, "Now I can speak only a little about toys in Russian. But that's quite enough for me."
"Better communication means more business opportunities," he added.
Vasiliy Ni sold a batch of balance cars and baby carriages worth 5 million Kazakhstan Tenge (about $16,058) to two Russian traders the day we visited him. He was expecting four more groups of clients.
"I'm too busy. Sometimes I hope it rains so that I can have a rest," he said.