Infant care takes more than baby steps
Share - WeChat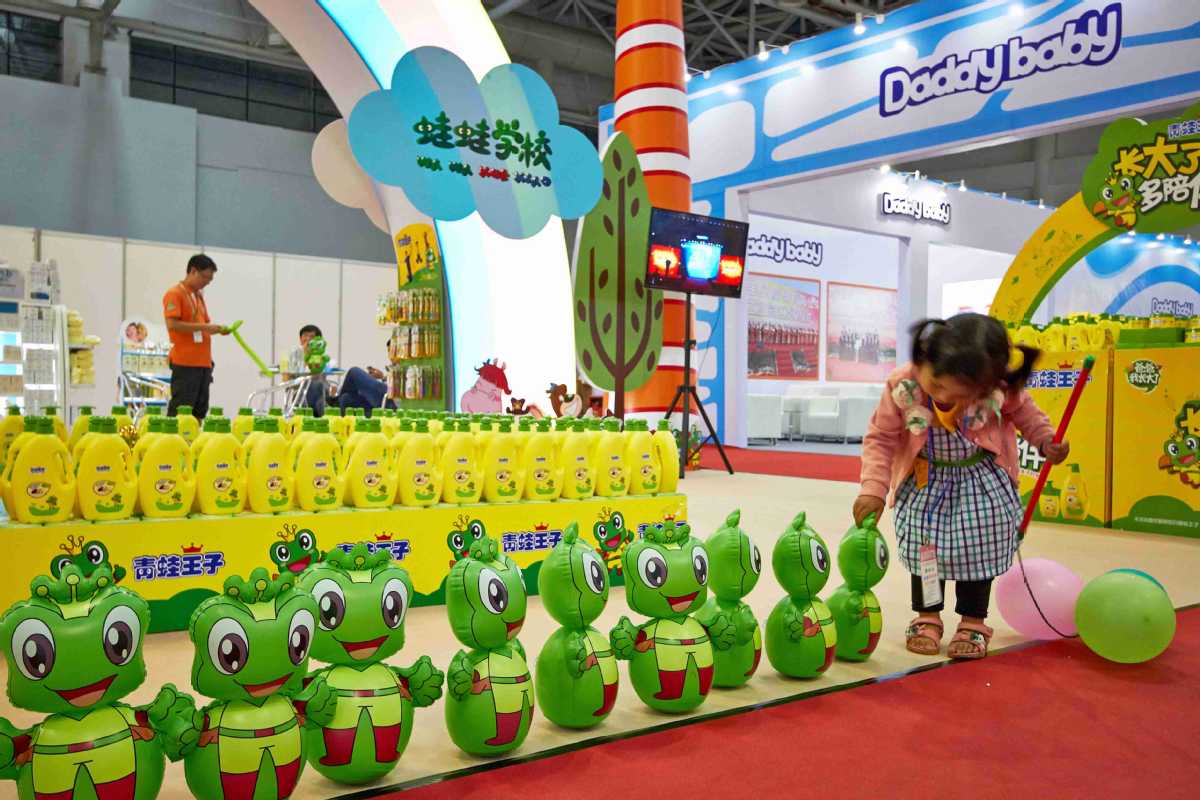 China's maternal and infant care market is expected to embrace rapid development thanks to the rising consumption power of new parents.
According to a report from Guosen Securities, in 2020, the growth rate of China's overall maternal and infant care market was 16.9 percent. In 2021, the growth rate stayed at 16.9 percent, indicating that the market is enjoying stable sales performance.
Data from Shanghai Ourui Supply Chain Management Co Ltd showed that in 2021, China's maternal and infant care market was valued at 32 billion yuan ($4.6 billion), and is expected to reach over 50 billion yuan by 2025.
"The post-'90s generation has become the backbone of maternal and infant consumption. Compared to the loving child care provided by their parents and grandparents, young new parents embody the characteristics of meticulous childcare, and their corresponding needs are also increasing," said Zhang Xiaojun, founder and CEO of domestic maternal and infant care brand Dexter.
Population shifts and economic development are also laying a solid foundation for the development of the market. Data from the National Bureau of Statistics showed that currently, the number of infants between 0 and 6 years old stands at 140 million, thus generating huge demand. In 2021, China's average per capita disposable income reached 35,128 yuan, surging 78 percent in 10 years.
Data from Beijing-based research firm huaon.com showed that currently, China's overall maternal and infant care market was divided equally between domestic and international brands. In 2016, among the top 15 maternal and infant care brands sold in China, domestic brands took up 18 percent of the market share. In 2020, the ratio had risen to 20 percent.
Industry experts noted that the rise of domestic brands was related to changing consumer tastes and preferences.
"My parents prefer international brands, believing that foreign brands mean higher quality. However, my husband and I don't have such 'bias'.We buy a lot of domestic maternal and infant care products," said Liu Ting, a post-'90s mom in Beijing.
"International maternal and infant brands entered the Chinese market early, giving them an advantage. For example, people in their 60s encountered the era when foreign brands such as Johnson &Johnson entered the Chinese market, making them have a natural trust in international brands," said Shi Hai, an analyst at online finance media jiediancj.com.
"However, new-generation parents are confident about our national strength and homegrown brands, and therefore are willing to buy domestic maternal and infant care products," Shi said.
According to a recent report from Alibaba's Tmall e-commerce platform, new-generation parents pay more attention to the efficacy of baby shampoo and shower products. On the basis of basic two-in-one and multifunction products, more detailed and safer efficacies such as soothing and moisturizing, silicone oil free, mild and tear-free features are widely sought after.
This puts forward higher research and development requirements on the brand and product development side. Brands need to undertake supportive measures in R&D so that the efficacy of products can meet more segmentation needs, industry experts said.
To realize high-quality development, Shi said brand differentiation is key. Currently, foreign brands such as Johnson & Johnson and leading domestic brands dominate the market. The future competition will be in brand differentiation, he said.
He added that the innovation of products will be a major driving force for market development. "With technological advances and rising consumer requirements related to product quality, the function and quality of maternal and infant care products should be constantly upgraded, so as to meet market needs. The diversification of channels is an important trend for future development of the market. In the future, enterprises should pay more attention to diversified distribution channels, explore new business modes, and raise sales and market share."