Growing child poverty leaves 1.45 billion out of proper protection: report
Share - WeChat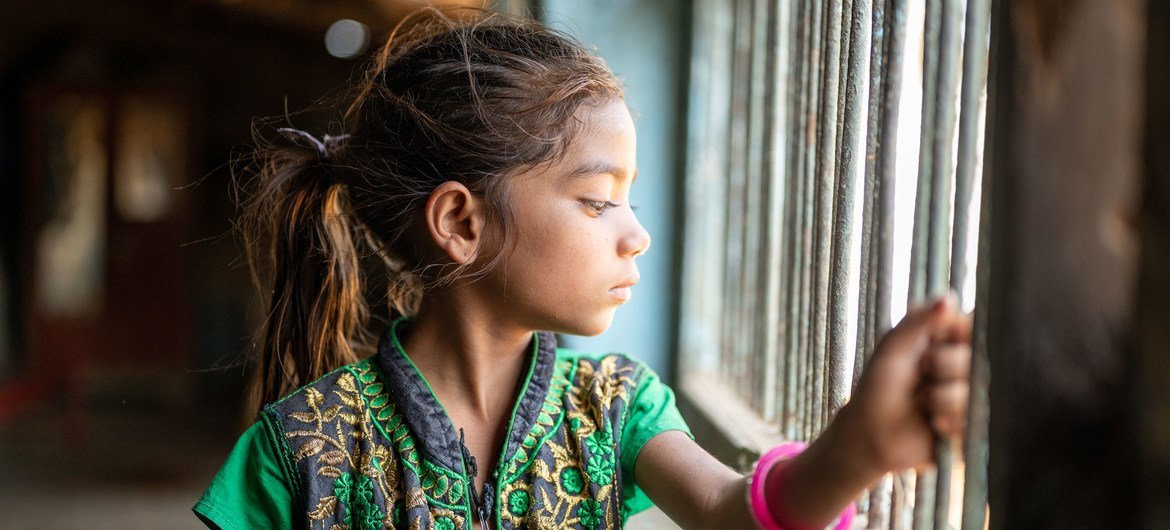 The number of children around the world without social protection continues to rise, a new study has warned, underlining the need to scale-up cost-effective, rights-based, gender-responsive, and inclusive mechanisms to reverse the worsening trend.
In a joint report titled "More Than a Billion Reasons: The Urgent Need to Build Universal Social Protection for Children", the International Labour Organization (ILO) and UNICEF said an additional 50 million children under 15 "have been left out of critical social protection provision" — specifically child benefits — between 2016 and 2020, pushing the total to 1.46 billion globally.
While child poverty is a global phenomenon, the geographical distribution of children living in extreme-poor households is increasingly concentrated in sub-Saharan Africa and South Asia. Over half of all children in extreme poverty are living in Africa, with 35 percent in South Asia, said the report which was released on March 1.
Child and family benefit coverage rates also fell or stagnated in every region in the world between 2016 and 2020, leaving no country on track to reach the Sustainable Development Goal of achieving substantial social protection coverage by 2030.
The report also highlighted that the COVID-19 pandemic has reversed the progress made in child poverty reduction, with illness, job and livelihood losses, and disrupted access to school affecting children's well-being, rights and development.
During 2020, it was estimated that the pandemic increased the number of children living in income-poor households by over 142 million, to around 725 million in total. High-income countries, on average, "can expect their child income poverty rates to increase" as a result of the economic consequences of the lockdowns, and to stay above pre-pandemic rates for up to five years.
"COVID-19 highlighted that social protection is a critical response in times of crisis. Nearly every government in the world either rapidly adapted existing schemes or introduced new social protection programs to support children and families, but most fell short of making permanent reforms to protect against future shocks", according to the report.
Crucially, the report noted, the pandemic has underlined the multiple deprivations many children face, such as the risk of violence both against children and based on gender, while further exacerbating a care crisis across regions.
It also noted that conflict is a driver of poverty, as it disrupts families' engagement in paid employment and other productive activities, limits the supply of basic necessities and increases the cost of living, particularly for low-income families.
Children living in conflict and fragile contexts are significantly more likely to experience extreme poverty than children in non-conflict contexts — 42 percent of children in conflict settings compared with 15 percent of children in non-conflict settings.
Globally, the report said that 89.3 million people have been forcibly displaced owing to conflict, violence, fear of persecution and human rights violations.
"Forty-one percent of those forcibly displaced are children. Most countries impacted by conflict and displacement are in Africa. Geographically, Africa alone is home to almost two thirds of the world's extremely poor children," the report said.
Elsewhere, the ongoing conflict in Yemen, for example, has resulted in an increase in the poverty headcount in the country from 49 percent pre-conflict in 2015 to between 63 and 78 percent in 2018. In 2021 more than two million children under the age of five were estimated to be suffering from acute malnutrition.
Acute malnutrition in Yemen
On Feb 26, the World Health Organization called for increased funding for Yemen as the funds pledged only accounted for 3.5 percent of the $392 million required to provide even most basic services to almost 13 million Yemenis. This includes up to 540,000 children under five facing severe acute malnutrition with direct risk of death.
The underfunding of the health cluster in Yemen this year will impact 7.9 million children without needed access to health services, and 2.9 million women of reproductive age lack maternal, child, and reproductive services, the WHO noted.
In the Ukraine conflict, which has heavily impacted children in the country, Russia and neighboring nations in Eastern Europe and Central Asia, UNICEF estimates that as many as 3.9 million children have been pushed into poverty due to the ongoing crisis.
Regarding the conflict's impact on poverty, it is estimated that cases of infant mortality in the region will increase by 4,600, and in total almost 120,000 school years will be lost across the child population.
Persistent challenges for many people, related to disability and gender, and now multiple converging crises — the climate emergency, the cost-of-living crisis and ongoing conflicts — bring additional implications for the risks of child poverty, according to the report.
The ILO and UNICEF emphasized that all countries, irrespective of their level of development, "have a choice to pursue a high-road strategy of investment" in reinforcing social protection systems, or a "low-road strategy that misses out on necessary investments and will leave millions of children behind".
They urged policymakers to take steps to attain universal social protection for all children. These include investing in child benefits, which offer a proven and cost-effective way to combat child poverty, as well as providing a comprehensive range of child benefits through national social protection systems that connect families to crucial health and social services, like free or affordable quality childcare, and access to pensions that range from unemployment to disability.
They also encouraged securing sustainable financing, mobilizing domestic resources and increasing budget allocation for children, as well as building social protection systems that can deliver better results for girls and women, migrant children, and those caught up in child labor, including children of migrants in the United States.