City tastes success with salt of the earth
Share - WeChat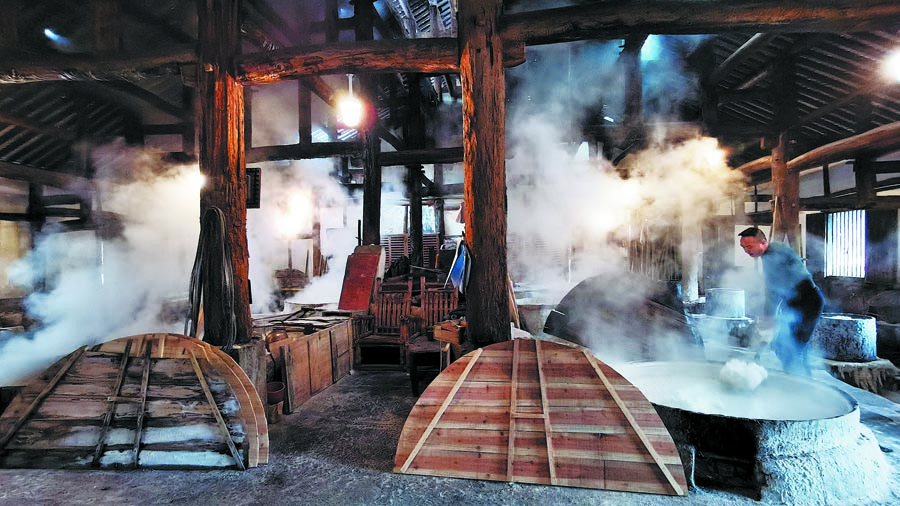 They can also attend a lacquerware exhibition in Chengdu and Sichuan's neighboring Chongqing municipality, which ends on March 16, as well as an exhibition featuring treasures from the world-famous Rosalinde and Arthur Gilbert collection, which ends on March 19.
The Sichuan Basin is rich in natural lacquer, and Chengdu and Chongqing have long been an important lacquerware production base. More than 3,000 years ago, during the ancient Shu period, Sichuan was associated with lacquer.
A gold-faced bronze head with raw lacquer and clay used as a paste was unearthed in Sanxingdui. Relics, such as jade lacquered wood and a wood-tipped tiger head, unearthed in the Jinsha Ruins bear witness to the ancient Chengdu lacquer art, Zhu says.
The Gilberts, who made their first fortune by launching a fashion label in London in the 1930s, made a name for themselves with their superb collection of gold, silver and micromosaics, which marked one of the most comprehensive private collections in the 20th century European decorative arts circle.
Gifted to the United Kingdom, the collection has been safeguarded by the Victoria and Albert Museum in London since 2008.
Ninety exhibits, spanning from the 16th to 19th centuries in Europe, are on display at the Jinsha Site Museum.
After appreciating lanterns on Jan 25, Liu Yiwen, a senior middle school student in Chengdu, was impressed with the gold beaker and stand made in Russia in the 1760s, the engraved silver soup tureen made in England between 1806 and 1807, the engraved silver wine cooler made in England between 1794 and 1795, and the Frederick the Great snuffbox, made in Germany in 1765.
"They belong to a different culture, but are as meaningful and awe-inspiring as the Chinese relics on display at the museum," says the young visitor.
Peng Yuxi contributed to this story.