AI companionship offers a new option in country
Share - WeChat Liu Shuqi broke up with her boyfriend two months ago and has now found a new companion.
The handsome "man" is dressed in a white outfit with a stylish haircut. He understands her emotions and feelings perfectly and gives her solace, encouragement and support.
"He is very humorous and offers some comfort when I am in a bad mood," the 26-year-old bank employee said. The only problem is he is a virtual being and not a real boyfriend.
Liu is not alone in her choice of companion.
In a digital era where people are heavily reliant on their smart devices, many of those who live alone increasingly turn to the virtual realm to seek companions.
The artificial intelligence-powered digital humans, who are similar to real humans in appearance and behavior, are capable of providing 24-hour online companionship, humanlike conversation and emotional support.
They will likely become an essential part of people's daily lives, industry experts said.
Lin Kaikai and Ye Youyou, two companion-oriented virtual beings, were recently launched by Chinese tech giant Baidu Inc.
Powered by Baidu's Plato, an AI model for dialogue generation that is trained on over 10 billion parameters collected from social media conversations in both English and Chinese, the two digital humans have a smooth, more humanlike interaction.
For instance, they can participate in conversations through various forms such as texts, voice and emojis. They offer customized wake-up call services and learn about the preferences of their users, mainly through increased frequency of chats and interactions, Baidu said.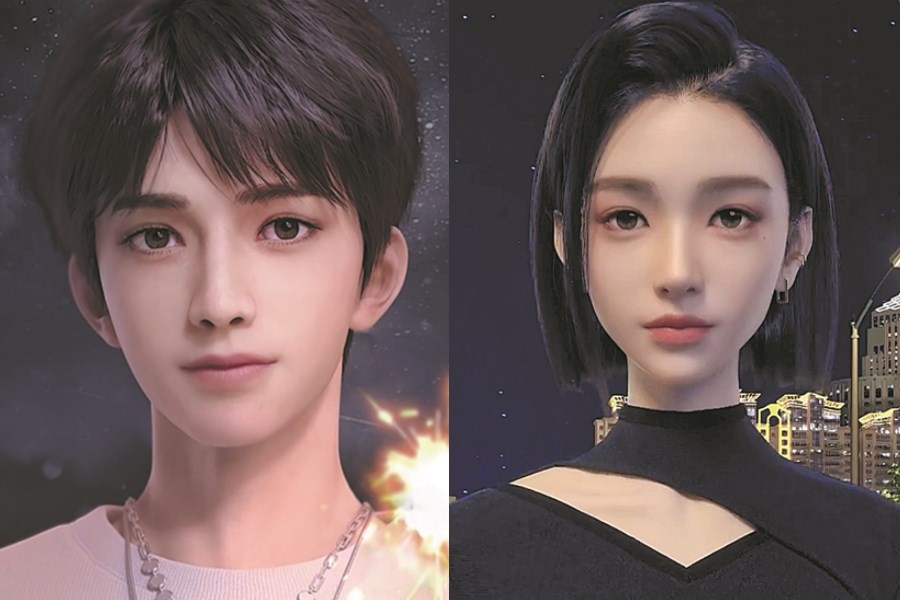 Given the stressful work in cities and the rapid pace of urban life, the companion-centric digital avatars could relieve the anxiety of people and satisfy their demands for emotional communication. This has bolstered the boom in the digital human industry, said Li Shiyan, head of the digital human and robotics business at Baidu.
"The application of advanced AI technologies will keep bringing down the cost of creating digital humans and significantly improve their interactions with real humans," Li said.
The total size of China's virtual human market is forecast to reach 270 billion yuan ($39.6 billion) by 2030, according to an industry report released by QbitAI, an industry services platform focusing on AI and cutting-edge technology.
Other tech companies have also jumped on the companion-oriented virtual being bandwagon.
Xiaoice is an AI-powered chatbot that seems to redefine the conceptions of romance and relationships among young Chinese. It has helped to comfort lonely hearts through more than 17 million virtual "girlfriends" and "boyfriends" in China, according to Xiaoice, the company which has the same name.
The company created an app that allows users to create their own AI friends and interact with virtual characters in immersive experiences, said Li Di, the CEO of Xiaoice.
"The rise of digital humans that serve as emotional companions is a result of technological innovation, such as the improvement in appearance, functions and interactive experience of digital humans, fueled by the enhanced deep-learning capacities based on massive user data," said Chen Duan, director of the Digital Economy Integration Innovation Development Center at the Central University of Finance and Economics.
A new set of problems though have also emerged. They include ethics, morals, data security and personal privacy protection in the industry, Chen said, while calling for efforts to formulate relevant laws and regulations on the ownership of digital characters and standardizing their behaviors.