Athletes get a winning menu on diet of success
Share - WeChat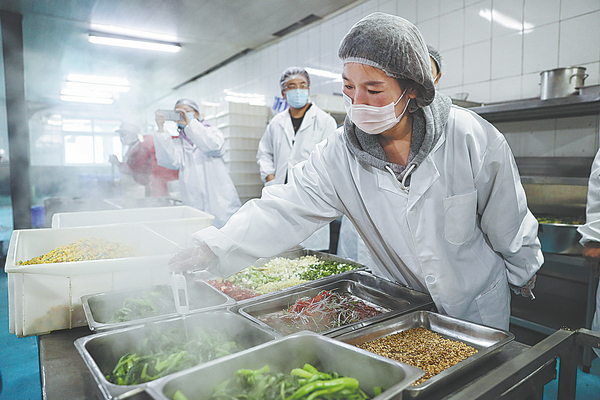 " (We) would ensure the rectification of any problems that were found in a timely manner," Xia says, adding that all food had to be above 75 C before being sent to the packaging workshop.
Everything had to meet stringent food safety standards, from point of purchase to the dining table.
The supervision authority guaranteed food safety as well as the cleanliness of tableware on a daily basis.
All personnel who were involved in the catering workshops had to wear protective clothing and go through 25-second sterilization every time they exited and re-entered the designated workplace.
No more than four hours elapsed from the completion of the dishes to them being served.
The meticulous and thoughtful food preparation work received rave reviews from International Olympic Committee officials and the world's athletes.
"If I stay in your village for three days, I will gain another 10 pounds," IOC President Thomas Bach said in early February when he inspected the overall operation of Yanqing Olympic Village. "The food here is so delicious."
American snowboarder Tessa Maud took advantage of her Olympic time exploring the assorted food from sweet and sour pork, pork dumplings, spicy tofu, and Dandan noodles, all of which made her spoiled for choice, because "everything is so good".
She documented details about her life in Beijing via TikTok, and those about her cafeteria experiences were hailed by many viewers.
Most Popular