Athletes get a winning menu on diet of success
Share - WeChat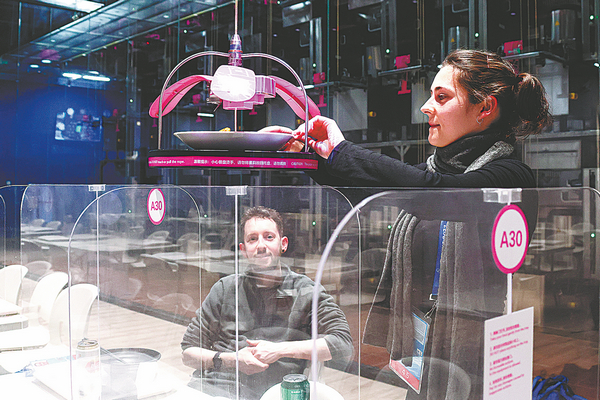 Authentic Chinese food was, naturally, also on offer, from Peking duck, kung pao chicken, mapo tofu, dumplings to regional specialties, such as spicy Sichuan Dandan noodles, hotpot and Chinese BBQ pork.
Chinese cuisine accounted for one third of the menu, according to the organizing committee, and some of the dishes were innovative creations by experienced Chinese chefs.
Chen Aijun from Baoding, Hebei province, designed six courses featuring distinctive local elements and auspicious messages for athletes at Zhangjiakou.
His dishes featured lotus flowers as well as fish and shrimp, typical of a northern Chinese water town.
"I'm especially thrilled that the Winter Olympics could be held on my 'doorstep'. I wanted to contribute my part to the Games in my own way," Chen says. He has been in the catering business for 41 years and he wanted to share the essence of local dishes with the athletes.
At the Genting Grand Hotel in Zhangjiakou, the catering service team started preparations at 4 am every day, ready to dish things up to the athletes from 6 am.
Everything was sampled and tested to ensure quality.
"We provided for more than 680 foreign guests altogether, with dining, accommodation and traffic services, including over 300 delegates and athletes," says Liu Ping, an official in charge of logistics for the Games at Zhangjiakou's Xiahuayuan district.
Most Popular