Media seen as having key role in partnership
Share - WeChat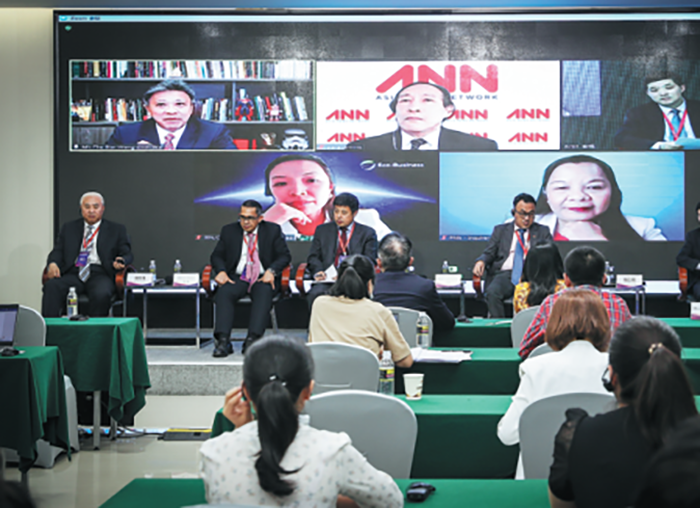 As the Regional Comprehensive Economic Partnership brings regional and global collaboration to a new level, media will play an important role in bringing countries and people together for a better future, media experts say.
"It is important to demonstrate the position of RCEP members for openness and inclusiveness and cooperation for win-win outcomes," said Ban Wei, deputy director of the Editor's Office of Xinhua News Agency. "In this way we can promote regional integration and make Asia's contribution to the world's economic recovery."
Ban was speaking at a seminar titled New Opportunity for Media Cooperation in RCEP Asia Region during the RCEP Media and Think Tank Forum held in Hainan province on Sunday. The one-day event brought together government officials, diplomats, media representatives and academics from across the region to discuss how the world's largest free-trade deal will propel regional collaboration in Asia. China Daily was one of the forum organizers.
The RCEP was signed in November by the 10-nation Association of Southeast Asian Nations and its five major trading partners, China, Japan, South Korea, Australia and New Zealand.
Ban, referring to challenges brought by the pandemic and the rise of deglobalization, said it is important to advocate the approach to global governance featuring consultation and collaboration for shared benefits.
Pana Janviroj, executive director of Asia News Network, said he hopes the coalition of 24 news organizations from across Asia can play a bigger role in promoting media collaboration with the signing of the RCEP because business stories is a vital part of pan-Asia media cooperation. "We would be happy to closely work with (the) RCEP secretariat, if there is one, and be able to produce forward-looking content, (what our) readers in the region (are) looking for."
Juliet Labog-Javellana, associate publisher of the Philippine Daily Inquirer, said media can provide reports, information and commentary on how the RCEP could and should drive Asia's economic recovery from the pandemic.
"The media can highlight its bigger potential compared with other existing free-trade agreements as well as provide a keen understanding of China's role in realizing RCEP's success," she said.
The RCEP covers about 2.3 billion people with combined GDP exceeding $26 trillion, but Wong Chun Wai, adviser and former editor-in-chief of the Star Media Group, an English-language news media group in Malaysia, said reporting the RCEP is more than cold economic statistics.
"The RCEP is about bringing direct and indirect benefits to people," Wong said, adding that the media should provide stories "in simple and interesting narrative form" to tell how the huge trade agreement creates business opportunities and brings positive changes to people's lives. He also proposed a parallel or annual meeting of RCEP media organizations for exchanging ideas.
Liu Xiaolong, a member of the editorial board of China Media Group, said that with the implementation of the pact Asia will play an increasingly important role in global economic development. "This requires media in Asia to deepen their cooperation to gradually improve their status in the international discourse system and expand their global influence."
Junice Yeo, executive director of Eco-Business, a media and business intelligence organization focused on sustainability, said: "As the region claws its way out of the COVID-19 crisis, one of the most significant trends we are already witnessing is the pace at which sustainable development is progressing."
Seeing the resilience of the global supply chain as one of the most significant long-term threats from the pandemic, Yeo said she expects the RCEP to play a critical role within the context of sustainable development because it is a big step toward multilateralism. "To understand one another's challenges, to encourage complementary approaches toward multilateralism, will allow for greater coherence and more efficient implementation."
Arianto Surojo, director of information and public relations for the ASEAN-China Centre, said media organizations need to design a communication strategy for RCEP stories based on public interest case by case.
"Media can write more readable articles for the public and become the supplement to official government diplomacy," Surojo said, adding that public communication will be the key to deliver government policy after the signing of the RCEP.
Muhammad Irfan Ilmie, chief of Indonesia's Antara News Agency's Beijing bureau, said that without media support, the people will not understand the benefits of the RCEP. " (The pact) is not only a new challenge, but also the big opportunity for the media in Indonesia to bounce back after being affected by the pandemic."
Xing Zhigang, director of the opinion department of China Daily, moderated the session.