Policies designed to serve needs of free trade port
Share - WeChat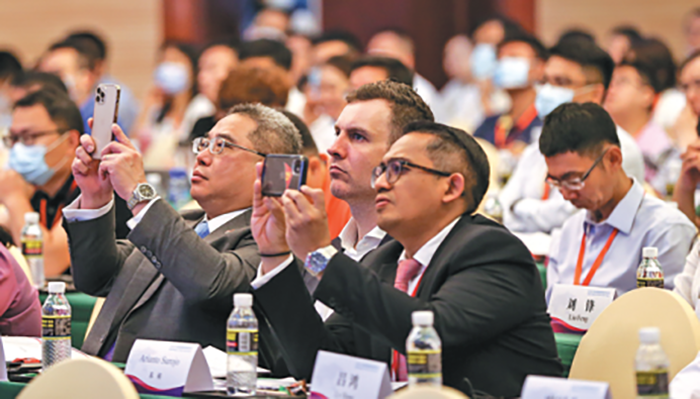 The introduction of 28 new measures to facilitate faster goods and service trade at the Hainan Free Trade Port will boost the port's high-quality development and help it achieve its phased growth goals before 2025, experts and business leaders said.
The new measures, jointly announced by the Ministry of Commerce and other 19 central government departments in April, are in response to the demand of market players and part of the master plan announced in June last year, they said.
The measures not only provide strong policy support for the development of the Hainan Free Trade Port and promote the "dual circulation" development paradigm, but also show China's determination to further liberalize international trade, help develop an open world economy, and expedite globalization, said Sang Baichuan, director of the Institute of International Business at Beijing-based University of International Business and Economics.
While 13 of the 28 measures focus on goods trade, the rest deal with trade in services. In some special areas, the authorities have done away with licenses for mechanical and electrical goods, and support the development of secondhand car exports and new offshore international trade.
Yet despite having a long coastline, Sang said, Hainan does not have some of the characteristics of the Hong Kong Special Administrative Region, or Singapore or other successful port cities, so it needs to develop in accordance with its real conditions and needs. As such, the free trade port should use its unique environmental and geographical features to advantage. And that Hainan is rapidly building a modern industrial system supported by tourism, modern service industries, emerging industries and tropical agriculture shows it is moving in the right direction, he said.
Chi Fulin, president of the Haikou-based China Institute for Reform and Development, said the free trade port must take appropriate measures to complement ASEAN's tourism sector, and integrate with the region's commodity and factor markets. For example, the free trade port should use its import tariff exemption and origin of production policies to attract agricultural products from ASEAN member states to process them in Hainan, create more than 30 percent added value and sell them in China's expansive market without paying any tariffs, he said.
After the COVID-19 pandemic is effectively contained, Chi said, Hainan should deepen cooperation with members of the Association of Southeast Asian Nations in cruise tourism, tourist exchanges, resource sharing and joint marketing.
"With its unique location and policy advantages, the Hainan Free Trade Port will offer further growth potential for foreign companies. We are confident in this path for the future with the support of major events such as the China International Consumer Products Expo, and other additional policies," said Jean-Etienne Gourgues, managing director of Pernod Ricard China, a French wine and spirits group.
The authorities have shortened the clearance time for imported goods and continuously strengthened intellectual property rights protection in Hainan, he said. Eager to seize a bigger share of China's lucrative market, the French company opened its first Martell retail store in Shenzhen, Guangdong province, last year, and the second in Sanya, Hainan province, in January.
Highlighting the importance of the new policy measures, Cui Weijie, vice-president of Beijing-based Chinese Academy of International Trade and Economic Cooperation, said they have been designed to serve the needs of the free trade port and will give full play to its competitive advantages in the cultural, digital trade, tourism and modern service sectors.
Over the past three years, the number of high-tech companies in Hainan has surged by 273 percent, internet industry revenues have risen by 192 percent, and the supporting role of the high-tech industry has become increasingly vital, according Ministry of Commerce data. Hainan's digital service trade reached 6.73 billion yuan ($1.04 billion) in 2020, up 130 percent year-on-year, while the container throughput of Yangpu Port exceeded 1 million twenty-foot equivalent units.
As the master plan requires the free trade port to initiate independent customs operations for Hainan in order to identify and plug any safety loopholes before 2025, these preparations for trade and investment liberalization are a prerequisite to reach the target, Cui added.
While independent customs operations will cover the whole island of Hainan, the current value-added tax, consumption tax, vehicle purchase tax, urban maintenance, construction tax, education surcharges among other taxes and charges will be streamlined based on laws, said Shi Zongwei, director-general of Haikou Customs District, a local unit of China's General Administration of Customs. Work on charging and collecting sales tax on retail of goods and services has already started, he added.
The government's new policies are attractive for domestic companies, too, said Qian Jiannong, chairman and CEO of Fosun Tourism Group, the tourism business of Shanghai-based conglomerate Fosun International. By developing into a global tourism and shopping hub, Hainan will provide an international platform for companies doing business in the province.