Deeper regional integration on the way
Share - WeChat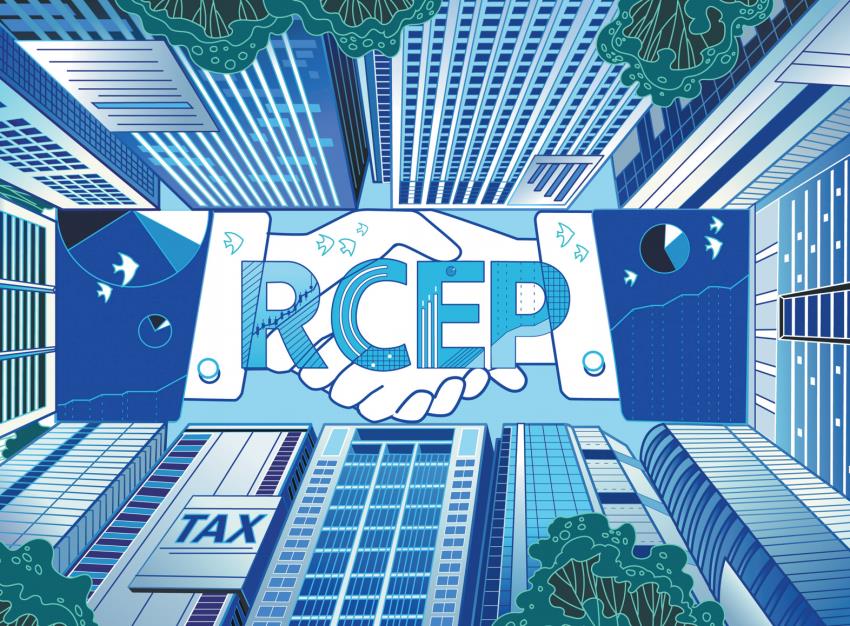 The Regional Comprehensive Economic Partnership will increase economic integration in Asia-Pacific to boost development of a wide range of industries, accelerating the shift of the global economic balance in favor of the region, experts and business leaders say.
At the RCEP Media & Think Tank Forum, Chi Fulin, president of the China Institute for Reform and Development in Hainan province, said: "The RCEP is a victory of multilateralism and free trade, and is significant to regional economic integration."
For example, he said, member countries of the RCEP can rely on the resource factor advantages and production bases for intermediate products as well as the technological advantages of advanced economies in the region, and make full use of the rules of accumulation of origin to form a closed loop of the regional industrial chain, supply chain and value chain.
Zhang Jianping, director-general of the China Center for Regional Economic Cooperation in Beijing, said the Asia-Pacific's role in world economic growth and recovery will become even more important with the expected implementation of the RCEP.
The pact, aimed at high-level regional integration through strengthening flows of trade, investment and services, as well as promoting regional development cooperation, includes unified liberalization, facilitation, promotion and collaboration measures, he said.
"Specifically, with contents on e-commerce and intellectual property protection, the agreement is projected to boost development of emerging industries and new business forms, injecting new growth momentum to the region," Zhang said.
Chi said the establishment of a set of multilaterally unified comprehensive e-commerce rules reflects the region's consensus on many key issues including cross-border information transmission, information storage, online consumer protection, personal information protection and cybersecurity, which will create a stable and amenable institutional environment for the growth of the digital economy.
That will boost the digital upgrade of regional industrial and supply chains, as well as the participation of Asian economies in the reconstruction of global digital trade and services rules, he said.
Benedikt Sobotka, chief executive of Eurasian Resources Group, said the company values the Asia-Pacific as being the most important for the sale of its main products, including copper, iron ore, ferroalloys, cobalt and alumina, and the RCEP "gives mining companies more confidence to establish a stable industrial chain and supply chain in the Asia-Pacific region, and enhance their ability to cope with risks and drive business in the context of uncertainty".
The company expects regional integration of the Asia-Pacific will not only deepen with the effectiveness of the RCEP, but also continue to affect the wider world and become a core and engine of the global economy, he said.
Chris Lauwerys, managing director and head of the Singapore Office of Teneo, a global advisory firm, said Asia's economic weight will continue to grow in various key sectors, for example, electronics, semiconductors and telecommunications/5G.However, Lauwerys said established Western companies will still hold established positions in a number of key industries such as digital technologies, energy and renewables.
Best Inc, an integrated supply chain and logistics solutions provider whose headquarters are in Hangzhou, began to deliver bulkier and heavier items in Thailand this month. It covers the nationwide shipment of heavy parcels weighing up to 80 kilograms, meeting increasing demand online among Thai consumers for China's home appliances and furniture such as fridges, televisions and sofa sets.
The company, with more than 5,000 overseas employees, has established a logistics network covering Vietnam, Thailand, Malaysia, Cambodia and Singapore.
Best's chairman and chief executive, Johnny Chou, said the expected implementation of the RCEP pact will provide strong impetus for China's business environment to improve, for institutional barriers to be eradicated, and for the scale of market access to expand.
The company sees more business opportunities in increased interregional trade, cross-border e-commerce and investment, Chou said.
The company's parcel volume in the markets of the Association of Southeast Asian Nations rose 738 percent year-on-year to 73.6 million parcels last year. In Thailand Best's parcel volume rose 613 percent and in Vietnam 798 percent.
The RCEP group already accounts for about half of global manufacturing output and of global automotive output and as much as 70 percent of electronics output, the United Nations Conference on Trade and Development said.
A report by the credit insurer Euler Hermes said developed economies accounted for about 80 percent of global GDP in 2000, but that ratio fell to about 60 percent by 2019, with the Asia-Pacific region accounting for 8 percentage points of the 20-percentage-point decline.