Red tape could be cut to build charging piles
Share - WeChat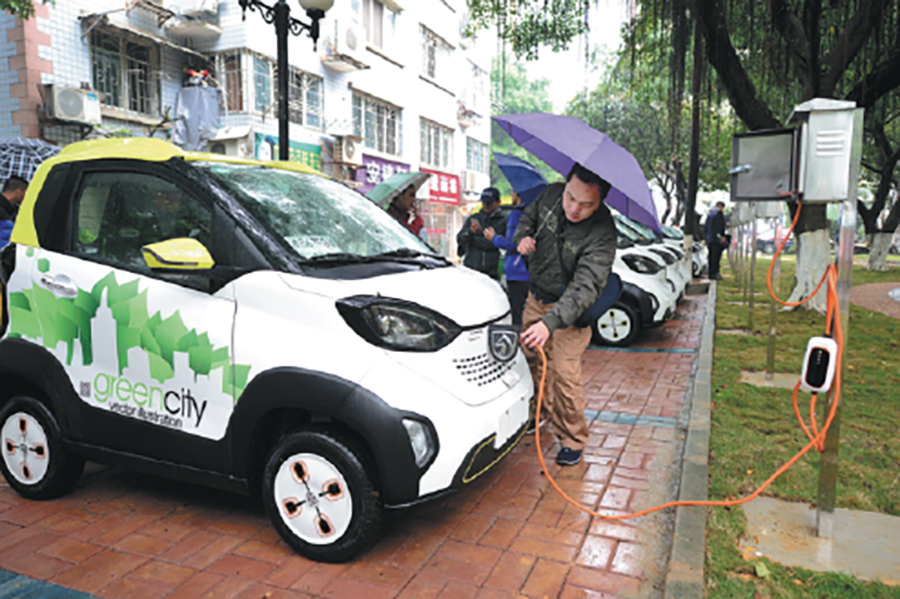 Government document backs expansion of new energy vehicle infrastructure nationwide
China is continuing its push to promote the take up of new energy vehicles in the country, with a top government body issuing a document to solicit public opinion on the cutting of red tape around the construction of charging piles.
The National Development and Reform Commission released the document on Thursday, which proposes that community managers do not obstruct the building of charging piles when certain conditions are met.
The commission hopes the proposal will encourage more independent construction of charging piles in residential areas. It also includes new guidance on battery swap infrastructure.
The document states that new residential communities must reserve all parking spaces for the installation of charging piles and must build power supply facilities. It also seeks to strengthen China's new energy vehicle development in other areas. For example, improving planning, construction layout, financial support and industrial research and development on new technologies.
Pushing ahead with charging infrastructure in residential areas is a key target for the government as it seeks to speed up the use of electric power over gasoline. This will play an important role in the country reaching its goal of peak carbon by 2030 and becoming carbon neutral by 2060.
There are currently more than 280 million cars on China's roads, according to the Ministry of Public Security, and 4.92 million new energy vehicles as of 2020.
As of April, there were a total of 868,000 public charging piles, including 363,000 DC charging piles, 505,000 AC charging piles, and 426 AC/DC integrated charging piles across the country, according to the China Electric Charging Infrastructure Promotion Alliance.
The steps being taken by the government to make it easier for people to switch to new energy vehicles, as well as manufacturers building their own networks and improving their models, seems to be working.
Sales of new energy vehicles in China rose nearly 250 percent year-on-year in the first four months of this year, according to data from the China Association of Automobile Manufacturers. The outlook for the rest of the year remains positive, with the organization predicting more than 1.8 million new energy vehicle sales in China this year.
In April alone, new energy vehicle sales were up 180 percent year-on-year, with more than 200,000 sold across the country.
As well as encouraging the independent construction of charging piles, new energy vehicle manufacturers are investing in and constructing their own charging networks.
Most new energy vehicle owners in China live in cities, where the charging infrastructure is better and growing at a faster rate than other areas, but this is likely to change in the future.
Electric vehicle startup Nio announced its Power North plan last month. It aims to optimize the charging resources in eight provinces in northern China. They are Heilongjiang; Jilin; Liaoning; Inner Mongolia autonomous region; Gansu; Qinghai; Ningxia Hui autonomous region; and the Xinjiang Uygur autonomous region.
Over the next three years, Nio aims to set up charging facilities by the hundreds and-in some cases-thousands. These include battery swap stations, mobile charging vehicles, standard charging stations and super-fast charging stations.
With the completion of the Power North Plan, there will be one of the company's Power Swap stations or Power Charger stations every 100 kilometers along expressways on average. Also, there will be one reliable charging or swapping station every 3 square kilometers in the urban areas of prefecture-level cities.
According to Nio, 95 percent of the tourist attractions in northern China rated 4A or above will have charging or swapping facilities as part of their program.
Xpeng, a fellow electric startup and Nio rival, plans to expand its own charging network in all prefecture-level cities and the top 12 county-level cities in China this year.
According to Xpeng, as of this month, it has built 19,019 free charging and supercharging piles in 1,140 charging stations, covering roads and highways across 164 Chinese cities.
A total of 146,000 charging piles were installed in China in the first four months of this year, increasing 116.5 percent year-on-year, according to China Electric Vehicle Charging Infrastructure Promotion Alliance. Of them, 61,000 were public charging piles while the number of private charging piles surpassed 85,000.