Haste urged on pact's activation
Share - WeChat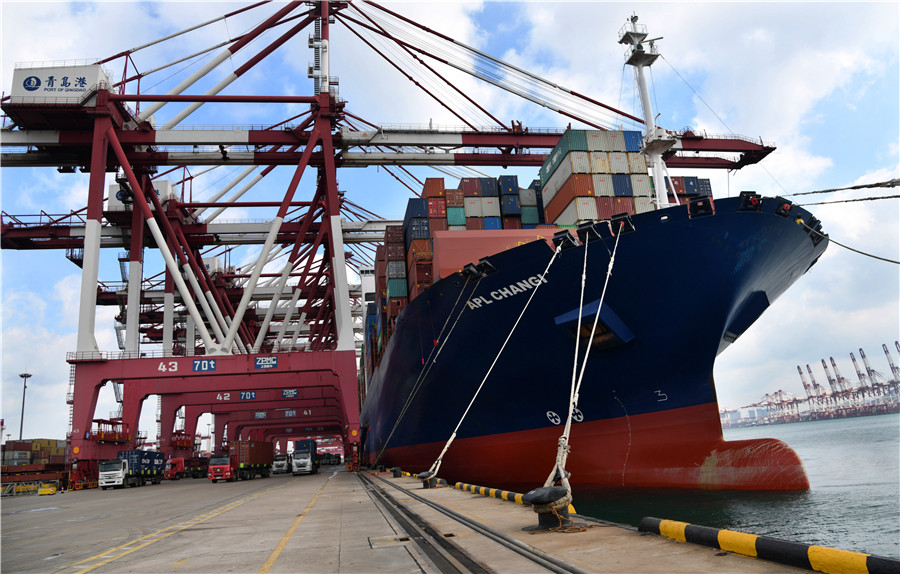 The implementation of the Regional Comprehensive Economic Partnership will help participating countries better integrate resources and build a high-quality service platform to restore both regional and global economic growth, government officials and experts say.
At a forum organized by China Daily and the China Institute for Reform and Development in Haikou, Hainan province, online and offline on Sunday, they called for the RCEP pact, the world's largest trade deal, to come into force as soon as possible. They said it would support an open, inclusive, transparent, nondiscriminatory and rules-based multilateral trading regime, and would expedite the economic integration of the Asia-Pacific region.
Once the pact comes into force, market access would be expanded and there would be fewer investment hurdles. These moves would release enormous potential and promote intraregional trade and investment flows, said Ou Boqian, vice-president of the Chinese People's Institute of Foreign Affairs.
To better deal with these changes, all the member economies should combine resource endowments and comparative advantages among themselves, optimize and harmonize regional trade and economic rules, facilitate innovation and integration of regional industries, and upgrade and restructure the industrial and supply chains, said Wang Huiyao, president of the Center for China and Globalization, a Beijing think tank.
Wang's opinion was echoed by Arthayudh Srisamoot, Thailand's ambassador to China, who said the RCEP will lay the foundation for more intraregional trade and GDP growth when it comes into force, if the public looks at how the free-trade agreement between the Association of Southeast Asian Nations and China has boosted economic and trade ties between the two sides, or a free-trade deal between China and Australia that has contributed to bilateral trade.
The RCEP will boost even more FTA+1 agreements, between the 15 RCEP countries and other countries outside, such as the United Kingdom, Germany, Mongolia and Russia, and perhaps even India, he said.
The RCEP deal was signed by China, Japan, South Korea, Australia, New Zealand and the 10 members of ASEAN in November. It will come into force 60 days after it is ratified by six of the ASEAN members and three non-ASEAN countries. China, Singapore, Thailand and Japan have completed procedures for ratification.
With the rise in protectionist sentiment in many global economies over the past few years, Herizal Hazri, chief executive of the Institute of Strategic and International Studies of Malaysia, said this landmark trade agreement is a strong signal that countries in the Asia-Pacific are committed to greater economic integration and collaboration.
"Rather than turn inward as the myriad vagaries of world trade and a global pandemic besiege the region, we instead have chosen to come together, and that is certainly no small feat."
Guo Da, assistant president of the China Institute for Reform and Development in Haikou, suggested that RCEP members further support pilot reforms introduced by governments in member countries and promote the development of small-and medium-sized enterprises, as well as economic and technical collaboration.
"It will be beneficial for members to keep working closely with local authorities to bolster domestic and regional development, including establishing RCEP innovation pilot zones or pilot demonstration zones, implementing transitional provisions so that more of its successful practice can be adopted among RCEP members," he said.
The RCEP is expected to push up member countries' exports by 10.4 percent between now and 2025 and their foreign investment by 2.6 percent and their GDP by 1.8 percent in the same period, the China Council for the Promotion of International Trade in Beijing has forecast.
China's signing of the RCEP and interest in the Comprehensive and Progressive Agreement for Trans-Pacific Partnership will offer great opportunities for international companies to expand their presence in China and its partner economies, said Rajat Agarwal, president of Henkel China, the German industrial and consumer goods manufacturer.
The RCEP will promote business and collaboration across borders and create an increasingly transparent, stable and predictable trade and investment in the region, said CK Tan, vice-president for the Asia-Pacific region of Lubrizol Corp, the US specialty chemical products maker.
There will be many benefits to multinational companies in China and its partner economies, he said.
China's foreign trade with the 14 other RCEP members amounted to 10.2 trillion yuan ($1.59 trillion) last year, accounting for 31.7 percent of the total foreign trade during the same period, the General Administration of Customs said.