Impressive approach paves way for Winter Olympics
Share - WeChat New technology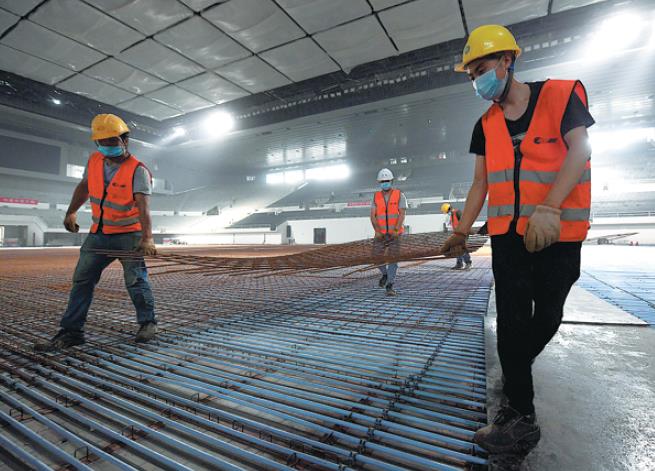 Featuring clean energy and the latest refrigeration technology, new areas of eco-friendly development are being explored at some venues built for the 2022 Winter Olympics, including the National Speed Skating Oval.
Built on the archery field used for the 2008 Games in northern Beijing, the Oval will be the first venue in the world of such size to use carbon dioxide, instead of the environmentally harmful substance Freon, as a refrigerant to make and maintain a 12,000-square-meter ice surface for speed skating.
With 22 strands of light illuminating its exterior, the Oval, known as the Ice Ribbon, is due to be completed by October and is expected to provide the best-ever conditions for the world's top long-track speed skaters.
Ma Jin, an engineer in charge of ice-making at the venue, said, "We are confident of making the fastest-ever ice circuit for speed skating because we are using the new refrigeration system.
"The carbon dioxide-based cooling system is capable of lowering the ground temperature instantly and maintaining the temperature at any point on the surface to make lubrication as consistent as possible."
After the Games, it is planned to turn the venue into a sports and entertainment center for the public. This will involve splitting the giant ice surface into a number of rinks for figure skating, short-track speed skating and hockey, according to the venue's operators.
Song Jiafeng, deputy general manager at the Oval, said: "The design gives the venue the flexibility to cater to the varying needs of different groups of ice sports fans. It will offer local residents an affordable choice to enjoy entertainment on ice after 2022."
For the first time at a Winter Olympics, all the venues in 2022 will be fully powered by green energy thanks to a new power grid operating across northern highland regions of the country. Electricity will be generated from renewable sources such as solar and wind energy.