Impressive approach paves way for Winter Olympics
Share - WeChat Reuse of venues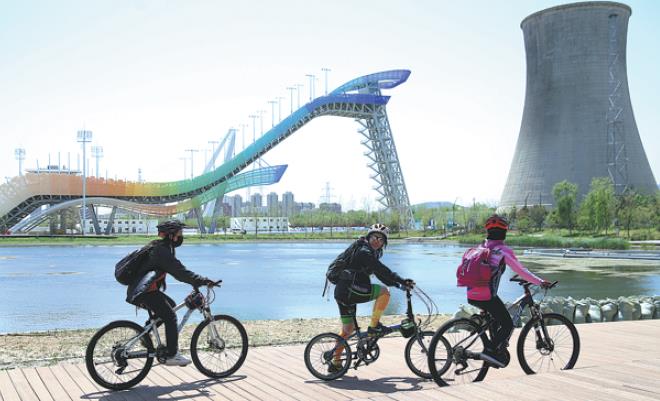 Using the existing facilities built for the 2008 Summer Olympics in Beijing, downtown venues have been adapted to host competitive events and ceremonies for the 2022 Games, paving the way for a sustainable future for permanent Olympic projects.
Thirteen venues will be used for competitive and non-competitive events in the downtown area, where all the ice sports will be staged, with 11 sites used in 2008 being renovated.
For example, the National Aquatics Center, also known as the Water Cube, which hosted the Olympic swimming and diving events in 2008, has been transformed into the Ice Cube for the curling events in 2022.
The work featured a yearlong renovation project, which involved filling the main pool with removable steel structures and making ice sheets, which will be placed over the pool.
Yang Qiyong, the venue's general manager, said that after staging a national junior curling tournament in December as a trial event, the venue can now be switched between hosting summer and winter events, marking a significant diversification in its business operations.
"Thanks to the opportunity to host Winter Games events, our business has benefited from the introduction of a new sport, and we have added a wider range of attractions to our portfolio," Yang said.
At the National Indoor Stadium, which lies to the north of the National Aquatics Center and was used to host gymnastics in 2008, the temperature-control system and lighting are being upgraded in preparation to stage the hockey events in 2022.
Work on transforming the National Stadium, also known as the Bird's Nest, and the National Convention Center, for ceremonies and broadcasting respectively, will be completed next year, according to the Beijing Major Projects Construction Headquarters Office.
Liu Xinping, director of sustainability with the Beijing 2022 organizing committee's general planning department, said, "By repeatedly using ready-made facilities, this innovation works well by cutting unnecessary spending while diversifying venue functions for improved post-Olympic operations."
Reusing venues reflects China's efforts to meet the International Olympic Committee's reform agenda, which is aimed at making future Games cost-effective, intelligent and green, Liu added.