Shenzhen heralds new era in city life by embracing innovative solutions
Share - WeChat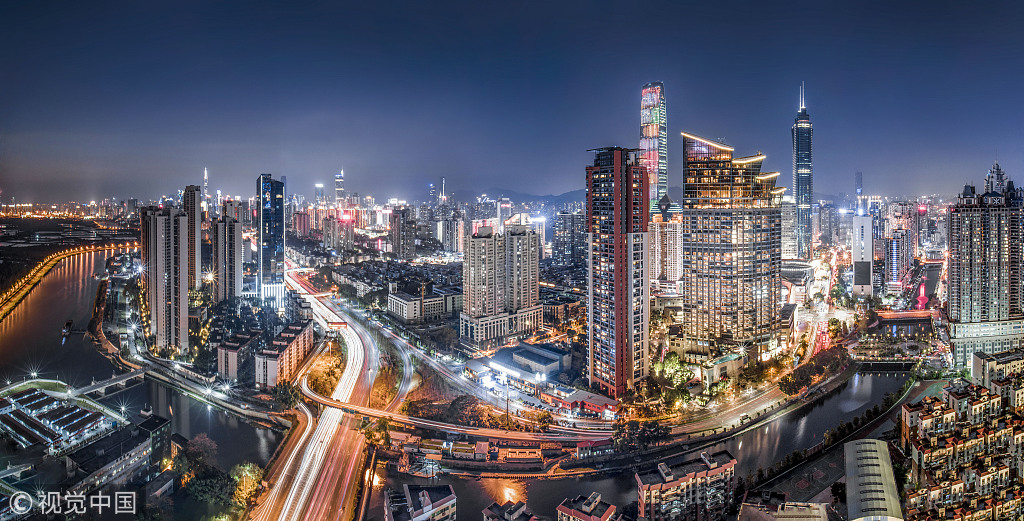 As a tech reporter, I travel a bit covering events, developments and companies in the sector, and I just realized one of the most frequently visited destinations is Shenzhen, a pioneering city in South China's Guangdong province.
What impresses me most about the city is its smart services. Take the Shenzhen Bao'an International Airport. There, I can use my national ID card to go through all the security checks and board the plane. There is no need to even have a boarding pass.
More importantly, I don't have to subject the tools of my trade, like laptop, camera and smartphones, and accessories like power bank, umbrella and, well, cosmetics, for additional security checks-a contrast to the scene at other big-city airports.
Such convenience is possible because I've been to the airport so many times that personal as well as relevant travel data have been stored on the airport's big data platform.
The airport recognizes me as a trustworthy traveler, and saves me a lot of trouble and time (no long queues for me).
The airport offers a glimpse of what a smart city might be like in the not too distant future. The smart city concept took form after rapid urbanization created a string of challenges in transportation, water conservation, communication, waste disposal and pollution.
To tackle them, government officials are keen to overhaul how a city is managed. They are leveraging the latest technologies such as 5G, artificial intelligence, the internet of things, big data and cloud computing.
Many people use the fancy idea of "digital twin city" to describe how to build a smart city. Of course, modeling a real-world city in a digital form, or having a virtual representation of the physical objects and assets in a city, can help governments improve urban planning.
But, in my view, what truly matters is whether or not these technologies improve the quality of life and living in urban areas. Would they be able to ensure traffic is smooth always? Would they improve law enforcement? Can resource utilization be made more efficient? Will public buildings become more energy-efficient?
Take driving in China's metropolises. It's never easy. In Shenzhen, more than 500 vehicles vie for space in 1 square kilometer. But, of late, local drivers are finding that traffic lights are becoming smarter and making their daily trips more pleasant, because police officers are keen to embrace technology-driven solutions to improve matters.
Previously, local drivers had to wait for several minutes at crossroads, with their eyes glued to traffic lights and feeling that centuries are passing them by while they wait for the red light to turn green. But now they can go through key intersections within seconds.
The secret to this dramatic improvement lies in a string of artificial intelligence-enabled cameras and a digital platform. The AI-powered cameras, installed near traffic lights, can see 200 objects in four lanes. The platform, functioning as "a brain", can adjust traffic lights in accordance with queuing vehicles and weather conditions, and not in a rigid, predetermined manner. All these tasks are accomplished in real time.
Li Qiang, director of transportation technology at the Shenzhen Municipal Public Security Bureau, told me in an interview that the platform can assist in traffic management by automatically identifying whether or not people are wearing seat-belts or making phone calls while driving.
With the platform put into use on certain road sections of Shenzhen, the traffic flow has improved 8 percent, with the average vehicle speed surging by 15 percent, he said.
Shenzhen is just one of a growing number of cities across China that are spending big on smart city initiatives. Consulting company Deloitte said in an earlier report that the country already has the highest number of smart city pilot projects in the world.
The world's second-largest economy has more than 500 smart city pilot projects ready or under construction, accounting for about half of the world's total. The number is far higher than that of second-placed Europe, which has about 90 such projects under way or planned, the Deloitte report said.
China has kicked off the commercialization of 5G technologies in October. I believe the superfast wireless technology will inject new vitality into the construction of smart cities across the country.