Steel industry entering fresh phase of slower output, higher quality focus
Share - WeChat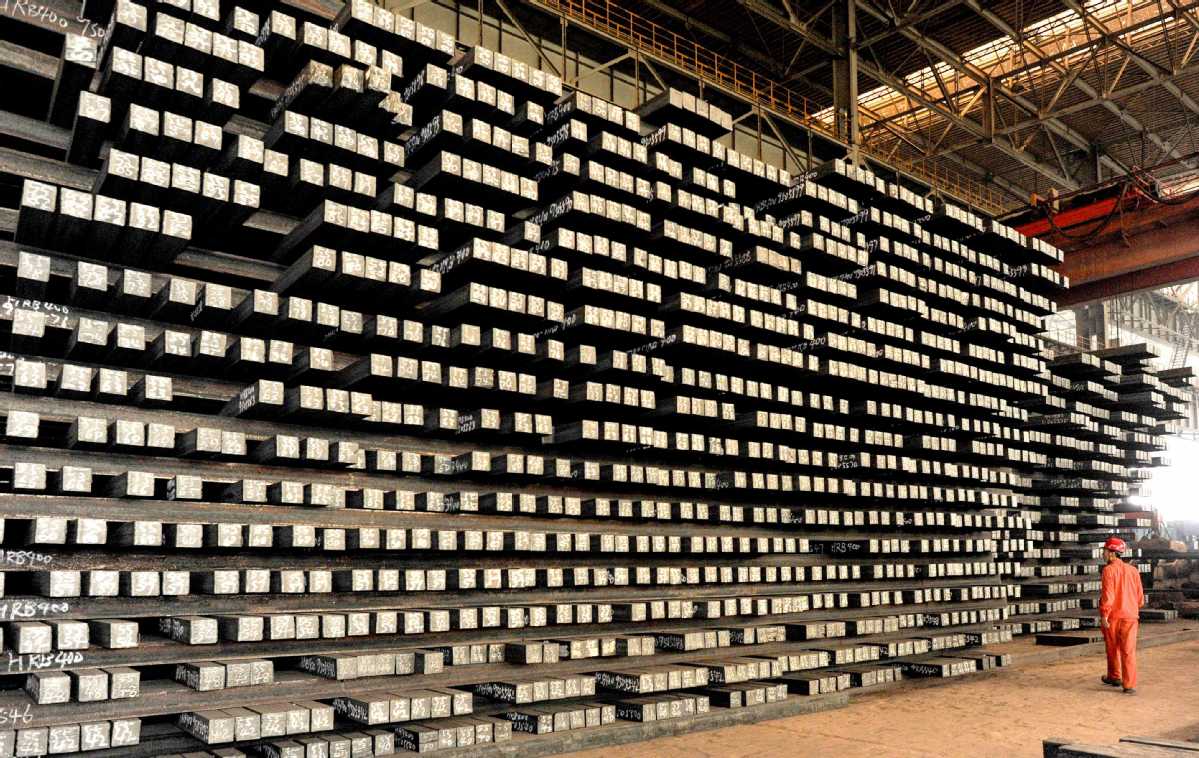 China's steel industry is entering a new development phase of slower output growth but higher quality, industry experts said.
Latest data from the Ministry of Industry and Information Technology showed China's crude steel output reached 904 million metric tons over the January-November period, increasing 7 percent year-on-year-nearly 3 percentage points lower than the year-on-year crude steel output growth rate for the first half of 2019, which stood at 9.9 percent.
The China Metallurgical Industry Planning and Research Institute predicted in a recent report that both China's crude steel output and demand will fall in 2020 from 2019.
Crude steel output in 2019 and 2020 is expected to reach 988 million tons and 981 million tons, respectively, said the report released earlier this month.
Steel consumption is estimated to hit 886 million tons this year, while demand forecast for 2020 is expected to be 881 million tons, down 0.6 percent from the level in 2019.
Chen Kexin, chief analyst of industry information provider Lange Steel Research Center, estimated that increasing crude steel output growth over the past few years is likely to come to an end soon.
"Capacity is the foundation of output growth. As most of the advanced steel capacity built in the past years has already come into use, there will be little new capacity coming into operation in the future, which means less steel output," Chen said.
Li Xinchuang, president of the institute, came to a similar conclusion, although from a different perspective.
"As the Chinese economy is transitioning from high-speed growth to high-quality development, consumption is to play a bigger role in driving economic growth, while the economy will no longer excessively depend on investments," Li said.
"That is to say, investment in fixed assets will remain at a relatively low level and steel demand will no longer be as high as in the past."
He estimated steel demand is likely to decline slightly over the 14th Five-Year Plan (2021-25) period, although the total amount will still be considerable.
Qu Xiuli, deputy head of the China Iron and Steel Association, said at an industry forum in November that the industry will continue to rein in unwanted steel capacity, and pursue green development with less energy consumption but higher product quality.
Also, the industry will make efforts to increase market shares of leading companies through industrial upgrade and mergers and acquisitions, so that the steel market will become more orderly, she said.
Over the Jan-Oct period, the top 10 steel companies only accounted for 34.6 percent of the total crude steel output, a 0.7 percentage point decline compared with last year, which was the opposite of the industry's expectations, according to her.
Li said mergers and acquisitions are becoming key for quality industry players to have more market influence so that the industry can better avoid disorderly competition, amid the industry's pursuit of high-quality development, since remarkable progress has been made in overcapacity removal and environmental protection.
As the largest steel producer in the world, China's top 10 steel companies account for less than 40 percent of domestic capacity, far off the goal of 60 percent if the industry wants to avoid disorderly competition, while the top four mines in the world control about 80 percent of global iron core output, he said.
However, as there is consensus in the industry for increasing concentration-or the market share and influence of the top companies-efforts have been made with some achievements, experts said.
A recent example is China Baowu Steel Group's stock acquisition of Maanshan Iron and Steel Co Ltd, which took the former one step closer to becoming the global leader.
Li predicted there will be more market-oriented, cross-region and cross-ownership mergers and acquisitions among Chinese steel companies.
Hopefully, there will soon be a fleet of national and regional steel giants, and a slew of small-scale but specialty steel companies, including three to four steel companies with capacity above 80 million tons, and six to eight steel companies with capacity above 40 million tons, he said.