Dutch energy firm deepens cooperation with Chinese partners
Share - WeChat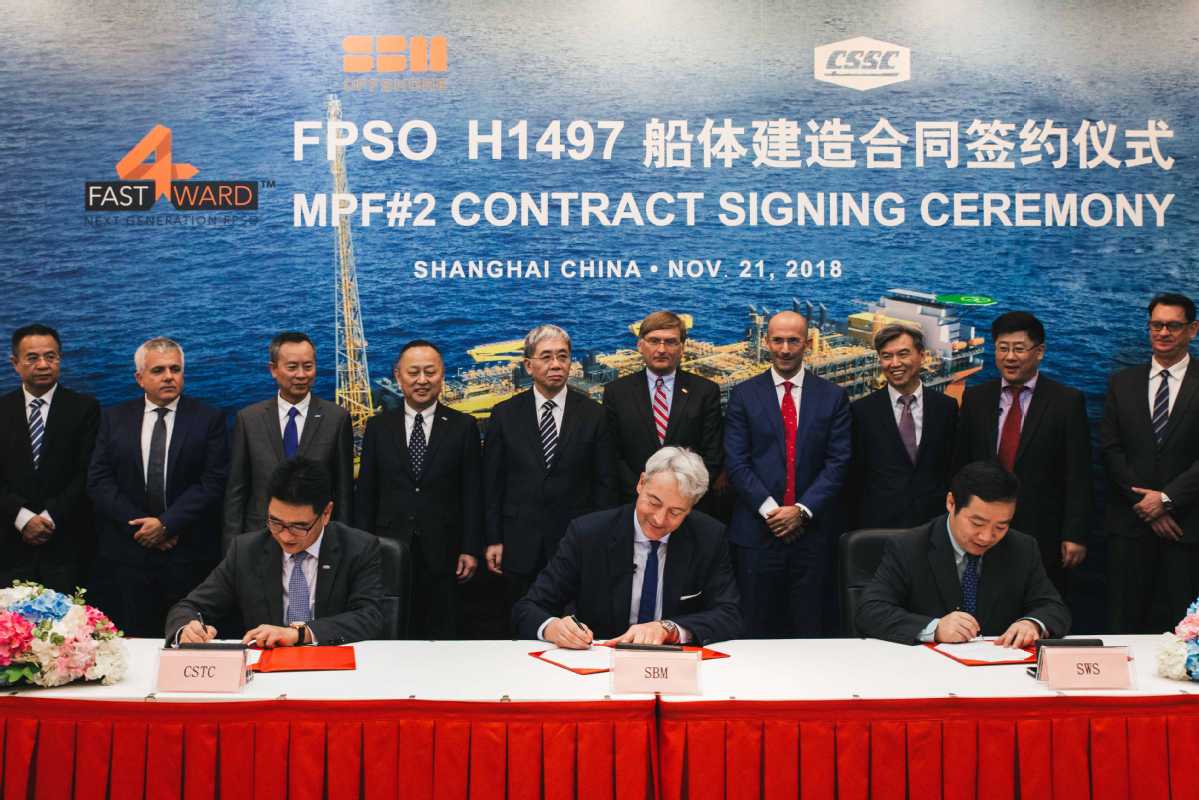 The contracts signed between SBM Offshore, a Netherlands-based company engaged in the offshore energy industry, and its Chinese partners on two more floating production storage and offloading (FPSO) hulls will further enhance their ties and thus help the company to expand its presence in China, said company's top official.
SBM Offshore signed contracts with Shanghai Waigaoqiao Shipbuilding and China Merchants Industry Holdings earlier this month on building the two new multipurpose hulls, also the company's fourth and fifth hulls, bringing its building tally to five in the country.
An FPSO vessel is generally used by the offshore oil and gas industry for the production and processing of hydrocarbons, and for the storage of oil.
Short for floating, production, storage and offloading, an FPSO vessel is designed to receive hydrocarbons produced by itself or from nearby platforms such as a subsea template, process and store the oil until it can be offloaded onto a tanker or, less frequently, transported through a pipeline.
The two hulls built for SBM Offshore will also be using the company's Fast4Ward standardization program, same as the previous three hulls the shipyards are building for them, a senior executive of the company said.
SBM Offshore's new build hulls will have a storage of up to 2.3 million barrels, as well as a daily production capability of up to 250,000 barrels of oil.
Srdjan Cenic, SBM Offshore's China general manager, said the multipurpose floaters have a large volume of work in steel and welding.
SBM Offshore has been helping its partners in developing supply chains, financing and improving quality and efficiency, as the company has been focused on expanding presence in China since its entrance in China in 1973, he said.
The company is expected to have about 80 vendors in China by the end of this year, and is targeting 250 by 2021, according to the company's plan.
"We see China and its partners as important enablers in our strategy for potential growth and expansion in deepwater projects," said Bernard van Leggelo, managing director of strategic growth of SBM Offshore.
The demand for FPSO projects is on an upturn given the fact that the oil price hovered around $62.8 per barrel in 2019, which is 11.5 percent below the 2018 average of $71 per barrel.
FPSO industry revenue is expected to hit $117 billion by 2024, growing at a rate of 19 percent over the period of 2016-2024, according to Global Market Insights Inc.
Poised to reach over $77 billion by the year 2025, FPSO will bring in healthy gains as it adds significant momentum to global growth, said a report by ResearchAndMarkets.
The report suggested that China, as the world's second largest economy and the new game changer in global markets, has shown the potential to grow at 19.1 percent in this sector over the next couple of years.
"The FPSO market is full of opportunities where Chinese industrial players should exhibit their strengths to vie for orders. It is worth noting that demand for construction of large, deepwater and complex FPSO projects has been increasing in recent years, but as an emerging sector, there exist many challenges which require concerted efforts of the domestic FPSO operators, shipyards, offshore engineering companies, financial institutions and equipment producers," Yu Hua, a general manager from a subsidiary of CNOOC Energy Technology & Services Ltd was quoted as saying by China Energy News.