China to step up pace of SOE reforms
Share - WeChat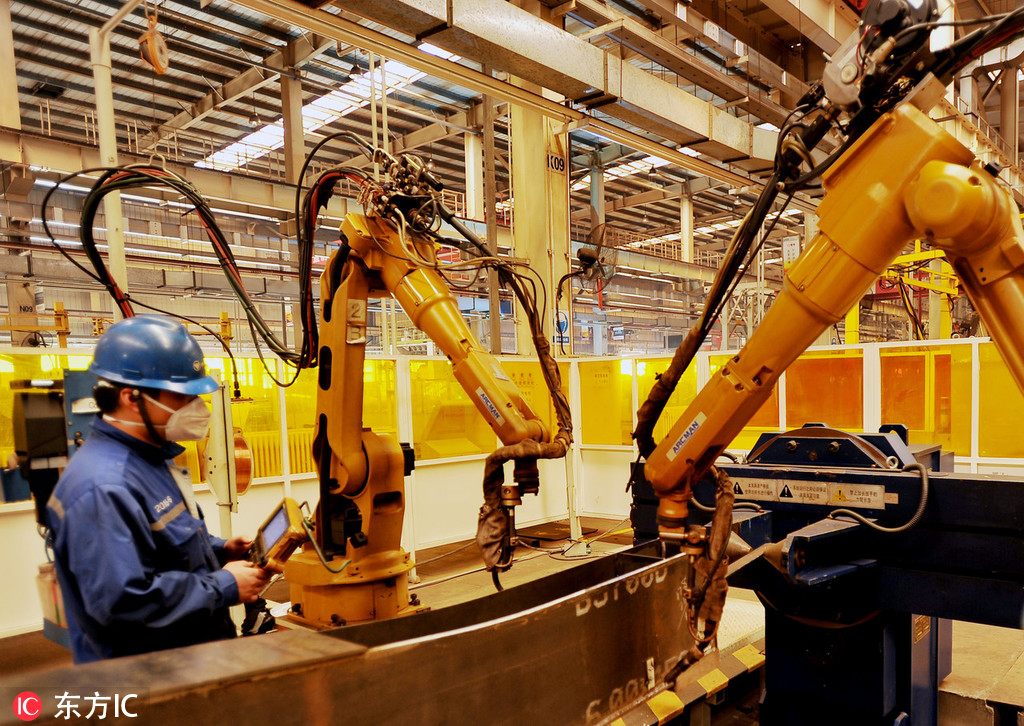 Mixed-ownership, reorganization, asset securitization to be key priorities
China will accelerate the pace of mixed-ownership reform, reorganization and asset securitization of its State-owned enterprises next year to create a group of world-class, role-model companies for spearheading high-quality development, experts said on Tuesday.
The remarks came against the backdrop of the annual meeting of the centrally-administered SOEs being held by the State-owned Assets Supervision and Administration Commission on Tuesday and Wednesday in Beijing.
Aside from setting out the priorities for SOE reform next year, the meeting will discuss ways to optimize the use of State-owned assets and spur innovation, while analyzing the hits and misses of this year's reform measures.
China is expected to unveil a three-year action plan on SOE reform in the first quarter of next year and these measures are set to instill fresh momentum in the country's capital market, invigorate the real economy, cut overcapacity and SOEs' administrative functions, said Li Jin, chief researcher at the China Enterprise Research Institute in Beijing.
"In addition to conducting strategic reorganization in areas such as shipbuilding, equipment manufacturing and chemical engineering this year, China will deploy more resources to restructure industries such as power, non ferrous metals, high-end offshore manufacturing equipment, environmental protection equipment and duty-free sales next year," he said.
Last week, a number of customized programs for mixed-ownership reform began at subsidiaries of central SOEs, including China Railway Rolling Stock Corp, State Power Investment Corp and State Grid Corp.
Among them, Huanghe Hydropower Development Co, a subsidiary of SPIC, gained eight strategic investors and raised funds of 24.2 billion yuan ($3.45 billion).
To better compete with global rivals, the mixed-ownership reform in sectors such as information technology, new energy and high-end equipment manufacturing has notably surged this year, indicating the country's policy requirements for optimizing the State-owned capital layout and resources, said Zhu Ge, president of China Beijing Equity Exchange.
He said several controlling stake transfers were implemented this year in sectors with full competition. The investor mix was also enriched with capital from the private sector. In addition, supportive government policies enabled greater nonpublic capital participation in the mixed-ownership reforms.
Since the beginning of this year, more than 50 percent of equity has been released by 47 mixed-ownership reform projects in both centrally-and locally-administrated SOEs, up 20.5 percent year-on-year, according to data released by the SASAC.
Liu Xingguo, a researcher at Beijing-based China Enterprise Confederation, believes that next year, the SOE reforms will focus on aspects like the upcoming three-year action plan for SOE reform, the role of SOEs' leading research institutes, optimizing and adjusting the layout of Stateowned assets.
SOEs should also boost their incentives in the field of science and technology innovation and use stock options, dividends and other such measures to gain new technology breakthroughs and financial support, he said.
Eager to enhance central SOEs' earning strength, China Reform Holdings Corp has invested 200 billion yuan in 180 innovation and high-tech related projects in select companies in the past three years, according to Zhou Yubo, chairman of China Reform Holdings Corp.
Of this, about 110 billion yuan was invested in over 70 projects for which China was heavily dependent on imports in the past.
China has also taken a series of measures to invigorate its SOEs this year including the mixed-ownership reform and the comprehensive reform of pilot areas in Shanghai, Shenzhen and Shenyang.
The combined profits of China's SOEs rose by 5.3 percent on a yearly basis to 3.2 trillion yuan between January and November, while the profit gained by central SOEs amounted to 2.09 trillion yuan, up 7.7 percent from the same period a year ago, according to the Ministry of Finance.