Weddings marry business with pleasure
Share - WeChat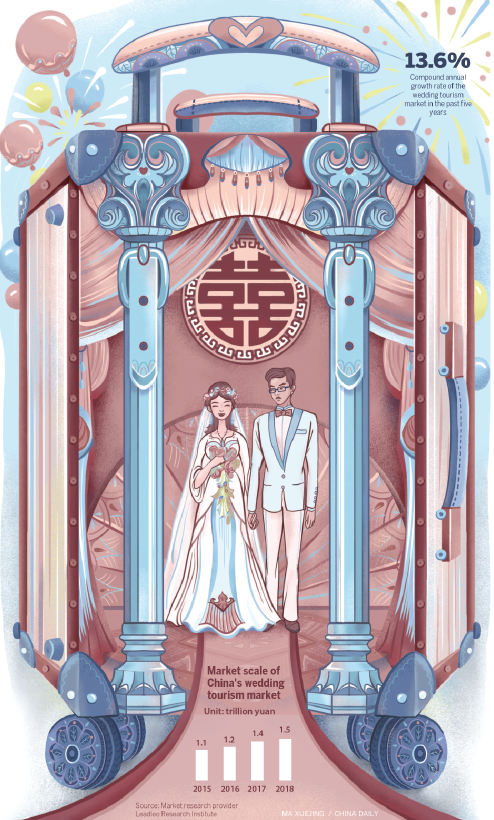 Travel operators, event managers, flower suppliers tap into the booming trend of spectacular nuptials
Marriages may be made in heaven, but it is equally important that the wedding, the first step toward a marriage, should be held at memorable locales like overseas resorts or picturesque coastal cities of China-that is the consensus among well-heeled young couples taking the marital plunge, which has spawned a whole new industry of sorts.
And even older, married couples, who have witnessed the People's Republic of China evolve over the last 70 years, are lunging for a slice of fun.
As if to make amends for missed opportunities in the past, couples who have been married for a long time, are jumping on the trendy-wedding bandwagon. Those with enough money and leisure time are tending to hold celebratory second weddings, or anniversaries.
That's because back when they married for the first time, they were restricted by limited savings and fewer travel opportunities due to the socio-economic and cultural dynamics of that time. Back then, after the reform and opening-up in 1978, televisions, refrigerators, washing machines and radios were the "big four" electronic products that average households sought.
Things have changed. Last year, the number of couples aged 50 and above who made second-honeymoon trips jumped 30 percent over a year ago, according to Qunar, one of the largest online travel agencies in China.
"The major consumers of destination weddings are those born in the 1990s. Unlike the previous generations, the millennial group tends to hold wedding ceremonies that are more innovative and romantic. Traditional and complicated wedding forms can't meet their new demand," said Neil Wang, president of consulting firm Frost& Sullivan in China.
Agreed Yang Guanghui, director of tourism and vacation department at Qunar. "This summer, we doubled the number of travel products related to honeymoon and wedding photo shoots that we offer online, prompted by rock-climbing demand from young couples, and favorable visa-free or visa-on-arrival policies of many countries and regions that aim to attract more Chinese tourists."
Exotic locales make for creative wedding ceremonies, perfect wedding images and videos, which are considered essential in the age of social media.
Churches, beaches, lawns, cruises, greenhouses, attics, warehouses, old cinemas, even deserts-all are par for the wedding-venue course these days.
And event management companies and their cousins are making hay while the nuptial sun shines, offering additional activities like scuba diving, parachute jumping, rock-climbing, cliff-crawling, round-the-island helicopter flights.
Popular wedding destinations include tropical islands such as Bali, the Philippines, Maldives and Fiji. European countries like Greece are popular too. In China, couples prefer to tie the nuptial knot in places like Hainan, Yunnan and Sichuan provinces, industry insiders said.
This year, demand for customized weddings and honeymoon trips surged by 70 percent over last year. Local in-depth tours and high-altitude experiences have become the most-sought-after choices, according to Qunar. (It, however, did not disclose the actual number of orders.)
From June to mid-August, bookings of domestic and foreign resorts for taking wedding photos surged about 80 percent year-on-year. In particular, the number of orders to take wedding photos abroad soared by 140 percent year-on-year, a research report from Qunar found.
In the United States and some Western countries that emphasize the "first look" (the moment the bride and the groom see each other for the first time in their wedding dress and suits on the wedding day, a few hours before the ceremony), specialist photographers command a premium for their services.
In China, young couples usually prefer to take a bunch of wedding photos wearing three to four different outfits before the wedding ceremony. The images are usually displayed at the ceremony but first shared via wedding invitations. Thus, shoots for wedding photos have developed into a lucrative, professional business activity in recent years.