Eye-catching snap of color, patterns and texture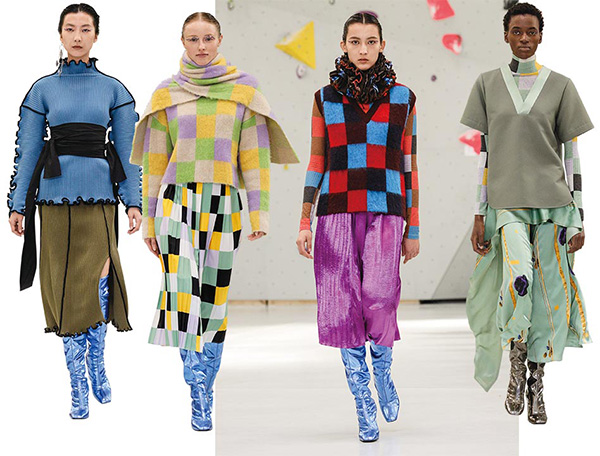 Austrian-born, Milan-based designer Arthur Arbesser isn't afraid to channel some lofty and distinguished names when it comes to his design – be it Egon Schiele, Sigmund Freud or Gustav Klimt – and this has given his clothes the cachet of a kind of intellectual glamour.
The Central Saint Martins graduate lives and works in Milan's Sant'Ambrogio neighborhood, a conservative enclave where women parade around in their Casentino wool jackets (worn by the aristocratic Italian families of yore, originally with an outer cape) and from which Arbesser has drawn inspiration, along with the traditional Austrian loden jacket.
Autumn/winter 2019 sees a contrast of high-necked harlequin-check sweaters, classic quilted coats, pleated check skirts and shirts, mohair tank tops and scarves, egg-yolk yellow trousers (from meringue to material girl), Bauhaus geometric patterns and saturated splashes of manga on metallic-blue boots.
Arbesser also invokes pomegranate, fig and lychee prints on flowing silk skirts and suits, which gives the collection a delectable quality. Ultimately, this eye-catching body of work runs the gamut of influence, from Japanese zen to a demi-pastiche of Arbesser's native Tyrolean and Alpine palette.