Witty, decadent and suffused with pop energy
Share - WeChat New York label Area delivers megawatt playfulness for autumn/winter 2019.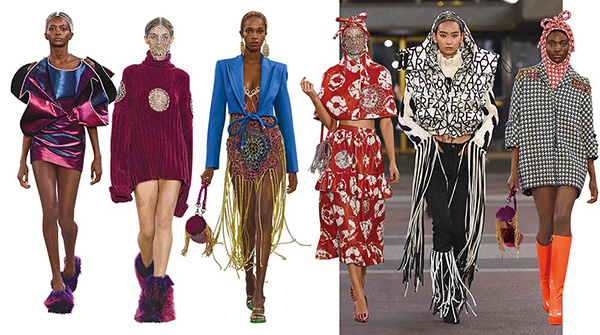 Named after one of New York's most popular Manhattan nightclubs of the 1980s, Area is a womenswear and accessories design studio specialising in textile development, innovative embellishments and quality craftsmanship. Founded in 2014 by Parsons School of Design alumni Beckett Fogg and Piotrek Panszczyk (of Calvin Klein Collection and Chloé, respectively), it has been on a meteoric rise to stardom since.
Area's signature style is multifaceted: witty, decadent and suffused with pop energy. Worn by Hollywood celebrities and luminaries from Ariana Grande to Michelle Obama, the brand's fluid satin dresses and fit-and-flare silhouettes showcase ultra-feminine glamour.
For autumn/winter 2019, Area has raised the stakes – and the ambition – with a veritable solar system of style and iconography via searingly stylish bags and shoes, and a look-at-me-now Instagram playfulness in its purple-to-pink fur, crystal-embossed cable knits, fluoro-orange jumpsuits, fringe trousers and silver plastic belts with the words "Soon Apocalypse" dangling from them. For those inclined towards some megawatt hyper-pop power-dressing, Area sells locally through I.T, On Pedder and Style One in Hong Kong, at Hirmoso and SKP in China, and at Rare Market in Seoul.
Most Popular