A disciple's lot: laying stones along a very long road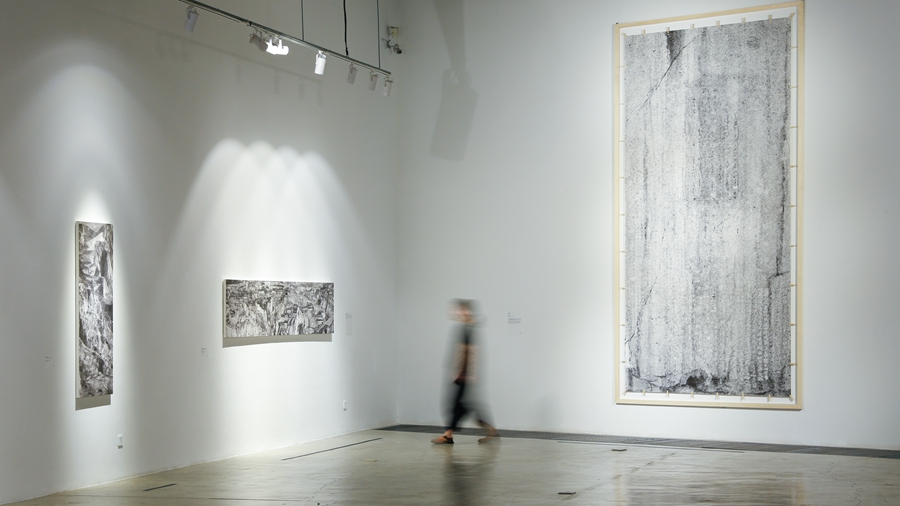 Most of Cherney's works are severely cropped, leaving a long horizontal slice that sometimes runs the visual gamut from dense to spartan. The inspiration comes from a hand scroll, which the artist deems emblematic of the Chinese way of seeing and storytelling.
"For centuries in the West, landscape painting has followed rules of fixed perspective. Instead of committing themselves to a linear perspective, ancient Chinese artists invite their viewers for a journey through a scroll, with changing views and shifting perspectives."
So the best way to appreciate a Cherney is to do what a member of the literati in ancient China did: to retreat to one's private chamber and have the scroll in hand revealed, bit by bit.
"What he's doing has enabled him to discover the literati deep inside himself," says Huang Dong, Cherney's Chinese wife of 26 years. The two first met on a train to the Great Wall in Beijing.
"I was then a student at Beijing Language and Culture University considering following in the footsteps of my father, a businessman who traded between the US and Asia," Cherney says. "These days my father often says, 'I don't quite understand what my son does exactly, but I'm proud of him.'"