A man of culinary import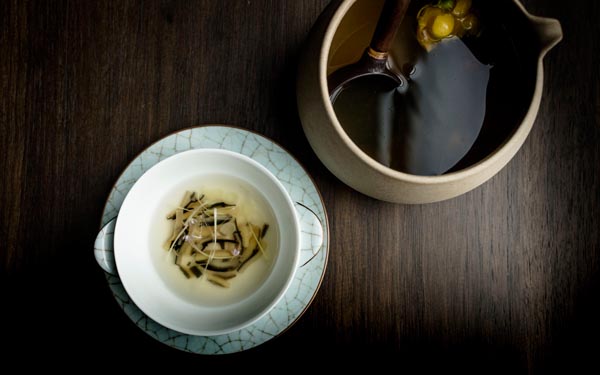 In Napa, Kostow grows most of the ingredients in his own garden. In Shenzhen, besides imported beef and truffles, he only uses local ingredients. He aims to cooperate with local farms in the future.
"The products here are great. And, more importantly, they are sustainable," says Kostow.
Kostow led his team to design the menu for Ensue at Napa, and when they arrived in Shenzhen last month, they adjusted the menu according to the available local ingredients.
"I did a lot of tastings to get feedback to make sure we're speaking to the local audience," says Kostow.
He likes to hear about people's perceptions of cuisine. For example, while turbot is considered a luxurious item in the West, it's commonplace in Shenzhen.
"Coming to China is interesting-and to a city that has all sort of potential in terms of number of the people, its affluence, proximity to Hong Kong and its role in tech world. And yet, there was nothing here (a few decades ago), so it seemed like an interesting idea," says Kostow.
Ensue is located on the 40th floor of the Futian Shangri-La Hotel, which is 14 minutes away from West Kowloon in Hong Kong by high-speed train. The venue was designed by architect Chris Shao and his Chris Shao Studios in New York. It combines elements of Chinese luxury with the natural beauty of Napa Valley.
The restaurant currently serves a five-or nine-course set dinner five nights a week and represents Kostow's understanding of the Cantonese palate.
The dinner starts with raw white clams, fermented daikon rice and leek oil. The clams from the South China Sea are freshly shucked and cleaned, while the daikon is lacto-fermented in a way similar to Chinese pickled vegetables, before it's juiced, frozen and shaved into the rice.
Water-turtle soup steeped with aromatics from the Chinese pantry is another highlight of the dinner. It's served in a terrine molded by a turtle shell with Australian winter truffles, baby pearl onions and allium flowers.
"I've never used turtle to cook before," says Kostow.
Local turbot steamed with red lilies and organic vegetables is one of Kostow's responses to Cantonese preferences, and the steaming technique has inspired him to take it back to his restaurant in Napa.
Kostow has said that northern Californian cooking is about "using the best products you can source locally and showcasing them as best you can. It really is that simple."
He finds it interesting that Cantonese cuisine has a lot in common with Californian cooking.
"Cantonese cuisine is very fresh, light, subtle and is very similar to cooking in California, which I didn't expect," he says.
Kostow knows that aromas play an important part in Cantonese cuisine, as do spices-and, sometimes, their absence.
"I'm not cooking Cantonese cuisine. I can only cook in a style that shows an understanding of the Cantonese palate," says Kostow.
Contact the writer at liyingxue@chinadaily.com.cn