Chipmakers bank on 'white knights' to move up the ladder
Share - WeChat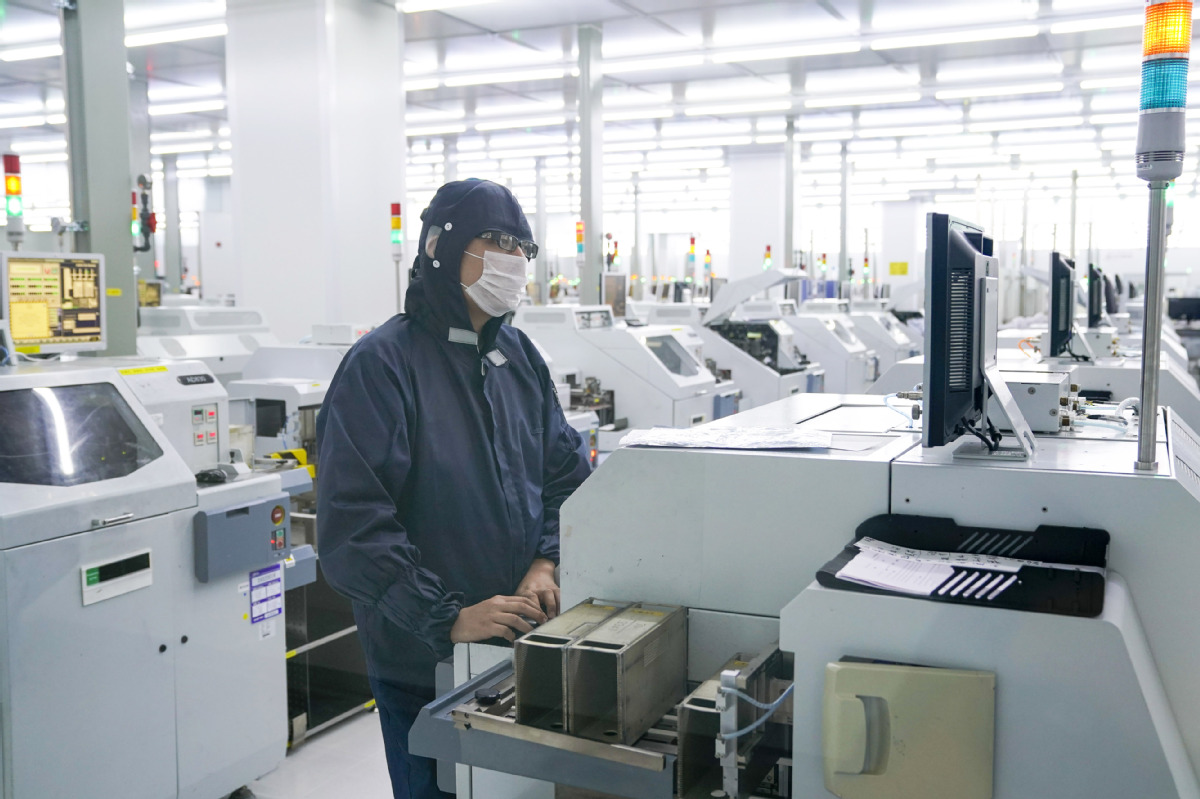 Experts: More steps needed to boost financing for equipment segment
More capital is needed to bolster the development of chip manufacturing in China, as the nation strives to reduce reliance on foreign technologies in case of a wider US export ban on the sector, investors and analysts said.
Ding Wenwu, president of China Integrated Circuit Industry Investment Fund Co Ltd, said currently, money is flowing into the chip design segment, which has a lower technological threshold and quick investment returns, but more efforts are needed to bankroll the chip material, equipment and manufacturing segments.
"Currently, investors are interested in the chip industry, but it is important to ensure the right investment direction. It is important not to put all the money into semiconductor design. China is lagging behind advanced countries in chip material, equipment and manufacturing, all of which need heavy resource inputs," Ding said.
According to him, only with a balanced growth in all of the above areas can China's domestic semiconductor industry achieve sustainable development. The China Integrated Circuit Industry Investment Fund Co Ltd was established in 2014 with its first phase of capital exceeding 138.7 billion yuan ($20.2 billion) from State and private investors. The fund is now raising the second round of capital.
Ding's comments came after China's chip industry notched up impressive strides in the past decade. In 2018, the country's indigenous chip sector recorded 653.2 billion yuan in sales revenue, up 20.7 percent from a year earlier, faster than the global average, data from the China Semiconductor Industry Association show.
But as the world's largest semiconductor market, China still spends more on importing chips than it does on crude oil imports in recent years. In 2018, its chip imports exceeded $300 billion for the first time, up from $260 billion in 2017, according to data from the Ministry of Industry and Information Technology.
Diao Shijing, co-president of Tsinghua Unigroup, the leading chipmaker in China, said semiconductor manufacturing is highly capital-intensive and requires superlong investment cycles.
"The government should help attract more money into chip manufacturing and let investors know that it is a profitable business, though it is not like chip design where money comes and goes faster," said Diao, who was also a former senior official with the Ministry of Industry and Information Technology, the country's top industry regulator.
The homegrown industry's efforts to make some high-end processors for computers, servers and other electronic products was also put into the spotlight after Chinese telecom major Huawei Technologies Co was banned in May from buying US technologies without special government approval.
Huang Qing, China managing director of Walden International, a US venture capital company focused on cross-border investments, said there are many weak points in China's chip industry including raw materials, equipment and chip design tools.
Manufacturing is the core of a semiconductor, but so far China has made no contributions to Moore's Law, a key rule that has affected the integrated circuit sector for a long time, Huang said.
But as the US government moves to tighten control of key technologies including premium processors, China is facing an unprecedented opportunity to build up its chip capabilities.
China has the world's leading system integration companies in mobile phones, 5G communications, security and other areas. They traditionally tend to cooperate with European and US suppliers. But as the US government moves to impose export controls on Chinese technology firms, they have begun to feel the urgency of working with domestic semiconductor companies, Huang said.
"By serving such tech giants, Chinese chip companies have an unprecedented opportunity to grow into global players," Huang said, adding that the country now consumes more than half of the world's semiconductors.
Sun Yingtong, chairman of Nationz Technologies Inc, a major chip company in China, said talent is what the industry lacks the most. "We don't have enough people, not just those who excel in semiconductor technologies, but also those who have an innovative mind and are willing to spend years on research and development of projects.
"Openness is the soul of the semiconductor industry," Sun said. "Despite the sophisticated international situation, we still need to have an open and inclusive mind. No matter what happens, we have to work hard to make ourselves leaders in technologies."
Nationz is a top supplier of semiconductors in the electronic banking market, and one of the top three suppliers of integrated circuit chips to all government issued ID cards and travel documents.