Epic series on small screen
Share - WeChat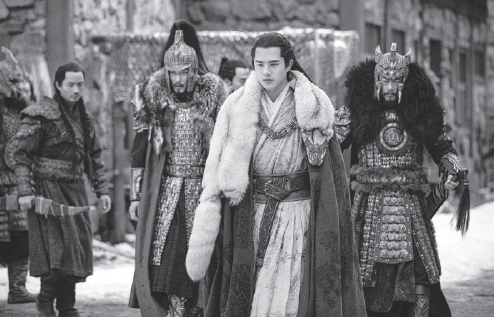 A Chinese costume drama that chronicles the growing-up years of three young would-be heroes in a turbulent era is winning rave reviews from viewers, Xu Fan reports.
The much-anticipated Chinese TV series Novoland: Eagle Flag has finally hit TV screens and streaming sites after a delay of more than 40 days, and is a hot topic for discussion online.
Three days after its Chinese mainland debut on July 16, the 56-episode drama entered a string of overseas markets, including North America, Malaysia, Vietnam, Singapore, Cambodia, Japan and South Korea.
It has been hailed on some foreign review aggregators that bring together TV and film fans, with ratings like 8.7 points out of 10 on Mydramalist and 7.8 points out of 10 on IMDb.
A Chinese take on Game of Thrones, the costume drama chronicles the growing-up years of three young would-be heroes in a turbulent era that is full of wars, conspiracies and betrayals.
As the series is adapted from a best-selling set of novels with the same title, its release is also exciting for the books' fans.
An additional attraction for the readers is that the novel's writer Yang Zhi, popularly known by his pseudonym Jiang Nan, is the chief scriptwriter for the TV series.
For Yang, working on the six-volume Novoland: Eagle Flag is an important part of his life, and the effort spanned 12 years.
It all started in 2001 when the Anhui-born Peking University-educated Yang was pursuing a doctoral degree in chemistry at Washington University in St. Louis.
To deal with loneliness and academic stress, he spent a lot of time reading Chinese books, especially about historical figures.
"In that quiet city that made outsiders feel a bit lonely, I wrote my first story for Novoland: Eagle Flag," says Yang.
Most Popular