Epic series on small screen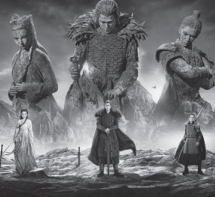 To bring the TV series to life, Yang along with veteran scriptwriters Chang Jiang, Shuang Cheng and Lei Bo, spent around two years on turning his novel into a script, adding new plots and characters, as the original story was not long enough for 56 episodes.
As for the casting, Yang recommended actor Liu Haoran to play the protagonist Lyu.
"I was impressed by his performance as a smart detective in the Detective Chinatown movies."
Also in the cast are actress Song Zu'er and actor Chen Ruoxuan.
The crew - which had more than 2,000 members at one time - spent over nine months in Xiangyang and the Enshi Tujia and Miao autonomous prefecture in Hubei province, as well as the Xinjiang Uygur autonomous region, for the project.
Director Zhang Xiaobo says the filming in such picturesque areas was an effort to add reality to the fictional story, to make it more relatable to audiences.