Epic series on small screen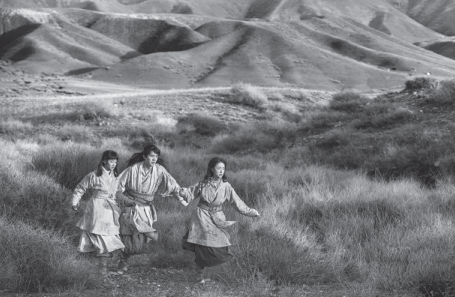 Novoland, or jiu zhou (nine territories), was a kind of writing project that was launched by several writers on then popular literature website Qingyun in 2002 and has since become one of China's best-known fantasy franchises.
Yang was one of the project's initiators, and they wished to create their own fictional world featuring ancient Chinese aesthetics.
It was an ambitious idea back then as young writers conceived a wide range of aspects to "build" this fictional place, named Jiu Zhou, from its geographical landscapes to currency.
Novoland is about human beings coexisting with creatures who possess supernatural abilities rooted in Chinese mythology.
For instance, in Yang's story, Yu Ran, the female protagonist among the three young heroes, is depicted as a princess of a tribe that have wings and can fly. And Lyu Guichen, also one of the three, is the heir to a nomadic tribe leadership. He has inherited his family's unique genes that can transform him into an unbeatable warrior if he's angry.
"I once felt so exhausted during the writing process that I took a nap on my computer's keyboard ... At one point I even doubted my decision to be a professional writer," Yang says.
But all his hard work has paid off. Thanks to his other popular works such as the Dragon Raja series and Shanghai Fortress, which has been adapted to be made into a star-studded film, Yang has been ranked as one of the country's highest-paid authors by the Chinese Writers' Rich List for a couple of times.
In 2015, Novoland: Eagle Flag (independently written by Yang) was published by People's Literature Publishing House, one of China's oldest and largest publishers, which symbolizes a recognition from the mainstream literature circle.
And in 2016, the Shanghai-based production company Linmon Pictures purchased the television adaptation rights of the novel.
"Every novelist wishes to see his (or her) works being brought to life. It is very thrilling for me," Yang says.