Lender relies on family credentials to minimize nonperforming loans
Share - WeChat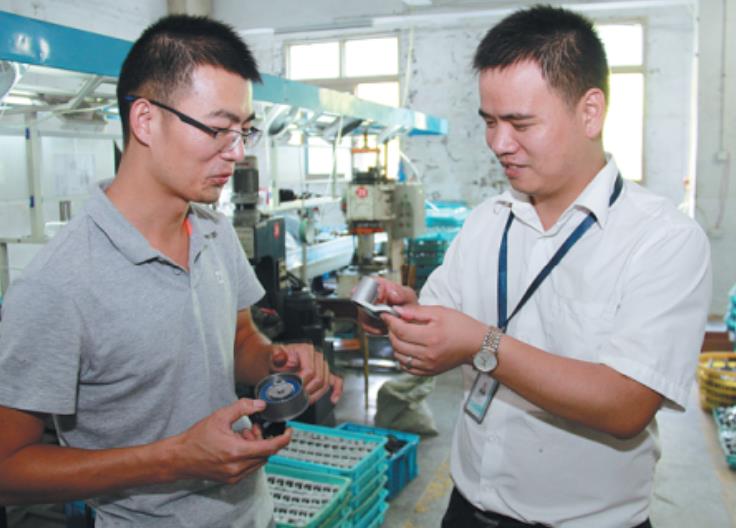 The most common reasons for small business owners failing to repay loans on time are moral hazard such as gambling, unsalable products due to market changes, and acting as guarantor for a friend or relative's now overdue loan, said Mu Yuehong, client manager at Bank of Taizhou Co Ltd.
Mu, 41, joined Bank of Taizhou, a city commercial bank that specializes in making loans to micro and small enterprises, in 2003. She now manages about 280 clients, most of whom are self-employed entrepreneurs.
To prevent the occurrence of nonperforming loans, she tries to learn as much as possible about small business owners' family relationships, their business operation history, the accumulation of capital, the real purpose of the loan, and the total value of guarantees they have provided for other loans.
"After talking to a small business owner, my colleagues and I will cross check the information by reviewing bills, bank statements and credit reports provided by the People's Bank of China, the central bank. We will search for the firm on mainstream business data search platforms and local government-backed credit information sharing platforms, in addition to talking to employees about business operations and the financial situation of the firm," said Mu.
If a business owner lives in a village, client managers make local inquiries, which is an effective way to gain a deeper knowledge of the person, she added.
The subbranch of Bank of Taizhou where she works is located in the rural-urban fringe of Huangyan district in Taizhou, a coastal city in Zhejiang province known for its robust business activities in the private sector.
Due to rapid growth of the mold industry in Huangyan, a large number of self-employed entrepreneurs who manufacture plastic products such as hangers, toothbrushes and cups live in the area surrounding the subbranch.
Some of them have applied for loans to purchase raw materials and equipment. The injection molding machines most widely used by small local plastic product manufacturers cost 150,000 yuan ($21,850) to 250,000 yuan per unit.
"Generally speaking, if a small business is run by a couple who are focused on a particular industry and have no bad habits such as gambling, and if the business is running smoothly, its owner will receive a loan from our bank as the probability of risk occurrence is fairly low," she said.
By the end of May, the nonperforming loan ratio for micro and small loans offered by Bank of Taizhou was only 0.54 percent. Among 325,700 clients that had taken out loans at the bank, 94 percent had a line of credit of up to 1 million yuan, and the average line of credit was 393,200 yuan per client.
The bank has developed its own measures and system for risk analysis and identification, highlighting the importance of family governance and the skills of small business owners, rather than corporate governance and collateral.
"In Taizhou, it is common for a man to be the chairman of a small business and his wife to be the financial officer. Under these circumstances, it might be hard for him to differentiate his own property from that of his family and company. Therefore, how harmonious a family is and how hard the family members work greatly affect loan security. If a couple gets divorced, which can arise due to issues such as gambling, it will introduce risk to our bank's loans. That's why we think family governance is important," said Wang Weiwen, marketing director at Bank of Taizhou.
As decision-makers, subbranch managers will approve or reject 90 percent of the applications for one-year working capital loans. For first-time applicants, once their loan applications are approved, it usually takes three days to complete the procedure. After that, client managers will revisit the client within a month to ensure that the loan is used for production and business operation.
The bank also conducts off-site inspections and client risk monitoring based on big data and digitized client profiles to categorize risks according to the degree of seriousness and to identify clients worthy of closer inspection, Wang said.