Metropolitan areas to spearhead nation's urbanization drive
Share - WeChat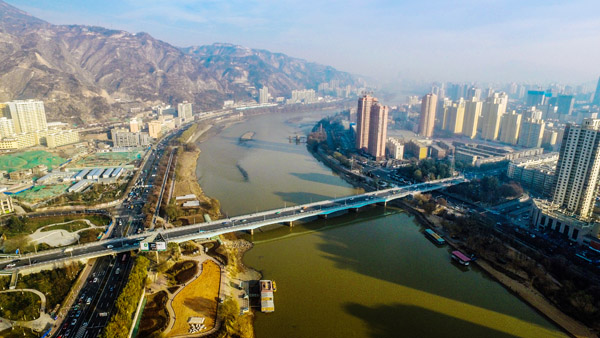 Metropolitan areas could be the next driving force of China's urbanization. The country's top regulator and political advisers are drawing up new blueprints that are concentrated in some second-tier cities in the central and western regions.
China will focus on developing five metropolitan areas with the cities of Taiyuan, Guiyang, Lanzhou, Kunming and Yinchuan, said Yang Weimin, vice-chairman of the Economic Committee of the Chinese People's Political Consultative Conference National Committee and a member of the Standing Committee of the CPPCC National Committee.
Yang, who is also the former deputy head of the Office of the Central Commission for Financial and Economic Affairs, outlined the concept of "high-quality urbanization" - a balanced development of economy, people, resources and the environment.
"In China, a key factor that constrains cities' development is resources and environment, and the essence of (the) housing problem is how to balance development between people and nature," Yang said at a recent seminar jointly held by the China internet Information Center and the Cloud River Urban Research Institute.
He also highlighted further reforms in the housing system, especially changing the real estate tax system and building a special policy bank for housing.
The government has finished plans for 19 city clusters, each of which is composed of several metropolitan areas containing the most important elements to accelerate and rebalance urban development, Zhou Nan, deputy head of the development and planning department of the National Development and Reform Commission, told China Daily.
The old-style urbanization relied on industrialization and heavy industry to expand and produce strong growth in some regions, such as the three provinces in northeastern China, along with massive infrastructure and property investment.
Problems, however, rose during the urbanization process such as over-investment in unprofitable enterprises, a high debt burden for local governments and environmental pollution.
In addition, as China's economy is facing slowdown risks amid increasing external headwinds, some cities which relied too much on heavy industry are shrinking when young people move out of those areas to look for new jobs.
Those issues became a bottleneck which constrained the world's second largest economy as it transitioned into a high-income country, according to some economists.
Experts and officials are learning experiences from some successful cases for urbanization, such as the Pudong New Area in Shanghai, which grew from a wasteland into a modern international economic and financial center.
Zhao Qizheng, former minister of the State Council Information Office of China and a leading official in the building of Shanghai's Pudong New Area, said that international-standard development plans and opening to global investment contributed to Pudong's rapid development.
"Pudong has also boosted the development of Shanghai and the overall Yangtze River Delta area," said Zhao.
Following those successful cases, this will be a significant year for the new-style of urbanization in China in a shift toward a high-quality development model, Meng Wei, a spokeswoman for the NDRC, said at a news conference on Monday.
Designing the city cluster and metropolitan area development plans to coordinate growth of multiple-sized cities and towns is one of the four key tasks for the transition in urbanization. Other tasks include a relaxation of restrictions on the household registration system especially for migrants from rural areas, and freeing the flow of resources including land, capital and labor force, between urban and rural areas, Meng explained.
Zhou Muzhi, head of the Cloud River Urban Research Institute, said part of the plan to bolster metropolitan areas is to improve the Densely Inhabited District - an index that indicates districts with a population density of more than 5,000 inhabitants per square kilometer.
This means raising the population density in key metropolitan areas and "the urbanization of population" should not lag far behind "the urbanization of infrastructure construction paved by steel and concrete," he said.
A report by the institute said a stronger connection between the central large cities and the surrounding medium and small-sized cities can improve the capacity of metropolitan areas, especially in boosting the cities' function as international exchange centers.
Senior NDRC official Zhou Nan said that well-developed metropolitan areas should be based on a mechanism which allows cities to share public services and protect the environment together.
Infrastructure systems, especially the unified transportation network, will be the priority for building the metropolitan areas. It also requires coordinated industrial development. The government could play a role in guiding population migration toward large city clusters, attracting immigrants through high-quality public services and social security, she added.