Migrant workers heading west for emerging jobs
Share - WeChat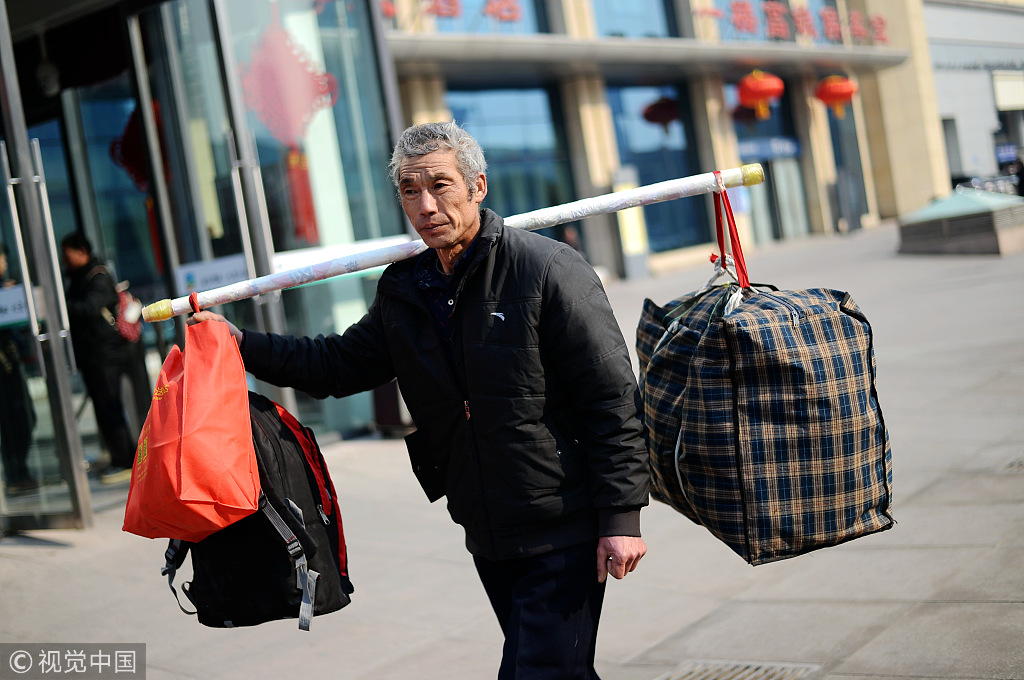 Aging workforce drags growth in number as they follow relocated factories home
Growth in the migrant worker population slowed last year for the first time since 2015, while migrants' choices about where to work have shifted, according to a recent report by the National Bureau of Statistics.
As a result, a new workforce is moving to backwater areas, but at the cost of losses to the manufacturing titans of southern China, where industrial upgrades are urgently needed to compensate for manpower shortages.
The NBS said the main migrant flow is now directed more to western provinces, such as Shaanxi and Gansu, away from the previous attractions in the south, such as Guangdong.
Wen Xiaoyi, a professor at China University of Labor Relations in Beijing, said the fast development of tertiary industries-such as product and food delivery in western inland cities-has made more jobs available to migrants.
The group flowed significantly into China's western provinces last year, rising 4.2 percent year-on-year to 59.9 million, while some southern region-the Pearl River Delta, for example-took a hit, decreasing by 3.9 percent year-on-year to 45.4 million in the period.
Aging is also affecting migrants, the report said, with the average age of a migrant worker in 2018 being 40.2 years, half a year older than in the previous year.
Migrant workers older than 50 have increased steadily in the past five years, accounting for 22.4 percent of the total, up 1.1 percentage points year-on-year, the report said.
According to the NBS, the 288.3 million migrant workers represented only a 0.6 percent increase year-on-year, and was the first time in five years that growth came in so low.
Wen said the reason for the slowdown lies largely in aging.
"Generally, the number of workers aged 18 to 64 is dwindling, while the older population is increasing, leading to a manpower shortage in some industries," he said.
New attractions
"Eastern and southern provinces, like Guangdong, used to be big attractions for migrant workers. However, the economic slowdown triggered the upgrading of many labor-intensive jobs into more technological ones, saving labor costs," Wen said. "Then, the factories were mostly moved to central and western regions. That's why the western provinces registered such a remarkable increase in migrant workers."
Feng Xiliang, dean of the School of Labor Economics at Capital University of Economics and Business in Beijing, said, "Rural urbanization is another important element attracting migrant workers from outlying areas back to their hometowns for work. Some labor-intensive factories were moved to central and western areas, adding job opportunities for local residents.
"Moreover, poverty alleviation has made progress nationwide, so migrant workers who left their hometowns because of poverty can return for new opportunities. It's attractive to older workers who left their families at home."
Schooling predicament
Notably, according to the NBS report, education, as well as prejudice against migrants by urban dwellers, hamper mobility.
It said 50.8 percent of migrant workers who have their children with them complain of problems related to education-such as expensive tuition fees and inequality in recruitment.
Zhang Haixia, a 41-year-old from Xuancheng, Anhui province, gave up her job in a textile factory in Shaoxing, Zhejiang province, in 2008 because of her son's education.
"My husband and I moved to Shaoxing for work back in 2004 with my son, who was 3 years old," she said. "However, we faced a lot of problems in 2008 when he reached school age. There was a school built for migrant workers' kids, but the resources there were far from satisfactory."
She said that many of her colleagues were too busy with work to deal with school issues, so their kids had poor academic performances and dropped out. What's worse, her son was mocked as "a foreigner" by his peers, which caused the family grief.
"Though my husband and I were migrant workers, we did hope that our son would receive a good education," she said. "We moved back in 2008 and started a business in my hometown two years ago. Life is much better now."
Feng Xiliang, the dean at Capital University, said migrant workers are of great help in ensuring a city's operations because they take on grassroots work in areas such as sanitation and construction.
"We should give them more fair treatment in jobs, education and insurance as they are also residents of a city, just like us," he said.