Culture lovers dress to impress
Share - WeChat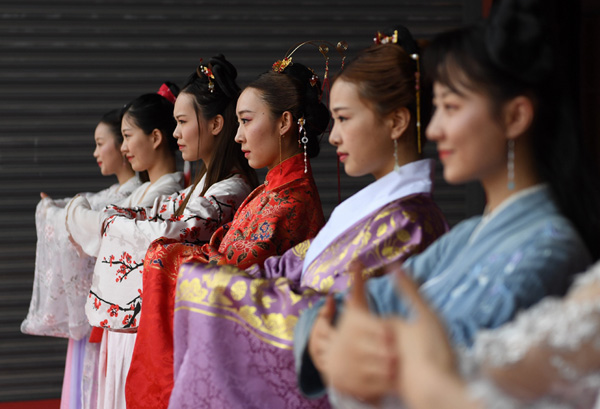 "Wearing hanfu can restrict movement. It is not that comfortable, but it is very beautiful and special," she said. "I feel especially proud when foreigners recognize me as a Chinese and appreciate the beauty of our traditional costumes."
While the hanfu revival originated online, it has also spread through short-video platforms such as Douyin and Bilibili that are used by the younger generation, Wu said.
Douyin hosts many short-videos of people wearing hanfu during everyday activities, including eating hotpot, skateboarding, hip-hop dancing, and working in factories. Short videos related to the costumes have received more than 10.8 billion clicks.
On Bilibili, there are an estimated 40 million users who are interested in the country's traditional culture, and some 88 percent of them were born after 1995, according to the platform.
On April 7, Bilibili and the Central Committee of the Communist Youth League of China hosted the second celebration of hanfu culture. More than 20 million people watched a livestream of costumes and related performances.
Mo said short videos have contributed greatly to promoting the culture in China.
"Such videos showing people in the costumes performing various activities in everyday life actually showcase a new lifestyle, telling people that they can wear the attire and perform many fashionable, classic, funny or cool tasks," she said. "They bring the culture closer to the public."
There are two types of costume being worn nowadays. One is made by strictly following traditional patterns and is usually reserved for special occasions.
The second type, which can be worn in everyday life, retains the general traditional patterns, but also includes improvements or has modern elements and Western-style decorations.
Most Popular