Culture lovers dress to impress
Share - WeChat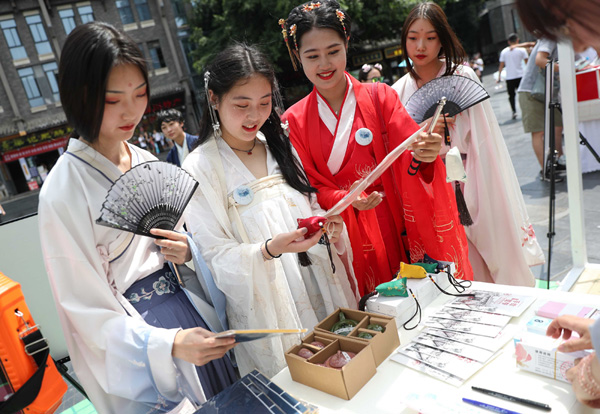 After confirming the existence of hanfu, a revival movement started. A large number of enthusiasts formed various online groups to promote the culture. They have also held many offline events to showcase the beauty and cultural connections of the clothing.
"Many Han Chinese didn't really know about hanfu or its history, and would wear other traditional dress such as the qipao," Mo said. "But in recent years, the number of hanfu lovers has grown rapidly and knowledge of the culture has widened."
Last year, there were more than 2 million keen admirers of hanfu in China, a rise of nearly 73 percent on 2017, according to a report by HanFu Information, a data provider for the sector. Their average age is 21, and some 88 percent of them are female.
Coco Wu, cultural strategy consultant for market research company Kantar, said part of the reason for the increasing popularity of hanfu is people's growing confidence in their own culture, due to the country's rapid economic growth and continued government efforts to boost cultural development in recent years.
"Having great confidence in their culture makes people more willing to trace their traditions. To them, wearing hanfu can be compared with wearing a cultural icon," she said.
Moreover, the huge differences between hanfu and modern clothing makes the costumes ideal choices for cosplay, as wearing them can offer people "novel experiences" and make them feel as if they are traveling back in time to an ancient world, Wu said. She added that it is now common to see younger people wearing the attire on visits to ancient sites and parks.
"The younger generation has become the main driving force behind the revival," she said. "To them, wearing hanfu can be more fashionable than wearing luxury global brands, and caters to their need to search for novelty and showcase their personalities."
Rebecca Li, an etiquette expert in Beijing, said she likes to wear hanfu when visiting ancient sites. In April, she also wore the traditional costume on a visit to Japan to see the cherry blossom.
Most Popular