Culture lovers dress to impress
Share - WeChat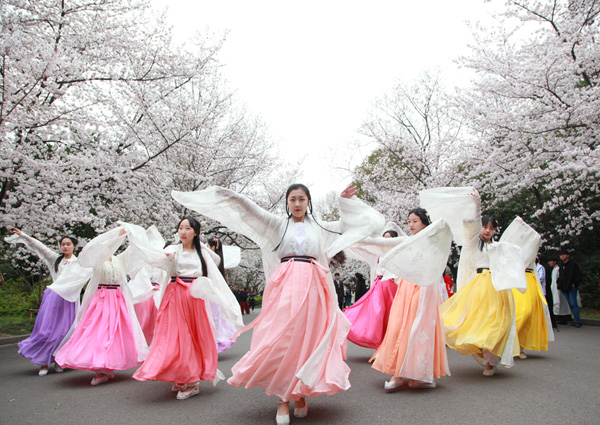 Prices range from a few hundred yuan to tens of thousands of yuan.
According to Hanfu Information, the sector's revenue reached some 1.08 billion yuan last year, with about 75 percent coming from online sales. There were more than 815 hanfu stores on Tmall, up by just over 24 percent on the previous year.
This year, sales are expected to rise significantly, Hanfu Information said.
Lyu Xiaowei, 39, is one of those who started the revival 14 years ago, when she founded China's first brick-and-mortar hanfu store at a scenic spot in Chengdu.
"I couldn't find anywhere to buy the clothing, so I decided to open a store myself," she said, adding that initially business was poor.
Moreover, as making the costumes is quite different from modern clothing in terms of cut, design, size of fabric and use, it is difficult to find people willing to take on the work, as it is more time-consuming, Lyu said.
In 2014, she opened a second store, and her business quickly picked up. Under the brand Chonghuihantang, which dates to the Han (206 BC-AD 220) and Tang (618-907) dynasties, she owns more than 20 offline stores nationwide and an online business. The brand's sales have ranked in the sector's top three in recent years.
Lyu said these sales have doubled annually on average for the past five years, and about 80 percent are made online. This year, there has already been "explosive market demand".
"At present, the younger generation is very much into hanfu, and this enthusiasm will continue, bringing great potential to the industry," she said. "Hanfu will gradually become everyday dress for more people."
Two years ago, Zeng Xiaowu, from Changsha, capital of Hunan province, used to wear hanfu only at home. But as he got to know many people with the same interest, he decided to open a store selling and renting the costumes. The store, which opened in March, has seen good business.
Most Popular