China's real estate market set to stabilize in 2019
Share - WeChat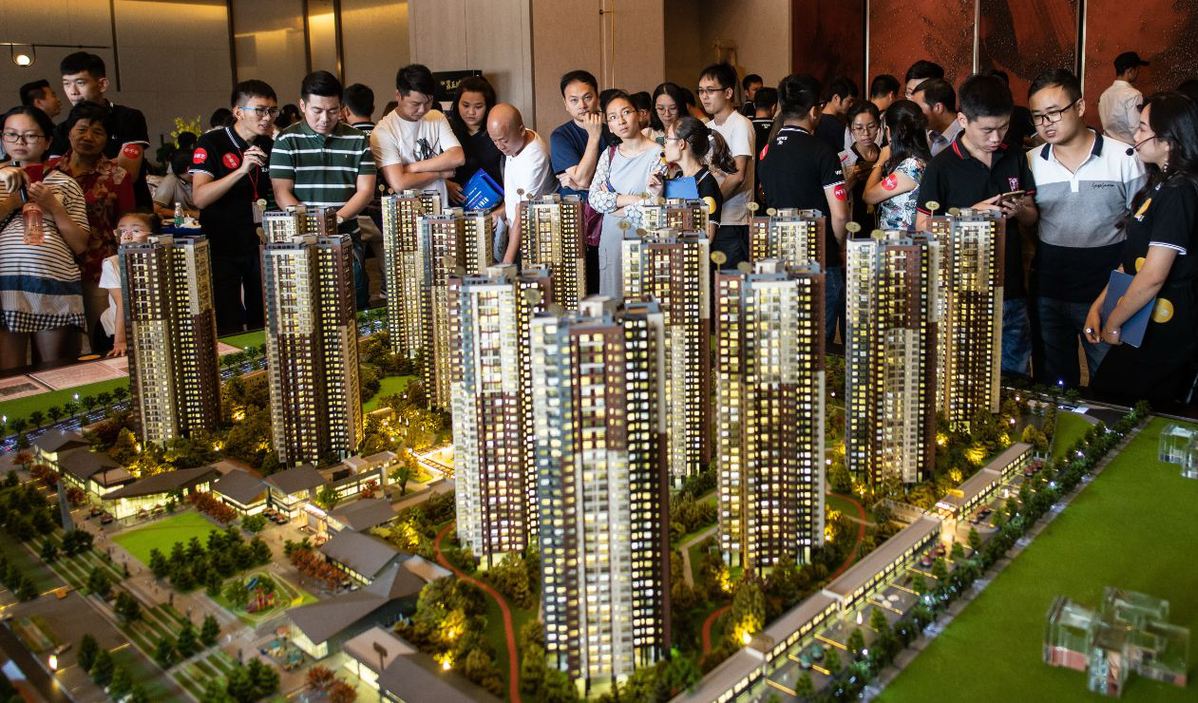 The country's property market is set to stabilize this year as the central authorities further stress establishing a long-term mechanism for the healthy development of the sector.
A Political Bureau of the Communist Party of China (CPC) Central Committee meeting held on April 19 reiterated that housing is for living, not speculation, and emphasized the creation of a long-term mechanism of one city, one policy.
"This suggested stable land prices, stable house prices and stable price expectations should prevent the property market from drastically rising and falling, and this will be the main regulatory target for the future," said Shaun Brodie, senior director and head of occupier research for Cushman and Wakefield in China.
Thanks to consistent efforts by the central authorities and local governments, China's home market has stabilized in number of sales and sales prices during the first quarter, according to research by the Ministry of Housing and Urban-Rural Development and the Development Research Center of the State Council.
Data from the National Bureau of Statistics (NBS) showed the total gross floor area traded from January to March fell 0.9 percent year-on-year to 298 million square meters, while transaction value increased 5.6 percent year-on-year to 2.7 trillion yuan ($399 billion).
"Along with our economy shifting from fast growth into smart growth, the residential sector is also developing in the same direction of stability," said Yao Yao, head of research for JLL China.
According to JLL data, residential transaction volume slumped 29.2 percent quarter-on-quarter in the 20 hots pot cities the property consultancy tracked across China, and dropped 8.7 percent over the same period last year.
Despite a mild increase in third-tier cities, new home prices in first- and second-tier cities have remained steady during the Jan-March period, Yao added.
"Research shows the Chinese home market is stabilizing under multiple measures, and people's home purchasing demands are becoming rational," said Yang Yuechen, director and head of research at Knight Frank, a real estate consultancy.
However, the Ministry of Housing and Urban-Rural Development survey also sounded an alarm over the rise in land and property sales in some major cities in the first quarter.
According to Brodie, the residential housing market and the residential land market in some major cities have recovered. Both the transaction prices for residential properties and the site floor prices for residential land rose moderately. Additionally, the number of high-premium land plots sold increased significantly.
"The main reason is the land market has deviated a bit from its historical average over the course of the past few years and the high performance-price ratio land plots have led to much developer interest," said Brodie.
However, such increase is fractional and stepwise. "The warmup of transactions and home prices in first-tier and some major second-tier cities is supported by the steady demand, and that will drive the nation's residential market to grow and develop," said Hui Jianqiang, head of research with Beijing Zhongfang-yanxie Technology Service Ltd.
Industrial experts agreed that by strictly following the central authorities' guidance of "one city, one policy" in accordance with their own conditions, local governments have been closely watching the land market and home market, and are ready to roll out new regulations and controls if the market shows signs of overheating.
The policies are likely to continue to target individual cities which experience some overheating in order to maintain market price growth stability. Nationwide policies are unlikely to be rolled out as the current overall market is stable with no obvious rise or fall in prices.
"The central authorities recognize market discipline, which means policies tend to be enforced in the long term rather than the short term," said Hui. He added this is also part of the efforts in establishing a long-term mechanism for the property market, as the latest Political Bureau of the CPC Central Committee meeting noted.
The long-term mechanism is believed to consider all factors related to the home market, including the much-debated property tax, and it will require a comparatively long period of time to take form, experts said.
"We are still in the exploiting period in this development, and underdevelopment in rental housing will be an important part of this long-term mechanism," said Yao with JLL.
According to Yao, more than 200 million people rent their homes in China, and the rental market is valued above 1 trillion yuan. Particularly in first-and second-tier cities, there are large numbers of workers from across the country renting their homes.
Looking forward, developers are maintaining a cautious attitude and the whole market is still in a state of adjustment, according to Brodie.
There is a push-pull mechanism affecting the market. On one hand, housing developers are focused on land acquisition to increase sales; on the other hand, however, the residential market is fine-tuning price growth expectations with the implementation of relevant policies and through the supervision of the central authorities and local governments to maintain price growth at sustainable levels, he added.
"Transaction and price in first- and second-tier cities will stay at a level similar to last year, but due to limited demand, third- and fourth- tier cities will be challenged in 2019," Yao said.
Hui said transactions might edge down a bit from last year's peak, with home prices possibly seeing a slight rise.
Home transactions in 2018 reached an all-time high, with 1.7 billion square meters and 15 trillion yuan worth of homes traded, a growth of 1.3 percent and 12.2 percent respectively compared to a year earlier, according to NBS.
"Under the policy of 'housing is for living, not for speculation', people who are looking to purchase a home for their own use should safeguard themselves against a market where there is significant price growth," said Brodie.