The green experience
Share - WeChat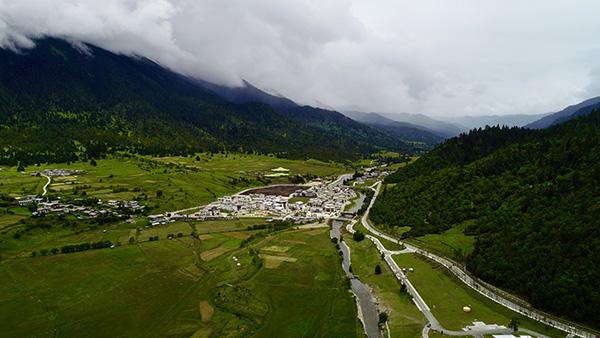 But natural beauty is not the only thing on offer in Lunang, says Liu.
"Tourists can also get involved, or participate, in local people's lives," he says.
So, besides letting visitors live with the locals, the town also hosts campfires, offers horse riding, arrow shooting, boat sailing, drifting, hiking and other activities.
A ski resort is also under construction.
Every July the town holds a folk song festival, where villagers sing, dance and have horse-racing and whistling arrow-archery contests.
Whistling arrow-archery is a cultural heritage of Tibet with about 1,000 years of history. The whistle on the end of the arrow produces a shrill sound when it is fired.
And the trapezoidal target symbolizes the "heart of devil", according to Balu, an inheritor of the tradition.
"By shooting the 'heart', we kill the 'devil', which gives the sports an auspicious meaning," he says, adding that Tibetans like to take part in whistling arrow-archery events.
For tourists, shooting "whistling arrows" once costs 1 yuan. But if you hit the target, you get your money back, says Gao.
For horse-racing, riders wear red and yellow riding suits, either to compete in long-distance races or shoot targets from a running horse.
Speaking about the Tibetan bond with horses, Kalzang, the Party chief of the management committee of Lunang, says: "Horses used to be vehicles and are friends of the Tibetan people. They share close emotional links. Though most families have motorbikes or cars now, the horse is irreplaceable."
To improve services in the area, Liu says the town has introduced an intelligent system in 60 bed-and-breakfast rooms. There, tourists receive a password for the room booked online, so they can open the door whenever they arrive.
In the next step, the authorities plan to develop customized tourism that helps tourists to plan their accommodation, entertainment and traffic online in advance.
Now it takes about two hours to drive from the center of Nyingchi to Lunang, over the snowy Segrila Mountain.
But Liu says when the tunnel through the snow mountain opens in 2021, the drive will take only 30 minutes.
Lunang is also on the route of Sichuan-Tibet Railway that is under construction.
If you go
Nyingchi is accessible by direct flights from major cities in the country, such as Chongqing, Chengdu in Sichuan province, Guangzhou in Guangdong province, Xi'an in Shaanxi province and Lanzhou in Gansu province.
The airport in Manling county is about 50 kilometers away from the center of Nyingchi.
Visitors can also take a bus from Lhasa to reach Nyingchi, and the ride takes five to six hours.
The major scenic spots in Nyingchi are Basum Tso Lake, Lunang town, Yarlung Zangbo Grand Canyon and Neyul Valley.