High-five for sky Wi-Fi
Share - WeChat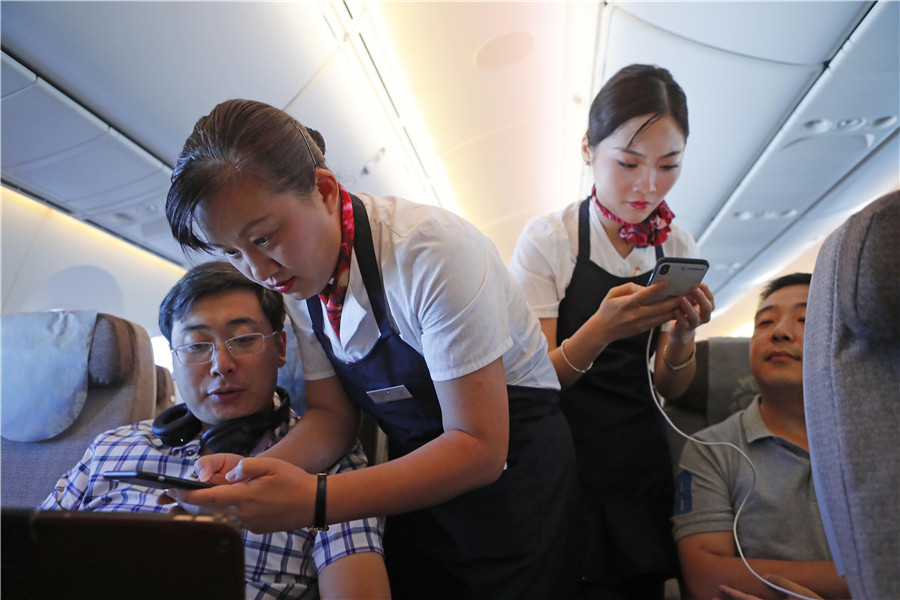 $130b market on the horizon as in-flight net heralds digital era in civil aviation
Flyers the world over may have been spooked by recent crashes involving new-age jets, but they would do well to realize that a wave of digitalization is set to transform civil aviation, industry experts said.
While this is a global trend, nowhere is it more pronounced than in China. From online ticket bookings, electronic seat selection, self check-in and e-boarding pass, to self-service baggage checks, intelligent passageways, tech-enabled conveniences like biometric identification at airport security, and in-flight Wi-Fi internet access, China offers them all.
The net impact of this adoption of high-tech is that passengers have enhanced flyer experiences, flights are relatively safer, airline revenues are set to increase, and equipment and content suppliers expect to grow their business, industry insiders said.
Given Chinese people's need for 24/7 internet access, in-flight Wi-Fi has become popular among flyers-92 percent of respondents in a survey of airline customers said they consider in-flight Wi-Fi necessary, according to CAPSE, a third-party civil aviation data service provider in the country.
As if in response, many domestic airlines have begun to offer in-flight Wi-Fi services. Other airlines are about to install the latest Wi-Fi that relies on Ku band, delivering superfast broadband.
About 300 aircraft of China's airlines, or less than 10 percent of their total fleet, are equipped with Wi-Fi, a contrast to about 70 percent in the United States and 50 percent in Europe, but indicating enormous growth potential.
For instance, Shanghai-based China Eastern Airlines, which has a fleet of more than 130 aircraft, is the leader of the Asian pack that offer in-flight Wi-Fi.
All of its aircraft that connect China and North America, and 90 percent of its long-haul international flights, offer Wi-Fi now.
Domestically, in-flight Wi-Fi is available on 180 major routes of China Eastern, including most of its flights between Beijing and Shanghai.
Some domestic airlines have begun to offer free and unlimited Wi-Fi usage for passengers, mostly on their wide-body aircraft, and they have a limited number of connections for their economy-class passengers. Those who would like to use in-flight Wi-Fi may apply online beforehand. If there are still vacancies available after takeoff, passengers can register during the flights.
Guangzhou-based China Southern Airlines, the largest airline by fleet size in Asia and the third biggest worldwide, said first-and business-class passengers don't need to apply beforehand, and they will be able to use complimentary Wi-Fi services.
Industry reports said it costs about 7 million yuan ($1.04 million) to 8 million yuan to equip an aircraft with Wi-Fi services, and it takes about two to three days for the installation.