Lufthansa's digitalization strategy starts to take off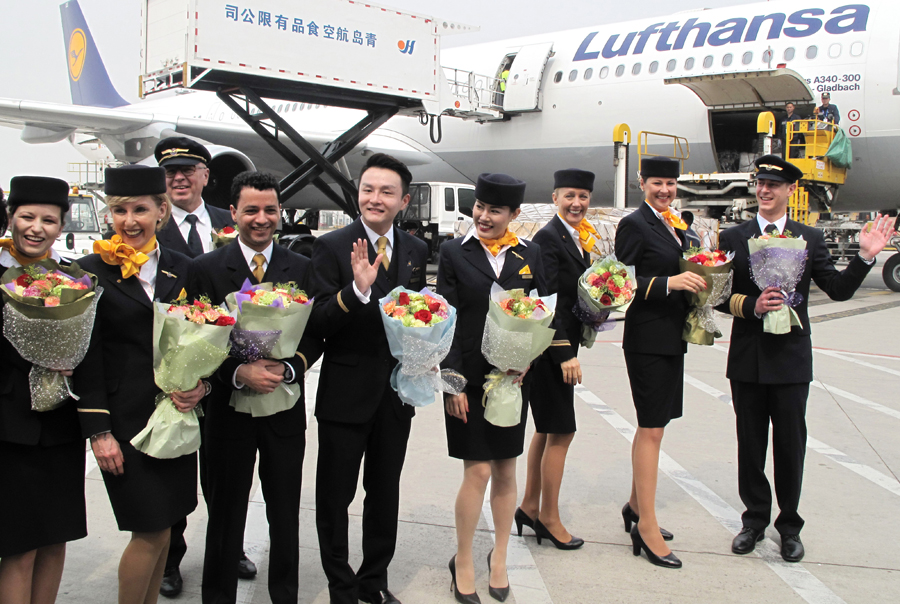 German airline employs latest technologies to pamper digital-savvy Chinese customers
Carsten Spohr, chairman and CEO of Deutsche Lufthansa AG, flies once a day on average.
To him, being on a plane means indulging in a rare moment of peace that liberates him from the endless emails, phone calls and many other duties that are shouldered by the head of the world's largest aviation group.
But to succeed in China, Spohr and his team have chosen to take a digital approach that seems to be at odds with his philosophy. Not only are news feeds available on Lufthansa Airlines as well as Swiss and Austrian Airlines (all under Deutsche Lufthansa AG), they have also introduced onboard Wi-Fi and e-journals as part of a suite of entertainment services that pamper digital-savvy Chinese passengers.
Indeed, passenger connectivity is just one aspect of Lufthansa's sweeping digital strategy. And thanks to a local partnership with Air China, whose resilience according to Spohr resembles that of a long-lasting marriage, Lufthansa is flying more Chinese travelers than their European counterparts for the first time since last year.
Confident of breaking the sales threshold of 1 billion euros ($1.18 billion) in China before 2020, Spohr talked to China Daily about opportunities, challenges and digital strategies in the country.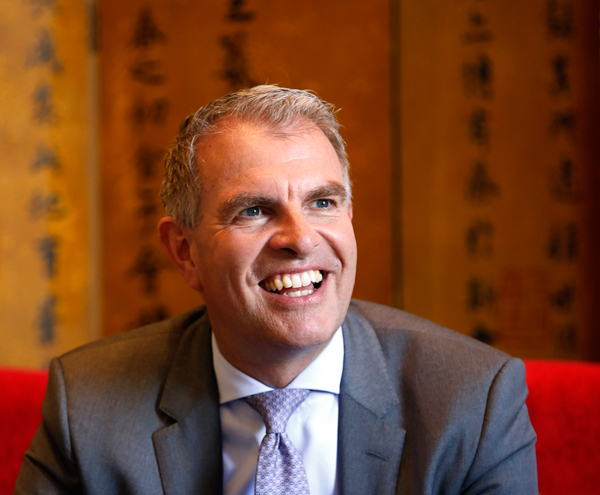 What are the major drivers behind the banner year of 2017 for Lufthansa?
The year 2017 has been special in many regards. It was not only the best year in the history of Lufthansa by numbers-operating profit jumped 70 percent and sales topped 36 billion euros-it was also when we celebrated a hundred years of the crane, our symbol. It was reflective of both legacy and modernization. Just as important as profit have been the various awards we received on the customer side and staff satisfaction has reached a record high. So we try to maintain balanced success for all stakeholders.
The major driver of our success commercially has been the focus on premium brands, including Lufthansa, Swiss and Austrian Airlines. And that was possible by creating the dual brand strategy, with Eurowings, where we focus on more price-sensitive customers. Eurowings made a profit for the first time in 2017 as well, which was one year earlier than we had expected. Our acquisition of Air Berlin will start to pay off in 2019.
How big is the Chinese market? How do you position China in your overall strategy?
China for us is not only one of our most dynamic markets, it is also the second-biggest long-haul market in terms of turnover after the United States. And together with our joint venture partner Air China, we are clearly No 1 between China and Europe. About 5 percent of our global revenue comes from our Chinese routes. Last year, we grew revenue 12 percent, so in two more years we will break the 1-billion-euro turnover threshold.
What's worth noting is that from last year, we have had more Chinese passengers on our airplanes than European passengers for the first time. We aim to intensify the frequency to the key gateways-Beijing, Shanghai and Hong Kong-and to add new destinations to the portfolio as well. We reopened our Shenyang-Frankfurt operation at the end of March, celebrated 10 years of the Nanjing-Frankfurt route, and are operating in Qingdao, which of course with a German Beer heritage is important to a German company.
In terms of the number of destinations, by 2020 we will have reached seven-the lucky number in Germany. Then, one year later, we will have the lucky number eight, which is China's lucky number.
How has your partnership with Air China benefited your business?
It's important to understand that even though we are the top European carrier to and from China, the only way we can achieve that position is thanks to strong partnership. And that partner is Air China. Partnership is like a marriage, which should be once and for all. We started more than 25 years ago on the maintenance side when I was a young Lufthansa manager. I came here in the early days with my bosses to meet the top management of Air China. Actually, I have known Air China longer than my wife, so it shows how long the partnership is.
We completed our alignment of contracts for corporate customers at the end of March. That means they now have the choice to combine all Lufthansa Group and Air China offers, to and from China. We will continue to work on additional frequencies, additional destinations, and even more seamless products both on the digital and physical side at the airport between the two partners.
What's the biggest driver for your business here and challenges?
The German economy has taken significant advantage of China's opening-up, and of course the German economy needs a way to transfer goods to and from China. Lufthansa has served in these regards-that has been the driver of our success.
One strategic priority is digitalization. We operate in 105 countries in the world, and China is by far the top market when it comes to the percentage of mobile purchases. We have been learning from the experiences of this country and take them to other parts of the world.
The only challenge I see for now is infrastructure-we would like to come here more often, with more and bigger airplanes, but there are limited airport slots, especially in Shanghai. We have limitations on the ground, on landing slots, and also restrictions on flying over Russia, which is of course the shortest way. So if there were not these infrastructure restrictions, we would come here even more often.
What efforts have you made on digitalization?
Lufthansa is already on WeChat, and this year we launched official accounts for SWISS and Austrian Airlines as well. The next step is to bring the sales elements onto WeChat as a touch point with our customers. And it's our goal to accomplish this in the next few months.
Chinese customers are so involved in the latest digital media that we have begun to offer tailor-made e-journals onboard our Lufthansa aircraft. We are also working closely with local travel platforms such as Fliggy and Ctrip to increase direct sales. Sales generated from the website stand roughly at 10 percent in China, but that figure is about 30 percent or even 40 percent in our home market Germany. After all, 70 percent of deals here are conducted via mobile purchasing.
When was your first visit to China?
When I first visited Shanghai some 20 years ago, Lufthansa was flying here once a week. Now, we are flying here five times a day. When I first came to China, we needed interpreters for almost every business occasion. Now we talk with our Chinese partners in fluent English. The road to success in China is not an always easy one. It's hard work. It takes patience, and it takes relationships. And I think that is not just true for the CEO, it's true for our team here.
Being a CEO of a leading brand can be tough. Can you share with us one challenge you dealt with in your career?
First of all, I think it is more fun than it is tough, because I love the brands. And it's a wonderful job to represent those brands around the world. But when you run a successful company, any form of restructuring is tough. Probably the most difficult thing has been to convince our unions in Germany that even though we were successful, we had to restructure to be fit for the future. So I think maybe a different quote: Modernization is not only about modernizing your fleet, it's also a modernization of culture and contracts, staff, payment schemes and labor agreements. That was tough indeed.
How do you spend time on a plane?
Actually, I am one of the few people on the plane who does not log onto the internet, because for me being on an airplane means peace, no phone calls, no emails. But because our customers see it differently, we now offer internet on board. I'm in the minority. It's about relaxing, thinking, reading and being disconnected from the world. I fly once a day, so once a day I have peace.
CV
Name: Carsten Spohr
Age: 52
Nationality: Germany
Career:
2014-now: Chairman of the Executive Board& CEO of Lufthansa Group
2011-14: Member of the Executive Board of Lufthansa Group and chairman of the Lufthansa Passage Executive Board
2007-11: Chairman of the Executive Board of Lufthansa Cargo AG
1994-2007: Various management roles at Lufthansa Group
Education:
Master's degree in industrial engineering from the University of Karlsruhe Commercial pilot's license at the Lufthansa Verkehrsflieger-Schule in Bremen and Phoenix
Family: Married with two daughters