In-flight Wi-Fi to bring wide benefits
Share - WeChat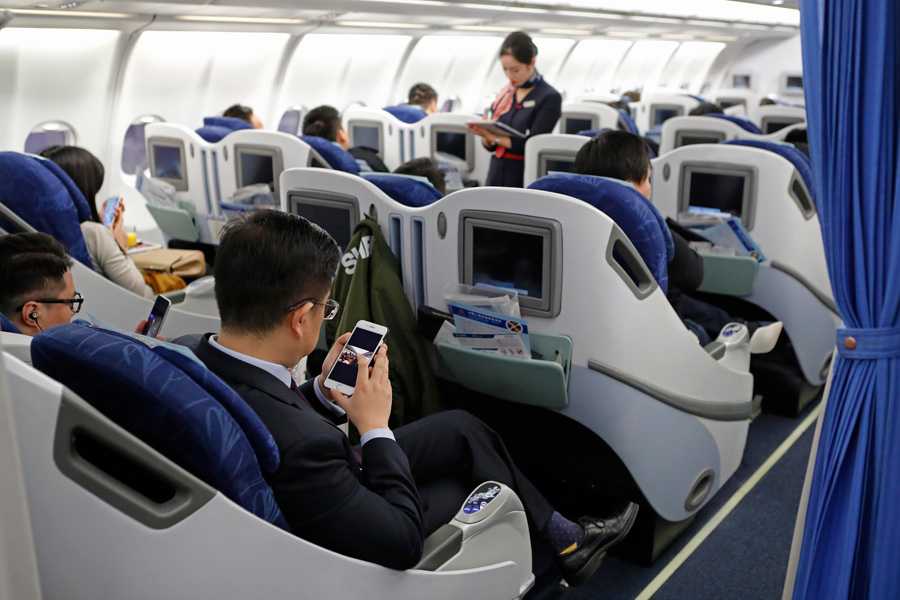 More entertainment options to open up new revenue streams
The in-flight Wi-Fi market in China is expected to enter a golden growth period in the near future, providing services to 500 million travelers every year once passengers are allowed to use portable electronic devices while flying in the country.
In late January, the Civil Aviation Administration of China (CAAC) loosened the restrictions on devices while flying. Now, passengers can use mobile phones, tablets and laptops during the whole flight, so long as they have airplane mode switched on.
But most domestic flights are not yet equipped with Wi-Fi services and that is not going to change significantly anytime soon, because of technologies and costs. Without Wi-Fi in the air, mobile phones can be only used for such things as listening to music, taking photos or playing some games.
It costs airlines about 7 million yuan ($1.1 million) to modify a plane to enable it to provide in-air Wi-Fi services, the National Business Daily reported.
Because of the limitations of costs, technologies and the number of satellites, the airlines can't provide a large number of Wi-Fi-enabled flights in the short term, and it is estimated that it needs about three years for airlines to make Wi-Fi standard aboard flights, industry experts said.
China Eastern currently has more than 70 aircraft equipped with Wi-Fi, covering its entire international long-haul fleet and more than 160 key domestic routes, with most of them charging passengers fees to use the service.
Hainan Airlines, China's largest private airline, has 17 B787-9 aircraft equipped with Wi-Fi services, accounting for 30 percent of its wide-body fleet.
"The charge for Wi-Fi services, and the providing of paid media content and advertisements are all possible important channels for Hainan Airlines to increase its sales revenues," said Sun Jianfeng, president of the carrier.
"Besides, we won't cut the costs invested in in-flight entertainment systems for now, and we are cooperating with other partners to develop in-flight entertainment systems that will adapt to portable electronic devices," he said.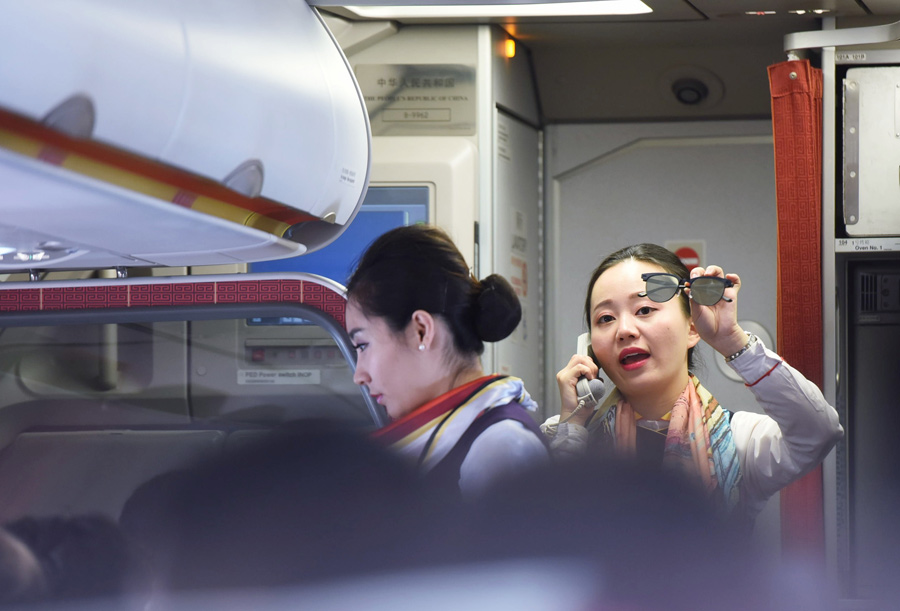 So far, North America is the only place where in-flight Wi-Fi is common. Worldwide, Wi-Fi services cover 39 percent of the flights, according to Routehappy, an air travel information platform.
In the United States, 71 percent of the flights operated by domestic airlines are equipped with Wi-Fi, with Delta Air Lines, United Airlines and American Airlines taking leading roles in their coverage of Wi-Fi services. Among non-US airlines, only 13 percent of the flights they operate have Wi-Fi connections, and most are limited to longhaul flights, Routehappy found.
Last year, Finnair equipped Wi-Fi and mobile payment system Alipay on all of its flights between China and Finland. After the launch of such services, its sales revenues of on-air duty-free products and other derivative products on those flights surged 100 percent to 200 percent year-on-year, according to the carrier.
"Airlines will become in-air shopping malls, and they could choose to partner with online retailers. Vendors who wish to sell their goods and services will have to pay the airlines or consider revenue split arrangements," said Susanna Li, managing director of the travel industry department of consultancy Accenture in China.
"It will help airlines to increase ancillary services revenue opportunities. They could also partner with destination ground transportations, theme parks and other service providers to deliver specialized destination content and promote their service on board," Li said.
She added that airlines will also be able to accumulate customer data and provide targeted marketing. They could also sell pre-paid Wi-Fi access passes at a discounted rate to encourage passengers to fly with the carriers again.
Besides, if there are flight delays, passengers will be able to contact ground services and make arrangements, and they will also be able to book last-minute transportation such as car pickups during a flight, Li said.
Chen Meiling contributed to this story.