Love up your spice life
Share - WeChat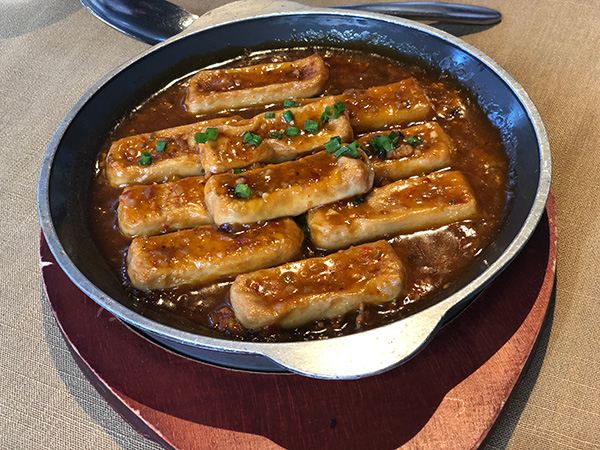 Stinky mandarin fish is a traditional dish from Anhui province that combines a pungent aroma with a delicious taste, which the cooks from Xiang'ai have updated with the flavors of Hunan.
Specializing in modern Hunan cuisine, the Beijing-based restaurant's version of the pan-fried dish involves marinating the fresh fish in preserved bean curd for two days to give it an extra kick.
According to executive chef Shi Jianjun, a native of Hunan province's Changde, the aromas created by the two cooking methods are slightly different, since in Anhui cuisine the smell comes from the fish, while in Hunan cooking, the smell derives largely from the fermented bean curd.
"We also use a different sauce to cook the fish, and our version uses smaller fish," says Shi.
Located in the Sanlitun area of the capital, Xiang'ai focuses on the authentic flavors of the Xiangxi (western Hunan), Xiangjiang (Xiangjiang River) and Dongting (Dongting Lake) regions of Hunan cuisine which are traditionally spicy but plated in a contemporary style.
Xiang'ai, which has the same pronunciation of "falling in love" in Chinese, is decorated in a modern style that makes it an ideal place to celebrate a birthday, anniversary - or even a proposal.
Steamed Thousand Island Lake fish head topped with two peppers is one of the restaurant's signature dishes. It's based on a traditional Hunan favorite but offered with the choice of salty-chili or pickled-pepper sauces.
Most Popular