BJEV moves into higher league with larger models
Share - WeChat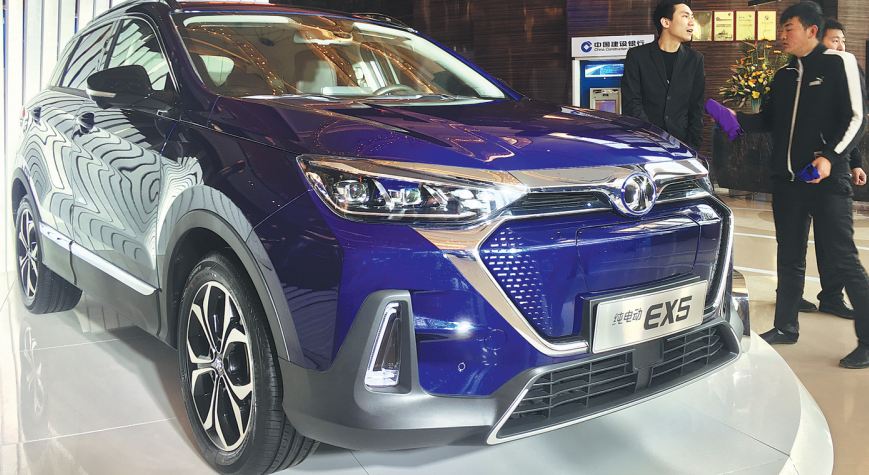 Electric carmaker's upscale Arcfox N61 model to compete with Tesla's Model 3
Beijing Electric Vehicle Co, China's largest electric car producer, has vowed to continue moving upmarket as customer demands change in China.
"Our goal is for subcompact and larger vehicles to account for around 60 percent of total sales in 2019, considering the overall trend in the market," said Zheng Gang, then president of the new energy vehicle unit under BAIC Group in late January.
Established in 2009, BJEV was known for its mini electric cars, which accounted for more than 80 percent of its total sales and helped to make it the sales champion in China, the largest new energy vehicle market worldwide.
"There was misunderstanding in the market, thinking that we did not have the ability to produce larger, high-end vehicles," said Zheng.
"In fact, it was our strategic choice to start with mini cars, because it was the largest segment in the past."
But things are starting to change. Last year, the company delivered 158,000 cars, of which 42 percent were subcompact and larger vehicles, a fifth more than in the previous year, according to its figures.
Li Yixiu, president of BJEV Sales Co, expects its sales to grow, from 10 to 50 percent, despite uncertainties over government subsidies, adding that prospects over the next few years will remain bright.
Li made the remarks when the company launched its compact EX5 last month in Kunming, Yunnan province.
The SUV, with its "Darwin" smart system, is capable of running up to 520 kilometers on a single charge. It is BJEV's latest upscale model that is expected to boost its image and sales in China.
"The market is growing into a spindle-shaped pattern, so here we are with larger models," said Zheng.
He said the company's focus starting from this year is on subcompact and larger models, including midsized ones.
BJEV has made preparations with the launch of its upscale sub-brand Arcfox. Models are expected to hit the market in late 2019.
"Our N61 model under Arcfox will take on Tesla's Model 3," said Zheng.
The company said 70 percent of Arcfox's suppliers are top 50 global companies. The models will be produced at BJEV's joint venture with Magna in Zhenjiang, Jiangsu province.
The joint venture brings together Magna's vehicle engineering knowhow and BJEV's local clout to develop next-generation smart electric vehicle technology for the Chinese market, said BJEV.
The company said the plant is one of the most advanced manufacturing facilities, capable of producing steel and aluminum car bodies.
BJEV and Magna also have a joint venture specializing in electric vehicle design and development.
"Through the cooperation with Magna, BJEV will further boost its product quality and take the brand up to a higher level," said Zheng, adding that the plant would like to produce vehicles for other brands.
"We would like to design and produce vehicles for Apple, Google and other companies," he said.
BJEV said its battery plant with SK Group is expected to start production later this year.
The company is also exploring cooperation with major companies in other fields to increase its competitiveness in the mobility market.
On January 28, it built a joint venture with Didi, China's largest ride-hailing service provider, to boost their strength in new energy fleets and AI transportation solutions to develop connected-car systems.
According to the deal, the joint venture, called BAIC-Xiaoju New Energy Auto Technology Co, will cover tailor-made ride-hailing vehicles, mobility services and supporting technologies, including battery swapping.
Didi said there are now around 400,000 new energy vehicles of different brands registered on its platform.
On the same day of its partnership with Didi, BJEV also signed a strategic cooperation deal with Chinese tech giant Huawei Technologies.
The two set up an innovation laboratory to conduct research and development in fields such as cloud computing, internet of vehicles, big data and information security.
It is the third time that the two have joined hands.
They made their first agreement in September 2017 to unite over cloud computing and connectivity.
Late last year they deepened that partnership to build next-generation smart, connected electric vehicles.