Despite declining auto market, FAW-VW remains confident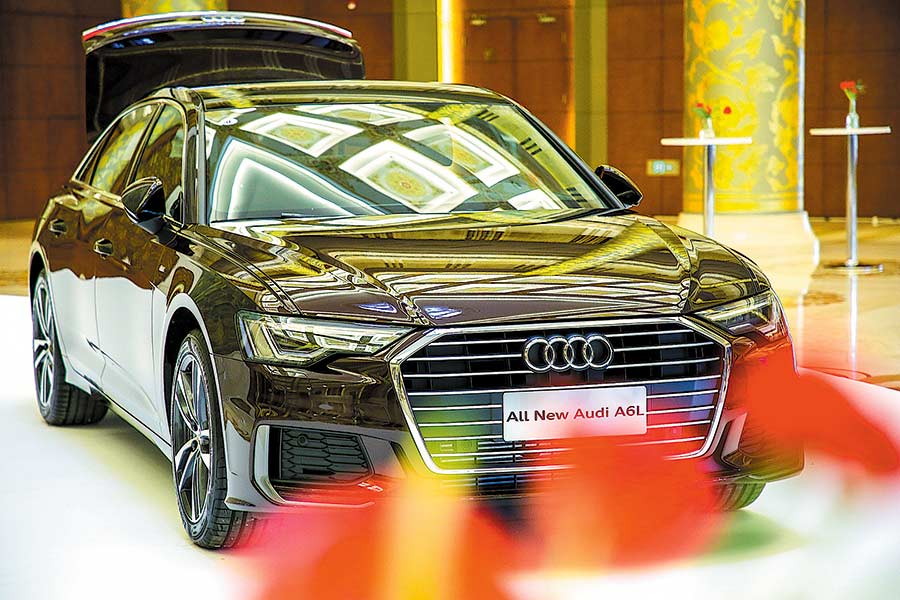 Sino-German joint venture to roll out record number of models this year
Despite the bleak outlook for China's vehicle market, FAW-Volkswagen Automotive Co expects its sales momentum to continue in 2019, as the Sino-German joint venture is ready to launch 28 models this year, the largest product plan in its history.
China saw the first fall last year in its car market since 1990, with vehicles deliveries dipping 2.76 percent from 2017, and analysts have said the grim situation will not change for the better this year.
"There remain many uncertainties in the market, but we are confident in overcoming the challenges...and offering the best products and services to our customers," said Liu Yigong, president of FAW-Volkswagen, on Friday in Beijing.
One source of Liu's confidence is the joint venture's performance last year.
Against the headwinds in the Chinese market, it delivered 2.05 million vehicles under its Volkswagen and Audi brands, up 2.6 percent year-on-year, and its market share grew to 8.8 percent from 8.2 percent in 2017.
Audi deliveries totaled more than 660,000, up 11 percent year-on-year, defending its championship as the most popular brand in China's premium vehicle market.
FAW-Volkswagen expects to further gain in popularity in 2019, with new models scheduled to hit the market under Volkswagen, Audi and a new brand that is to be unveiled in Germany next month.
The joint venture estimates sales of its Volkswagen-branded vehicles will grow 4 percent to 1.44 million this year, from 1.39 million in 2018.
Sun Huibin, executive vice-president of FAW-Volkswagen Sales Co for Volkswagen brand, said at least eight new models will join the current lineup of Volkswagen cars, including both traditional gasoline-powered autos and new energy vehicles.
Highlights include the long-wheelbase Magotan sedan and the compact Bora sedan, as well as two plug-in hybrids: the Magotan GTE and the Tayron GTE.
Sun said SUVs will account for a larger share of the brand's sales this year.
FAW-Volkswagen launched its first SUVs - T-Roc and Tayron - last year, and their popularity soon surged. The T-Roc now sells around 10,000 a month, one of the best-selling models in its segment.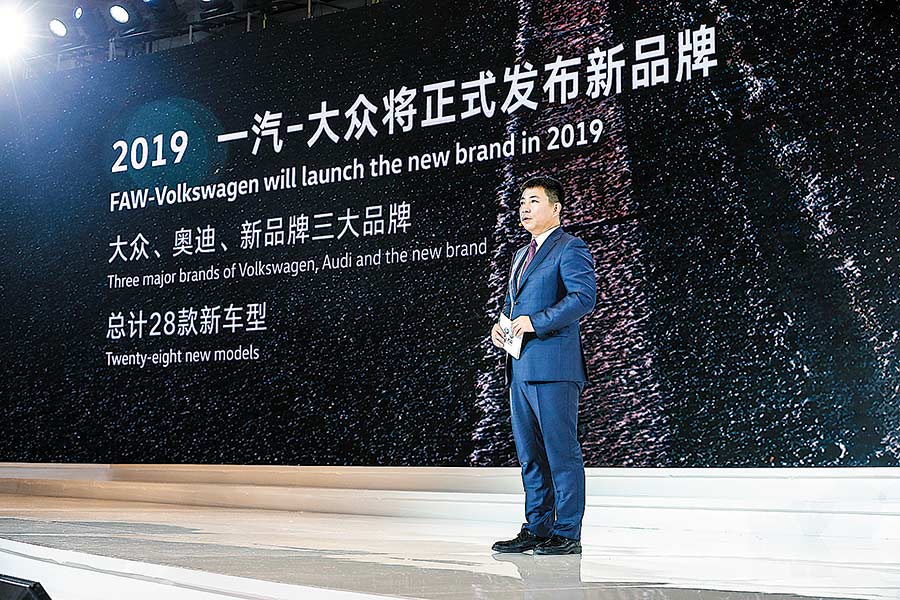 Audi is planning to introduce 18 models this year into China, which are expected to drive sales growth of around 3 percent year-on-year to 682,000. By the end of 2018, Audi's accumulative sales in China totaled 5 million.
Heavyweight models this year include the all-new A6L sedan and the all-new Q3 SUV, which are expected to become major growth drivers, said Jing Qingchun, executive vice-president of FAW-Volkswagen's Audi sales division.
The premium brand's first ever electric SUV, the e-tron, will hit the Chinese market this year as well, and it will start to be locally produced from 2020.
"We are confident in Audi's performance this year in China's premium car market," Jing said.
The new brand, which is to be unveiled in February and has young customers as its targets, will see its first product hit the market in September, according to Dong Xiuhui, vice-president of FAW-Volkswagen and president of FAW-Volkswagen Sales Co.
"The new brand has been the result of hard work by FAW, Volkswagen as well as FAW-Volkswagen. It is built on the actual conditions of the market, it is geared towards the new demands, and the new target group of customers," Dong said.
Analysts said the brand will erode the market share of Chinese carmakers, as well as affordable foreign ones including Kia and Hyundai. FAW-Volkswagen is expanding its business besides car production and sales. The company started its car-sharing program last year, with a fleet of 200 vehicles in Changchun, capital of Jilin province, where the carmaker is headquartered.
Martin Jahn, the joint venture's executive vice-president, said the program will be expanded to other cities where FAW-Volkswagen has plants, including Chengdu in Sichuan province and Qingdao in Shandong province.
The number of vehicles will rise to around 5,500 by the end of the year.
Jahn said the joint venture's parent companies, FAW and Volkswagen, are expected to establish a car charging company, which is designed to improve customers' experience in charging their electric vehicles, a fast-growing segment in China.
Gong Zhengzheng contributed to this story.