Expert says China can help tackle global issues
Share - WeChat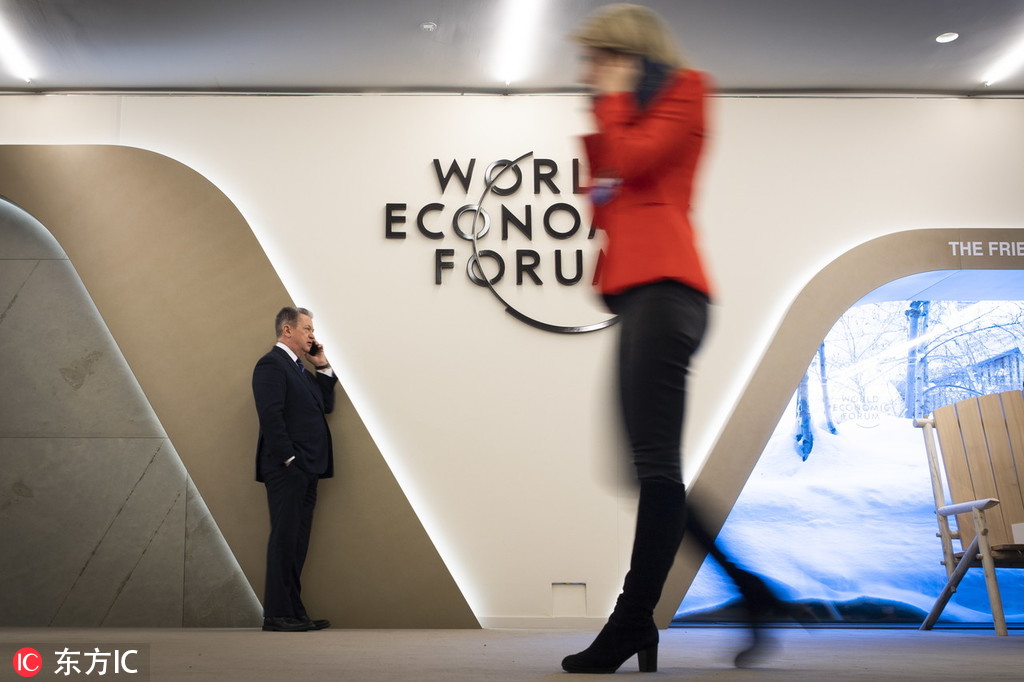 LONDON - China has offered key components of a global strategy for tackling global challenges as the world enters a new era of so-called Globalization 4.0, said a leading British expert.
"The new stage is a transformation of the world. It is a clash between an older global age and a coming, already come, digital age," said Martin Albrow, a renowned sociologist and a pioneer of the theory of globalization.
"That's the real transformation which is going on at the moment, and which the world has not yet been able to manage because it can't see it clearly enough," said Albrow, before the start of an annual gathering of world leaders and business elites in the Swiss resort of Davos.
One "tremendously important contribution" by China in dealing with global challenges is the very pragmatic Chinese approach in line with the famous Chinese saying "take truth from facts", said Albrow.
"It stresses that you have to deal with the problems as they arise at the moment. And you do this in a non-ideological manner, you do it pragmatically, you do it as the facts dictate," he said.
"The second (contribution) is the stress in China's outlook on the world on cooperation, that we won't be able to handle global issues unless we cooperate," said Albrow.
"Globalization itself is not something that any one person has invented or designed. It is the aggregate effect of human actions and policies," he said.
"The effect is so big that you have to have collective leadership and the people working as a whole," said Albrow.
Finally, China is leading the world in stressing that every country, regardless of their sizes, contributes differently and can make a contribution toward this collective effort, said the British expert.
The World Economic Forum, which started on Jan 22 in Davos, is themed Globalization 4.0: Shaping a Global Architecture in the Age of the Fourth Industrial Revolution.
About 3,000 leaders from all parts of society discussed how to build more inclusive societies and better protect vulnerable communities as globalization undergoes such major transformations amid reshift of global power and rapid development of new technologies.
One major solution offered by China to help tackle global challenges and build an open and more inclusive economy is the Belt and Road Initiative, said Albrow.
Proposed by China in 2013, the initiative is aimed at building a trade and infrastructure network connecting Asia with Europe and Africa along and beyond the ancient trade routes of the Silk Road.
Albrow recalled that Chinese President Xi Jinping had said in a speech two years ago at the Davos economic forum that the global economy is "the big ocean that you cannot escape from" and any attempt to retreat back to isolation runs counter to the historical trend.
"The Chinese leadership generally has a very clear-sighted idea of globalization which the world can benefit from," said Albrow.
"The image of an ocean is a very apt image," said Albrow, noting that one can either sail on an ocean or try to retreat for fear of tides.
"We have to first of all understand our own position. Then we have to decide what are the best uses we can make of it ... This (the Belt and Road Initiative) is not dictated by economic globalization," he said.
Author of the book China's Role in a Shared Human Future, Albrow said the proposal by the Chinese president to build a community with shared future for mankind is deeply rooted in Chinese culture and dates back centuries.
"That is a crucial contribution that the Chinese thought can make toward an improvement of the world situation, not just globalization, but across the board," he said.
Meanwhile, the sociologist called on the international community to strengthen the rules-based world order which he said is "fundamental" for cooperation to tackle challenges.
Xinhua