China's message in Davos a call for collective action: China Daily editorial
Share - WeChat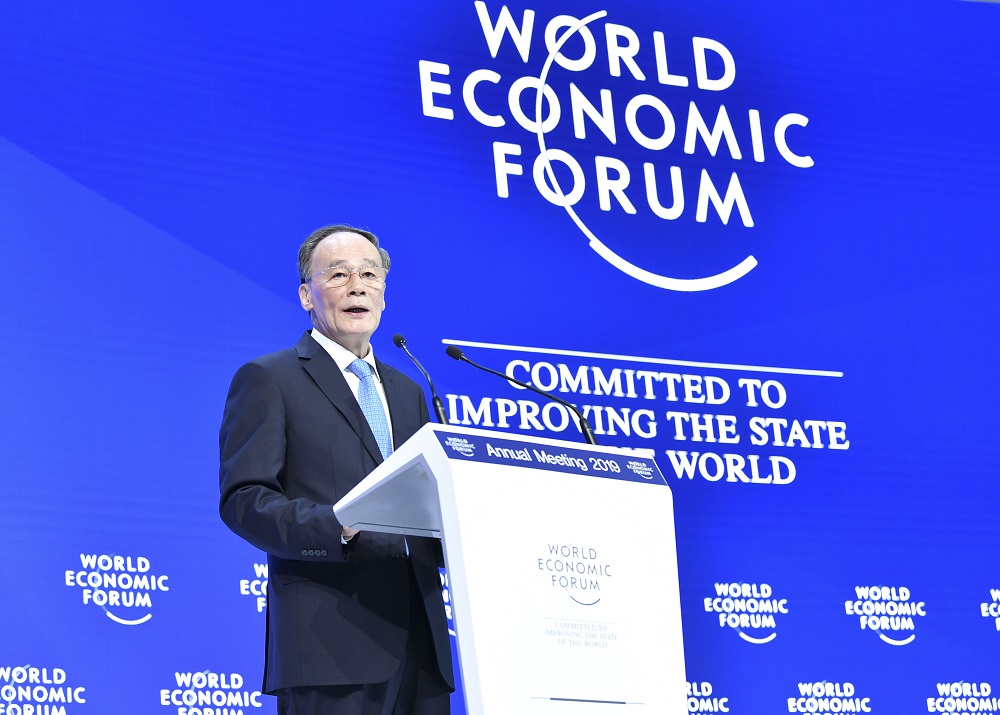 What Chinese Vice-President Wang Qishan told the global leaders and business elite attending the World Economic Forum in Davos, Switzerland, on Wednesday, was a candid declaration of Beijing's policy and position, as well as a rallying call for concerted efforts to oppose protectionism and unilateralism.
Reaffirming the pro-globalization, pro-multilateralism stance that President Xi Jinping put forward in his widely acclaimed speech at the forum in Davos two years ago, Wang firmly positioned Beijing as a still-steadfast proponent of economic globalization.
China is fully committed to preserving economic globalization and "wishes to work with all countries for common development", Wang said. But he made it clear that China will continue to adhere to a development path that suits its own conditions and is in keeping with the trend of the times.
To those listening, his remarks should have made it clear that Beijing wants to work with others for mutual benefits but it will not pander to unrealistic expectations of how it can benefit others.
It has recently been suggested by some in the developed countries that what China has achieved has been purely because those countries and their companies extended altruistic helping hands to raise China up.
That distorts the truth and insults the Chinese people. As Xi said recently, what China has achieved is the result of its own vision, hard work and courage; it is not "a gift from others".
He has made it clear that the country will continue to advance reform and opening-up, but it will only change what needs to be changed, it will not change what should or cannot be changed.
Those words may not have been pleasant to some ears. But Wang reiterated them in Davos.
Since the US delegation didn't attend this year's forum due to that country's government shutdown, it is to be hoped that message does not get distorted in its relaying.
With trade talks between the United States and China due to take place next week, a positive outcome requires both to have realistic expectations of what they can take by appreciating what the other can give.
Hopefully, Washington realizes that the Chinese and US economies are mutually indispensable, and as Wang said, their relations must be mutually beneficial and win-win.
Indeed, the frictions between the two countries do not stem inherently from their relations as some suggest, but rather from the problems in the global economy, such as the lack of new growth drivers, unbalanced development and uneven income distribution, as well as the changes being unleashed by new technologies and new industries.
These problems and changes will not be overcome by looking inward since they are universal in nature. The only way to overcome the problems and meet the challenges is to embrace the trend of the times and seize the potential of connectivity and cooperation.
Most Viewed in 24 Hours
China Views