Shopping gala rises to become global giant
Share - WeChat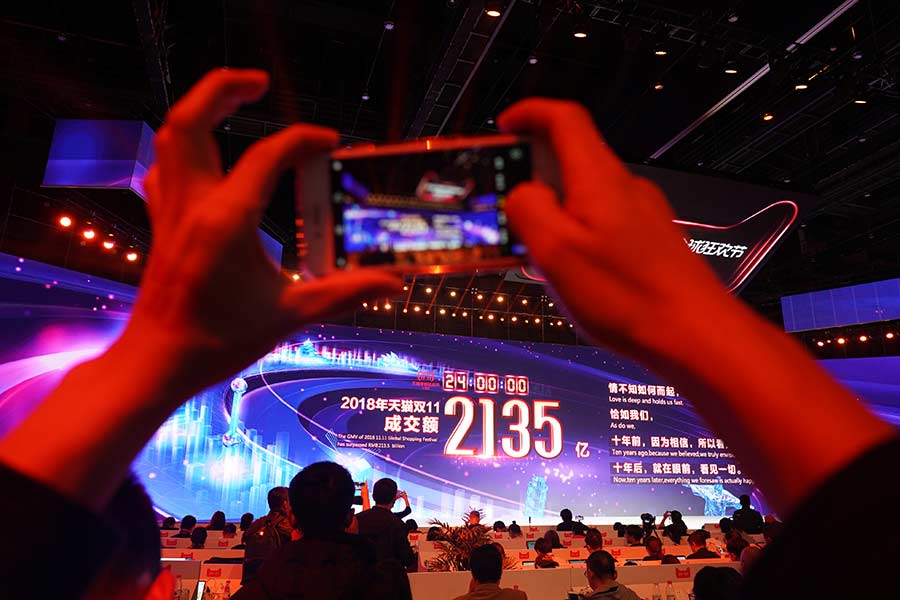 Singles Day reflects significant shift in consumer behavior
In the past decade, Nov 11 has undergone a dramatic transformation from being just another date on the calendar to becoming the world's largest single-day discount shopping festival.
Also known as Singles Day, it debuted in 2009 as an online antidote to the sentimentality surrounding the Western Valentine's Day. It takes its name from the way the date is written numerically as 1111, which resembles "bare branches," a Chinese expression for the unattached.
As this year's shopping gala progressed, milestones from previous years fell one by one.
It was no surprise that Alibaba, which created the extravaganza to spur low-season online sales, broke its own record by clocking up sales worth 213.5 billion yuan ($30.8 billion) in just 24 hours, up by 27 percent year-on-year.
The number of parcels generated on the day exceeded 1 billion for the first time, in line with estimates from Alibaba's chairman, Jack Ma.
But beyond its huge scale, the gala reflects a paradigm shift in consumer behavior, as more shoppers look to imported goods, which they view as being of higher quality - -even though they cost more - -and some of which are even designed exclusively for the Chinese market.
For instance, it took just over six hours for cross-border online transactions to reach last year's full-day record on Tmall Global, Alibaba's dedicated portal for such purchases.
While not disclosing the final sales figure, the company said more than 40 percent of items were bought from international brands. Beauty products from Japanese cosmetics specialist Kao and hairdryers from Dyson, which is headquartered in Britain, were among those that saw sales worth 10 million yuan in the first hour of trading during this year's shopping spree.
Cross-border sales were also brisk on other e-commerce platforms. Those on NetEase Kaola, the crossborder portal owned by internet company NetEase, surpassed last year's total in just 78 minutes.
Overseas products from the Amazon Global Store, which covers top destinations among Chinese customers for cross-border shopping and is owned by United States tech giant Amazon, achieved double-digit growth.
Xu Lei, chief marketing officer of JD and CEO of JD Mall, which saw the amount of imported fresh food sold double compared with last year, said, "There has been a noticeable shift in China toward quality over price, which we see in the growing numbers of consumers who are willing to pay more for branded and imported goods."
Before Nov 11, consultancy Oliver Wyman had projected that imported goods would be those most in demand at this year's festival. In a survey released just ahead of Singles Day, it found that 57 percent of customers surveyed said they intended to buy overseas goods, and such sales would constitute one-third of overall spending for the festival.