Singles Day brings smile to e-commerce platforms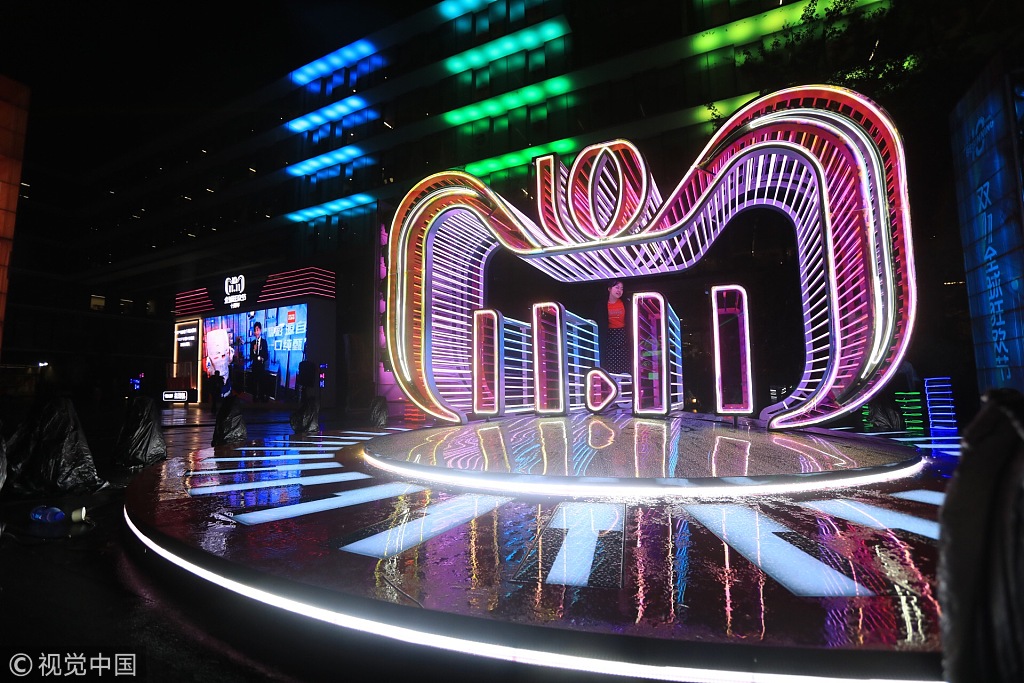 Chinese e-commerce platforms including Alibaba, JD, Pinduoduo, Suning and Vipshop announced their sales and orders figures of Nov 11 Singles Day sales festival, with numbers reaching new highs.
As the initiator of the online shopping gala, sales of Alibaba's online e-commerce platforms surpassed 200 billion yuan ($28.76 billion) for the first time this year, while its Nov 11 full-day sales reached 213.5 billion yuan, up 27 percent year-on-year.
Besides sales, the number of delivery orders also topped 1 billion at 11:18 pm, and settled at 1.04 billion for its annual Singles Day festival, marking the smart logistics network entry into the era of 1 billion packages.
On Nov 11, a total of 237 brands registered transaction volume of over the 100 million yuan, compared with 167 brands a year earlier.
Data from Alipay also showed that during this year's online shopping spree, six in 10 payments were done by users scanning their fingerprints and faces, accounting for 60.3 percent of the total.
Sales of JD, China's second-largest e-commerce platform, totaled 159.8 billion yuan between Nov 1 and 11, up 25.7 percent year-on-year, and beating the figure recorded in 2017, 127.1 billion yuan.
According to JD, renowned brands and imported goods were popular with consumers, and the younger consumers became the main force of consumption.
JD logistics gave full play to its advantage in global smart supply chain network. During the 11 days, more than 90 percent of orders realized same-day delivery and next-day delivery.
Meanwhile, the delivery speed was also guaranteed abroad. A resident in Thailand received the package from JD at 8:28 am local time, becoming the first order completed in Thailand.
Chinese online discounter Pinduoduo also announced its sales result of Nov 11.
It took Pinduoduo about nine and half hours to surpass last year's gross merchandise volume (GMV) record. The number of logistics order jumped 300 percent year-on-year. Meanwhile, the order of agricultural products exceeded 40 million, among which 12 million were sent out through national-level poor counties.
Apparel and accessories, daily chemical products, and computers, consumer electronics and communications devices, collectively known as 3C, were the popular products. According to Pinduoduo, the sales volume of women's wear and men's wear has exceed 100 million and 43 million pieces respectively, while sales of tissue totaled 270 million packets.
NetEase Kaola, a leading cross-border e-commerce platform in China, announced on Monday that sales on Nov 11 were 2.4 times that of last year. Makeup products continued to take lead, with sales accounting for 40 percent of the total.
Meanwhile, NetEase Kaola said healthcare products, a new category explored last year, also saw rapid growth.
According to online retailer Vipshop, the number of orders placed via mini programs exceeded 550,000 during the Nov 11 Singles Day sales festival, up 48 percent from the 370,000 recorded in the June 16 promotion event.
Since 2017, Vipshop has put more efforts into social media e-commerce. During the second quarter, Vipshop opened mini programs for nearly 400 brands, while the number of new clients using mini programs rose over 500 percent from the previous quarter.