US vendors pay no mind to tariffs, enjoy Singles Day
Share - WeChat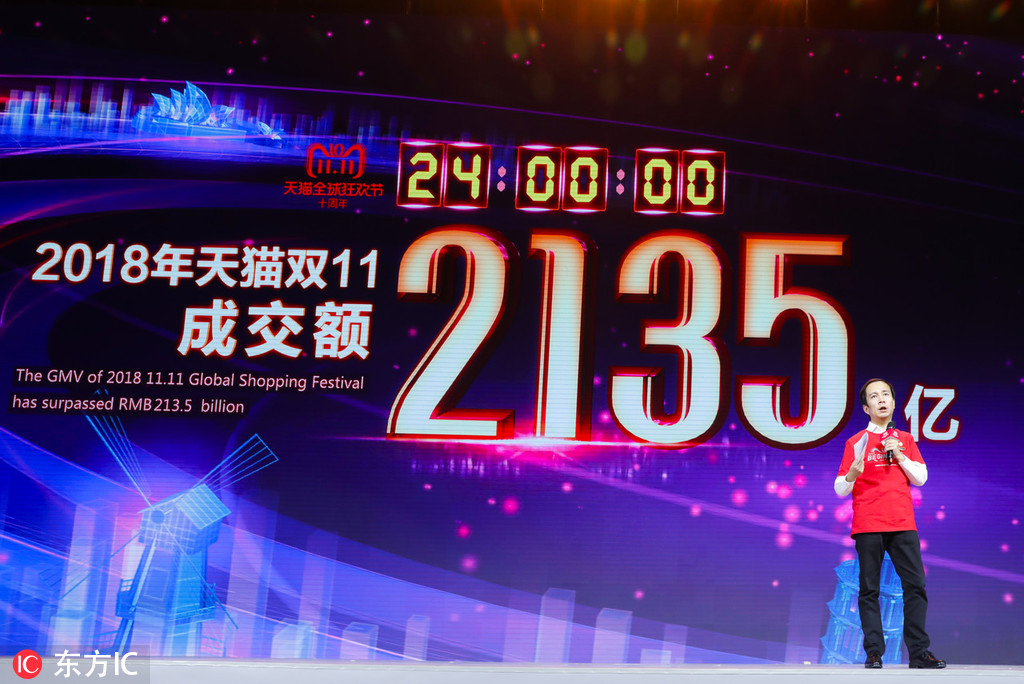 The ongoing trade dispute with China did not deter American merchants from participating in Alibaba's Singles Day global shopping festival.
Chinese e-commerce giant Alibaba celebrated the 10th year of its iconic "11/11" shopping gala on Sunday in Shanghai.
In the 24-hour period, Alibaba sales soared past $30.7 billion, hitting another record high by breaking last year's total Singles Day sales of $24.22 billion, with 27 percent year-on-year growth.
The US ranked second in gross merchandise volume among countries and regions selling to China, after Japan.
"This year, the US merchants are still doing good overall. They rank second in sales, and there are more US merchants that debuted on Tmall this year compared to last year," said Wei Chen, deputy general manager of Tmall International, Alibaba's B2C online retailer.
According to Alibaba, 3,700 categories representing 180,000 foreign brands from 75 countries and regions were featured in the shopping extravaganza. More than 10,000 of those brands were American.
"The Double Eleven is a feast for global consumers, and Chinese consumers' demand for overseas goods is increasing rapidly, so global merchants are actively participating," said Wei.
Many US brands joined this year's festival for the first time.
Footlocker, one of the largest sportswear and footwear retailers in the US, debuted its online store on Tmall.
Doreen Wang, global head of BrandZ at Kantar Millward Brown, told China Daily that she was not aware of any American brands changing or adjusting their strategies for Singles Day due to the tariff standoff.
"It's the biggest shopping festival in the world, and it's a very important presentation opportunity for all brands," said Wang, who works for the largest brand-equity database worldwide, which covers 10,000 brands across 43 countries.
Wang said brands such as Estee Lauder, Intel and Nike actively prepare for 11/11.
Wang said that cosmetics giant Estee Lauder, which opened its store on Tmall last year, takes advantage of augmented reality technology through which customers can do virtual makeup.
"Double Eleven is far more than a promotion campaign. For brand owners, it's more important to enhance customers' brand experiences, to turn those consumers into loyal consumers, which is more profitable," she said.
"Consumers don't care much about Sino-US trade conflicts, or whether what they want to buy are American brands," she added. "Consumers only pay attention to whether products are good quality, good value."
Wang believes that the American brands "will still focus on the needs of Chinese consumers".
"If you win in China, you win the world," she added.
While US sellers are enjoying a good harvest from their participation this year, data from the festival show US shoppers are still in the mood to buy Chinese products.
Consumers from 200 countries and regions placed orders on tmall.com, and American buyers made large contributions to those sales.
One US buyer spent 120,000 yuan ($15,236) on a vase in the National Museum of China's Tmall online store, according to information provided by Alibaba, Global Times reported.
On Nov 6, Alibaba announced that it plans to help global businesses sell $200 billion in goods to China in the next five years.
"We hope through globalization to use China's consumer market to bring the whole world's goods to China," Alibaba CEO Daniel Zhang said during a speech.