Brands blaze digital trail
Share - WeChat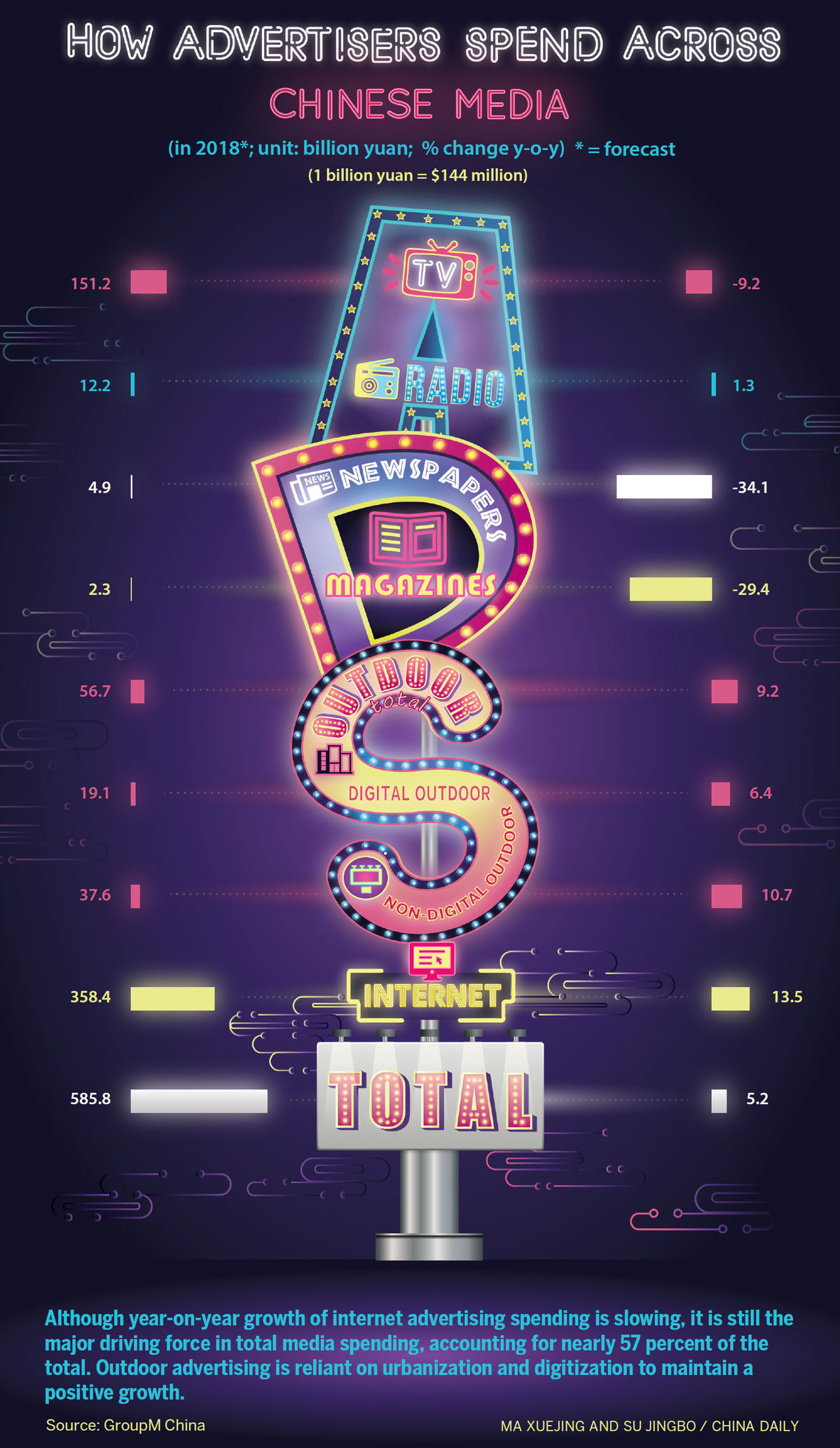 Advertising sees tectonic shift toward online channels for the consumer mind
For advertisers and marketers, China's still-evolving digital landscape has suddenly become the holy grail. It was not so five years ago.
During the period, things like online searches and microblogs have assumed such immense potential in terms of access to the consumer mind that they are now seen as worthy advertising channels, even legitimate, more effective, alternatives to print and broadcast media, experts said.
The infographic alongside offers a tell-tale overview of the changes sweeping media-buying. Online and digital channels are projected to attract a whopping 377.5 billion yuan ($54.3 billion) in advertising, or 64 percent of the total, this year. Traditional broadcast, print and outdoor media will be relegated to the background (208.3 billion yuan or just 36 percent).
Advertisers never had it so good in the digital space. Avenues abound, from messaging apps and chat rooms to short video apps, Q&A destinations and e-commerce platforms.
From the advertiser's perspective, that is a virtual bonanza. China is home to over 772 million internet endusers, according to the China Internet Network Information Center. For perspective: their number is more than double that of the web population in the United States.
Within the digital space in China, the mobile channel is something that brands simply cannot do without, experts said. Over 95 percent of the online population use mobile devices to access the internet, according to the China Statistical Report on Internet Development, which was published in August.
The rise of e-commerce has brightened the allure of the digital medium, said Iris Chin, general manager of media agency MediaCom China. The country is a hub for digital innovation, given the massive contributions by the Tech Trinity, or BAT, a phrase that refers to Baidu, Alibaba and Tencent.
Now, the scene is getting even more exciting with the advent of a string of new players that are poised to challenge BAT, Chin said.
In the last three years, the percentage of mobile ads in terms of overall internet spends jumped ten-fold to over 60 percent, according to consultancy iResearch. It forecast the number will eventually grow to 80 percent by the end of next year.
As internet-based services hog the lion's share of people's internet usage, firms that offer them are vying for user attention, experts said.
For example, people spend a solid 76 minutes per day on Tencent's iconic messenger WeChat, the company said last year, while time spent on fast-rising rival short video app Douyin reached about 60 minutes, according to its parent Bytedance.
"Going digital is a big part of our strategy that drives our success in China," said Filipp Cai, general manager of Innisfree China, the South Korean cosmetic house.
It has opened flagship e-stores on Tencent's WeChat and QQ for a seamless online-and-offline experience.
"It's no wonder companies are spending big on digital given that marketing dollars follow consumer behavior," Chin said. "This constant connection leads to a constant demand for new information, new platforms and new ways to engage with consumers through digital."
Fixation with mobile means that consumers in China, who used to compare prices of products online and in shopping malls, are now utilizing apps to make purchase decisions, said Jacky Tang, general manger of Neo Communications, a Shanghai-based agency dedicated to digital marketing solutions.
"To navigate through the highly complex and segmented digital landscape, the safe bet is to start with WeChat and Weibo, which we deem as the 'twin pillars' of China's social media," Tang said.
Probably China's most popular mobile app, WeChat has become a default way of life for the Chinese to pay bills, access news, book taxi rides or even make a doctor's appointment. The troves of data generated through this all-in-one killer app has given Tencent a leg up in the digital marketing landscape.
According to Tang, three built-in features of WeChat help enhance brand awareness: mini programs, WeChat Moments advertisements and WeChat public accounts.
A mini program is an app-like functionality that aims at driving sales directly. Moments is e-space for brands to engage with prospective and existing customers through content marketing, story-telling and more interactions with potential consumers.
And through an official account, "companies can broadcast messages and articles to their followers like a blog, but brands and service providers can also use these accounts to serve customers", Tang said.
Foreign entrants to China's digital scene are embracing these new tools. Christopher Bailey, Burberry's chief creative officer, told China Daily in an earlier interview that WeChat opens up "a huge new world of opportunity" in the digital space.
"The exciting thing for us is the deeper and more meaningful way that we are able to tell our stories using this platform," Bailey said.
Anne-Marie Verdin, brand director at Mulberry, also touted WeChat's advanced functionality and prominence in the daily lives of consumers, predicting it to be "the central tool to communicate with the Chinese audience".
But one caveat about WeChat is that brands should build up a follower base in the first place, industry experts noted.
"Marketers really need to set up formal accounts for their model on WeChat and persuade buyers to stick to their web page, often by providing incentives and promotions for brand new followers," said Tang.
In this context, he referred to Weibo (which is Chinese for microblog) as a square-like online avenue where its users can easily see posts from anyone, since they really don't need to be connected to them in the first place.
Agreed Domenica di Lieto, chief executive officer of Emerging Communications, a digital marketing agency with offices in London and Shanghai. She recommended companies start by building up an audience on Chinese microblogging site Weibo before pouring money into a WeChat marketing campaign.
"We say that Weibo is an acquisition platform and WeChat is a retention platform," she said. "There is no one plan that fits several brands."
While many marketing practitioners regard the WeChat and Weibo duo as the "holy grail", they cannot be safe bets once and for all.
According to MediaCom's Chin, a shift in online paradigm has occurred where video has taken the top spot, or 35 percent, of time duration of people's internet behavior, followed by social media's 29 percent, among others.
That has given an edge to the likes of Douyin, a high-flying short video app that is fast rising as a staple in the digital marketing matrix of most brands. "The platform allows brands to share short videos, usually in a fun or interesting format with users… They also leverage key opinion leaders to help share the content so it spreads quickly among their followers," Chin said.
Established less than two years ago, upstart app Douyin has managed to gain 200 million daily active users in China, according to statistics it published earlier this month. Up to 70 percent of its active users are women, and 85 percent are under the age of 25, who are referred to as the millennials.
Douyin is a good place to start social media campaigns, given that major social media platforms such as WeChat and Weibo have become saturated and yet continually increase the price of inserting advertisements on them, experts said.
Especially after Douyin teamed up with e-commerce sites such as Taobao and JD, users can now find direct purchase links on their phone or device screens while scrolling up and down funny videos, according to Neo's Tang.
This trend dovetails with another massive trend in China-social commerce. (Wikipedia defines social commerce as "a subset of electronic commerce that involves social media, online media that supports social interaction, and user contributions to assist online buying and selling of products and services".)
Avid young buyers tend to indulge in impulsive purchases as they browse the net. That spells great opportunities for companies like Alibaba, which benefits from the company's 520 million active users to deliver targeted reach to brands using its e-commerce platforms.
By tracking users across those sites with what the company calls a "unified ID", Alibaba is able to not only tailor product recommendations to individual users but personalize the storefronts they visit. This it accomplishes by analyzing consumers' browsing and buying habits, according to Chris Tung, the firm's chief marketing officer.
"By combining Alibaba's massive data assets, businesses can identify, segment and build tailored content for the best results," he said.
For example, since last year, Alibaba's Taobao has created webisodes to promote household products. Video storytelling has greatly boosted sales, with sales of the featured cooking pot sets over a 14-hour period exceeding sales over the previous 30-day period by 50 times, following a webisode called Night Warriors's Launch, the company said.
"The beauty of digital marketing is that it is trackable," Chin said. "The level of consumer engagement is often very difficult to assess. Digital marketing allows for tracking and allows brands to know how many people have seen their ad, clicked on their ad, gone to their website from the ad, engaged with the brand and even purchased."